Finance Minister Grant Robertson wants to consider further diversifying who provides the government with banking services; Major contracts up for renewal in 2023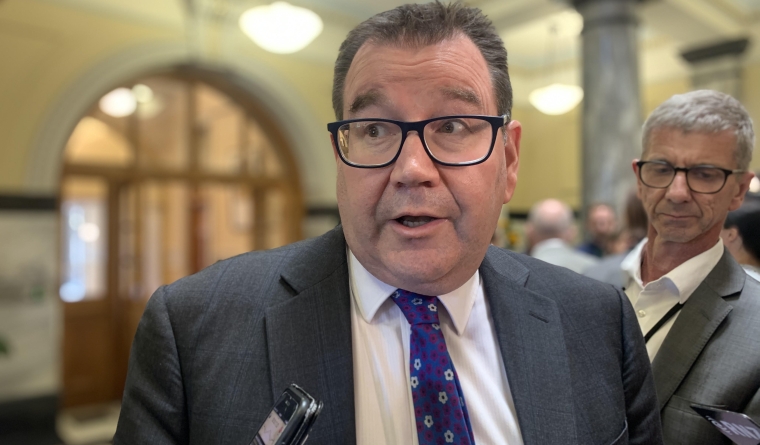 Finance Minister Grant Robertson wants to consider diversifying who the government banks with, when its major contracts are next up for renewal in 2023.
He made the comment when fielding questions from journalists on news Westpac Group is considering a demerger, which could see Westpac New Zealand - the main bank the government uses - split off from its Australian parent.  
Robertson said he was interested in looking at whether any banking services, outside of core services, could be provided by other banks.
He said making more use of other banks could be a "good thing".
Asked by interest.co.nz to clarify he definitely wanted to diversify who the government banks with, Robertson said: "It's one thing I'm considering, and the last time it was reviewed, there were some services that were given to other banks."
Westpac has been the government's main banker since the 1980s.
When the government's banking services were last reviewed in October 2015, it had been more than 25 years since government banking services had been put to tender. The then-National government said the new contracts would ensure services were fit for purpose and provided value for money.
The contracts were awarded in four subcategories:
Crown Transactional Banking: Westpac
Foreign Exchange Transactions: ANZ, ASB, BNZ, Citibank, Westpac
Payment Services: ANZ, ASB BNZ; Kiwibank, Westpac
Card Services: ASB, BNZ; Citibank, Westpac
The Westpac contract to provide Crown transactional banking services had an eight-year term with no right of renewal until June, 2023.
The foreign exchange services, payment services, and card services contacts had an initial three-year term, ending June 2018. There were then two rights of renewal available - the first for a three-year term and the second for a two-year term.
So some of these smaller contracts will be up for renewal again in June, 2021.
Kiwibank in 2018 chose not to extend the term of its agreement for over-the-counter bill payment services. It agreed to continue to provide these services, but not through the 'All of Government' banking framework, "for commercial reasons".
Robertson made the point the government's main bank needs to be able to provide a "sophisticated" level of service.
"Not every bank can provide that," he said.
Before the big review of government banking services in 2015, Westpac's contract accounted for $229 billion worth of annual credit and $219 billion of debit transactions.
New Zealand First has for years suggested Kiwibank should be the government's main banker, despite Kiwibank only providing home loan and small-to-medium-sized business services. It doesn't offer services to big corporates or the rural sector.
Westpac NZ provided this Q+A about the potential demerger on its website:
What's happening?

Westpac Group – our parent company in Australia - announced on Wednesday that it is reviewing the appropriate structure for its New Zealand business and whether a demerger would be in the best interests of shareholders. No decision has been made yet, and a final decision is still some time away.

What is a demerger?

A demerger is a separation of a business into two businesses. If Westpac Group chose to go ahead with that it would mean splitting off Westpac NZ into its own, independent company. A previous example in New Zealand was when Telecom split into two separate companies, Spark and Chorus.

Who would own it?

No decisions have been made.  Some recent de-mergers (like the Clydesdale demerger from NAB) have involved the parent splitting off the subsidiary Bank and listing it on a local stock exchange.  Existing shareholders received shares in the subsidiary and retained their shares in the parent bank. 

Is Westpac closing?

Certainly not! No-one is talking about closing Westpac NZ. Westpac NZ is a big, profitable business with a 160-year history of operating in New Zealand. We're not going anywhere. A demerger would just mean we would become a separate NZ company.

What does it mean for customers? Should we be worried?

No, there is no need to worry. Westpac continues to be a strong, well-funded and very well capitalised bank. Should it be demerged from Westpac Group, it would continue to offer the same banking services.  

Why is this idea being contemplated?

There are a range of factors but given changing NZ capital requirements and regulatory changes requiring greater separation from Australia, Westpac Group has decided now is an appropriate time to assess the best structure for its businesses, as part of its strategy to simplify its business.

Why weren't customers told first?

Any decision of this magnitude has an effect on Westpac's share price. It's the law that any action like this must be notified to the stock exchange – in this case the ASX – before anyone else can be told.

Are Westpac NZ staff in danger of losing their jobs from this?

No. The bank will continue operating as normal and any staff increases or decreases would be considered in the normal course of business, not as a result of a demerger.

Is this a result of the Reserve Bank action yesterday?

No. The Reserve Bank action was to do with how Westpac NZ manages its risk. We were instructed to commission two independent risk reviews, but it was just a coincidence that this was announced on the same day as the review of the NZ business by Westpac Group.

Will the bank still be called Westpac?

We don't know. Any decisions on what a new entity could be called are far off but yes, a new name could be contemplated.

When will a decision be made?

Westpac Banking Corporation is working through this process at the moment, but it's a big job with many factors to be considered and we don't yet have a timeframe for when a decision will be reached.