NZ First's Winston Peters blames 'subservient puppetized NZ politicians' for the lack of a probe into the NZ banking system. Says Aussie banks are 'like a hole in the hull of the NZ economy'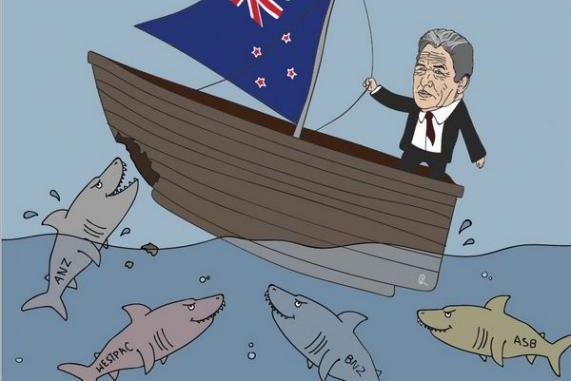 By Gareth Vaughan
New Zealand First leader Winston Peters, who may hold the balance of power after the September 23 election, is calling for a banking inquiry focusing on bank charges, the dominance of Australian owned banks in New Zealand, and bolstering NZ ownership in the sector.
Peters told interest.co.nz that a key problem currently is the "extraction of over $4 billion in profits" out of the NZ economy as a consequence of Australian dominance of NZ banking through the Australian owned ANZ, ASB, BNZ and Westpac.
"That's a huge amount of money coming out of an economy in any given year. When the BNZ was sold [in 1992] six out of 10 banking clients were with the BNZ. That was a massive loss. We're saying this level of foreign ownership, and in key institutions, is seriously bad for our economy because it disguises the state of the economy as it relates to benefits for New Zealanders," Peters said.
In their most recent completed financial years, ANZ, ASB, BNZ and Westpac posted combined net profit after tax of $4.331 billion. They paid combined dividends of $2.68 billion, equivalent to 62% of their combined net profit after tax. Analysis from the Bank for International Settlements (BIS), the central banks' bank, and interest.co.nz shows the profitability of the major NZ banks ranks near the top of the pack when compared to a range of banks from other countries.
Opinion polls place Peters and NZ First in the box seat to be kingmaker and determine which parties form the Government after the election. Speaking at the NZ First convention on Sunday, Peters pledged that during the nine weeks until the election NZ First will "lay out our policy and manifesto in the 'Battle for New Zealand'."
'Bringing the banking sector back into NZ ownership'
If in government Peters says NZ First will begin "the long overdue process" of bringing the banking sector back into NZ ownership. According to the Reserve Bank, the four Australian owned banks account for almost 90% of aggregate bank assets in NZ. 
"As a first step we will make Kiwibank the Government's official trading bank. It is absurd that a foreign bank Westpac should be clipping the ticket on all the NZ Government's business and financial transactions," Peters says.
In a public tender of the Government's banking business in 2015, the first since the late 1980s, Westpac retained its role as key transactional banking service provider for another eight years. At that time a Kiwibank spokesman told interest.co.nz the Government owned bank didn't have the capability to be a full blown tenderer. Kiwibank was, however, named as one of five government bill payment service providers alongside ANZ, ASB, BNZ and Westpac. 
'Taxpayers money is going into Westpac right now so what would the difference be?'
Asked whether he is proposing tipping taxpayers' money into Kiwibank to build the bank into a position where it could takeover all the Government's business, Peters said, "Taxpayers money is going into Westpac right now so what would the difference be? The benefit of course would be that the money would be staying in our economy, not going offshore. Right now the taxpayer's helping the Aussie banks, and helping Westpac in particular. If you think that's justifiable why aren't we helping our own? I can't imagine for a moment that the Japanese, Chinese or Singaporeans would think this is a smart idea so why would we?"
 In their recent budgets both the Australian Federal Government and South Australian State Government announced levies on ANZ, ASB's parent Commonwealth Bank of Australia, BNZ's parent National Australia Bank, Westpac and Macquarie. Asked if this was something he wanted to do if in government to, say, help fund Kiwibank, Peters said he wasn't going to make policy up on the hoof.
"But let me say this. In Australia at the Federal level they would have had four or five inquiries into banking charges with respect to their own banks charging Australians. In New Zealand nothing."
"Why is it justifiable for Australia to do that to their banks and not for us to do it to their banks? It's inexplicable." 
'Commonsense shouldn't have to be a bottom line'
 On its website NZ First says it wants to "conduct a review of the foreign-owned banks focusing on competition, how much tax they are paying and how we can grow our own New Zealand banking sector." ANZ, ASB, BNZ and Westpac are described as being "like a hole in the hull of the New Zealand economy."
Peters told interest.co.nz he envisages the review would be led by "an appropriate independent person with the experience to conduct the inquiry." Asked whether such a banking inquiry is a bottom line from a NZ First perspective heading into the election, Peters said commonsense shouldn't have to be a bottom line.
"Why would it not be justifiable in New Zealand when Australians think it's warranted in Australia? You've got a bunch of subservient puppetized [NZ] politicians who won't act in the national interests of business and private citizens," said Peters.
Recent Australian inquiries have included the 2014-15 Financial System Inquiry, a Parliamentary Review of Australia's four major banks, and the Sedgwick review of bank commissions and payments.
Peters said he wants to see Kiwibank as a dominant full service bank in the NZ banking sector for the same reason BNZ was established in the 1860s.
"To give New Zealand bank users a fair go. That's why it [BNZ] was established and that's why it should never have been sold off," Peters said.
"What would [ex-Singapore Prime Minister] Lee Kuan Yew do here, what would he think was commonsense?"
*This article was first published in our email for paying subscribers early on Tuesday morning. See here for more details and how to subscribe.