FMA's Simone Robbers and Harbour Asset Management's Christian Hawkesby shifting to RBNZ assistant governor roles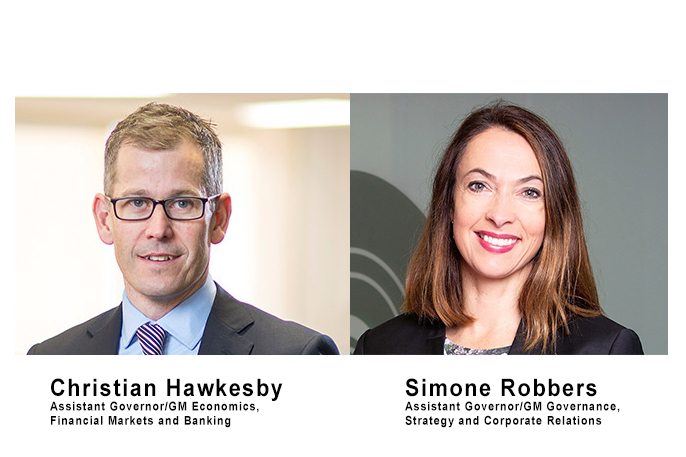 The Reserve Bank says Simone Robbers will join it from the Financial Markets Authority (FMA) and Christian Hawkesby from Harbour Asset Management, both as assistant governors.
 Their appointments complete the Reserve Bank's new senior leadership team structure, with its members here, under Governor Adrian Orr who took the helm last March.
Robbers has been the FMA's director of strategy and risk, with Hawkesby executive director and head of fixed income at Harbour Asset Management.
Robbers is to take on the new role of assistant governor and general manager of governance, strategy and corporate relations on February 18. Hawkesby will take on the new role of assistant governor and general manager of economics, financial markets and banking on March 18.
Robbers will oversee the Reserve Bank's strategic planning and performance, communications, legal, risk and audit teams, and its board secretariat.
"The role will ensure Bank-wide strategies and relationship management have central coordination, such as our Te Ao Maori strategy, our climate change strategy, and the many regional and international relationships we must manage in the normal course of business," Orr says.
"Simone brings with her a wealth of public and private sector experience, most recently successfully managing the role of director of strategy, risk and assurance at the Financial Markets Authority, as well as previous experience with the Securities Commission and in the private sector in banking and wealth management, and legal firms."
Hawkesby will oversee monetary policy formulation and research, monetary policy implementation and liquidity management, foreign reserves management, plus all matters relating to currency creation and distribution, including responsibility for the management of the payment and settlement system.
"Bringing these activities together provides end-to-end management of all of the monetary policy activities of the Bank, from currency creation and distribution through to the setting of the Official Cash Rate to meet the Bank's monetary policy and currency mandates. Combining these efforts will create more depth of experience, and generate opportunities for innovation," says Orr.
Hawkesby worked at the Reserve Bank as a graduate, and was head of market intelligence for the Bank of England during the Global Financial Crisis (GFC). Marking the 10th anniversary of the Lehman Brothers collapse last year, Hawkesby told interest.co.nz about his experiences at the Bank of England during the GFC.
Separately, the Reserve Bank is seeking a new chief economist with John McDermott leaving at the end of February to join economic research institute Motu.