Shipley to retire as China Construction Bank NZ Chair in wake of Mainzeal ruling; Ardern says Shipley's position on board of taxpayer-funded NZ China Council 'not a matter for Government'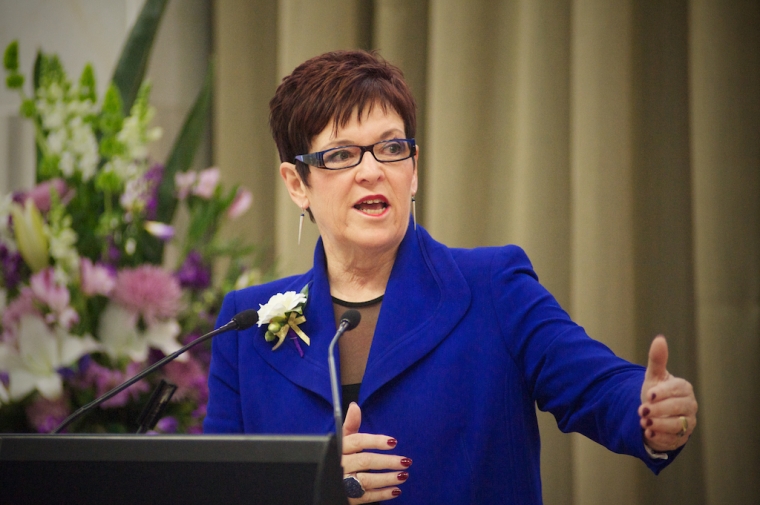 Former Prime Minister Jenny Shipley will "retire" from her position as Chair of China Construction Bank New Zealand at the end of the month.
The announcement follows the High Court last week upholding claims of reckless trading against Shipley and other former directors of Mainzeal, which went into liquidation in 2013.
Shipley was ordered to pay creditors $6 million, having allowed the company to trade while insolvent.
A statement from China Construction Bank New Zealand said Shipley believed it was "in the best interests of the company" that she retires as of March 31 – the end of the current reporting cycle.
The statement said: "After stepping down from this Board Dame Jenny intends to put her energy into dealing with personal and legal matters related to the Mainzeal case and to spending more time on her private business and philanthropic interests and to speaking here and offshore on a wide range of topics...
"Dame Jenny said she was extremely proud to have served on the Board of CCBNZ since its establishment five years ago and of its many achievements including the recent securing of a Branch banking licence.
"Dame Jenny served as a director of the Hong Kong and Shanghai listed China Construction Bank global board for six years from 2007 to 2013 at a crucial time in its development.
"Today China Construction Bank is the 5th largest bank in the world by market cap."
PM won't be drawn on Shipley's involvement with NZ China Council 
Shipley remains on the board of the New Zealand China Council – a mostly taxpayer-funded organisation established in 2012 to strengthen New Zealand's relationship with China.
Asked by interest.co.nz, moments before the China Construction Bank NZ announcement was made, whether she was comfortable with Shipley sitting on the New Zealand China Council board, Prime Minister Jacinda Ardern said: "Ultimately that is not a matter for Government or Cabinet. That is not an appointment that's made by us."
The New Zealand China Council stuck to the line it toed last week on Shipley, saying membership of its board was "kept under regular review".
According to the Council's website, it receives about two thirds of its operational funding from the Government through an annual grant from the Ministry of Foreign Affairs and Trade. The rest of its funding comes from "individual and corporate members of the Council's Executive and Advisory Boards".
The Council's financial statements for the 2018 financial year say its income included: $365,000 in Government grants, $269,983 in membership subscriptions, $55,000 in other contributions - contras, $94,783 in Belt and Road sponsorship, and $38,480 in rent. 
Shipley still Oravida NZ Chair
Shipley remains the Chair of food exporting company, Oravida NZ. 
Two weeks ago Foreign Affairs Minister Winston Peters linked problems he claimed Oravida had at the Chinese border to a Chinese newspaper publishing a China-praising opinion piece with Shipley's name on it.
While Shipley reportedly said she didn't write the piece, which said things like "we should listen to China," she admitted to being interviewed by the paper and didn't deny that the piece represented her views. 
Shipley hung up on interest.co.nz twice, as it sought to get clarification around the opinion piece, as well as Peters' Oravida claim. 
The timing of the piece being published raised eyebrows from observers, including Peters, as the role of Huawei in New Zealand's telecommunications network puts the country's relationship with China under public scrutiny.