RBNZ Assistant Governor Christian Hawkesby observes 'pockets of dysfunction' in bond markets, saying the RBNZ could do more to put downward pressure on interest rates if necessary
The Reserve Bank (RBNZ) is reminding financial markets it could increase its weekly bond purchases to put downward pressure on interest rates.
Furthermore, a negative Official Cash Rate (OCR) remains on the table.
Government bond yields in New Zealand and other parts of the world are rising, as financial markets are betting on an improving economic outlook lifting inflation sooner than previously expected.
This is occurring as central banks around the world are continuing to deploy loose monetary policy in an attempt to lower interest rates to boost inflation.
Battling financial markets, the Reserve Bank of Australia in recent days upped the pace of its bond buying in an attempt to lower bond yields.
RBNZ Assistant Governor Christian Hawkesby told interest.co.nz the RBNZ was "watching markets really carefully."
Asked whether ramping up bond buying for a short time via the Large-Scale Asset Purchase (LSAP) programme was something the RBNZ would do, Hawkesby said: "We've observed the price action, which has been pretty volatile over the last week or so.
"There have been pockets of dysfunction, I think, along the way - not just in New Zealand, but in Australia and the US as well.
"There is a lot of talk of thinly liquid conditions. So we do have that optionality; so we can scale up the size of the [LSAP] programme, if we think that would be appropriate."
By this Hawkesby meant the RBNZ could increase its rate of bond buying within the LSAP's $100 billion limit.
"We know that we can't control the level of the long-term yields - they're driven by a number of factors. But we can look at how they're moving around relative to other comparators," he said.
The RBNZ hasn't upped its bond purchases in recent days. It's continuing to buy $570 million of New Zealand Government Bonds a week - fewer than it was buying when it launched the programme last year.
Because Treasury is issuing fewer bonds than it planned to when the LSAP was launched last year, Hawkesby said the RBNZ was getting close to the cap (outlined in an indemnity provided by the Crown) restricting it from buying more than 60% of New Zealand Government Bonds on issue.
"We are getting towards 40% to 50% of some bonds on issue," he said.
"The good thing about the current situation is, now banks have had time to get operationally ready for a negative OCR. That means that we've got more tools in the toolkit if we did want to provide more monetary stimulus."
In its quarterly Monetary Policy Statement released last week, the RBNZ adjusted its unconstrained OCR projection up from its last statement released in November.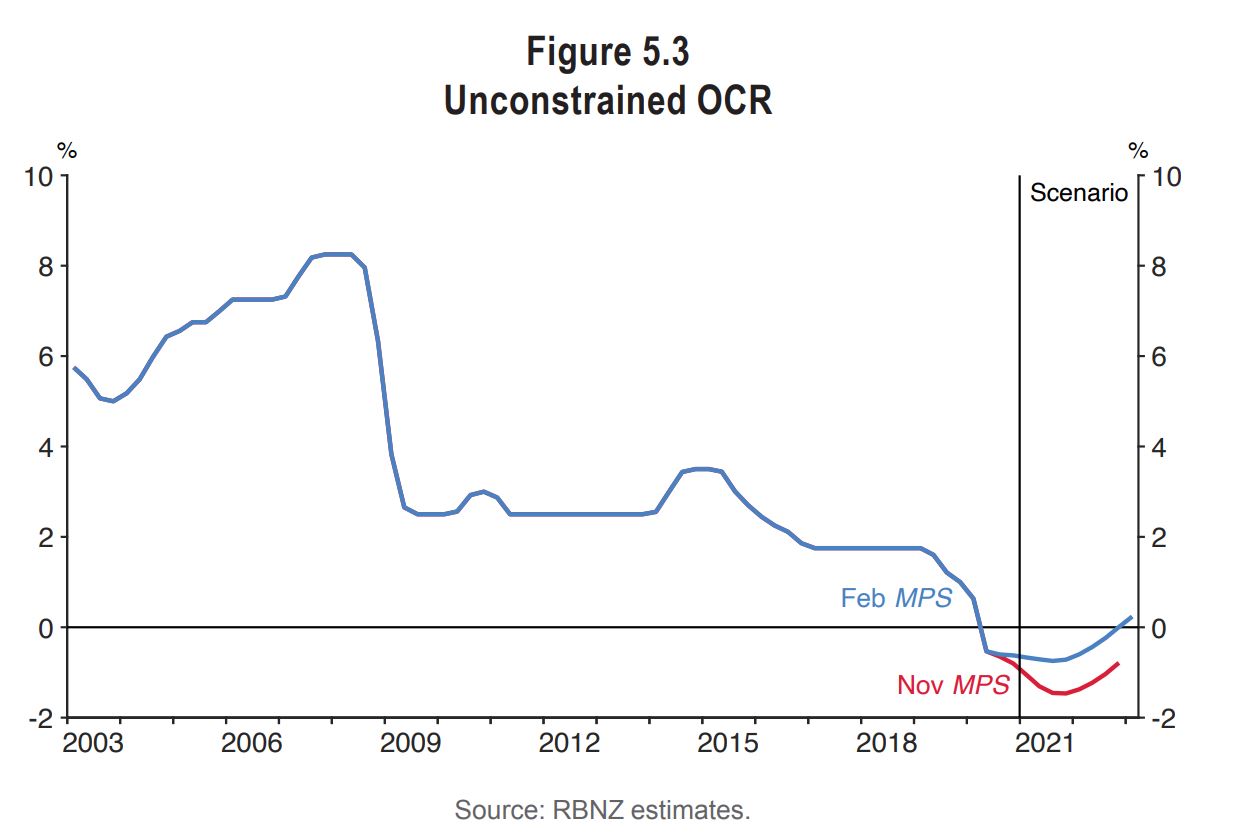 The "unconstrained" OCR measures the level of stimulus needed to meet the RBNZ's inflation and employment objectives, considering all its tools at play. The current use of a low OCR, LSAP and Funding for Lending Programme are equivalent to the OCR being at -0.5%.
Asked how one reconciles this projected rising unconstrained OCR with the RBNZ's dovish comments, Hawkesby stressed the central bank is still dealing with "scenarios" in an uncertain environment.
"If lending rates rise in a way that jeopardises our ability to achieve our mandate, then we need to do something about it in terms of the actions we are taking and the settings we have in place," Hawkesby said.
Keane: RBNZ wouldn't want to 'battle the market'
Sean Keane - founder and managing director of Triple T Consulting, which advises central banks and other regulators - maintained the RBNZ wouldn't want to "battle the market".
He didn't see the RBNZ suddenly increasing its weekly bond purchases just in response to higher bond yields. Instead he would expect the RBNZ to wait and observe the situation before acting.
Keane maintained that there were two things that would trigger RBNZ action - dysfunctional markets or financial conditions preventing the RBNZ from meeting its targets. In other words, a stronger dollar or higher bond yields leading to higher mortgage rates.
Keane said the market misread last week's Monetary Policy Statement, so now the RBNZ is reminding it the economy is a long way from "normal" and still requires an enormous amount of assistance.