ANZ and National banks consolidating into 'the strong brand' rather than paying for an extension on 'a damaged brand' - Hisco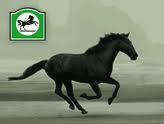 By Gareth Vaughan
ANZ New Zealand's jettisoning of the popular National Bank black horse logo will see it do away with a "damaged brand" and consolidate into a "strong brand," CEO David Hisco says.
In a view that's perhaps not New Zealand centric, Hisco told interest.co.nz doing away with the National Bank brand, specifically the horse logo, would see the group amalgamate to the stronger of its two brands in New Zealand.
Having bought the National Bank from Britain's Lloyds TSB in 2003, ANZ in 2010 renewed its rights to use the Lloyds black horse on a green and white background as the National Bank logo until the end of 2014.  Any further renewal on use of the logo would've been subject to negotiation with Lloyds and would've seen ANZ continue paying an undisclosed amount for the rights. Last week ANZ announced it would phase the National Bank brand out over two years.
"The biggest thing from my point of view is customers want to bank with a strong bank and Lloyds got tangled up in the GFC (global financial crisis) and had to be bailed out by the British government," Hisco said.
"They had to put off staff and they shut a number of branches. You've got that brand or else you've got the ANZ brand, which is one of the strongest AA (credit) rated banks in the world. So do you pay for an extension on a damaged brand or do you make the move to consolidate into the one brand which is a strong brand?"
"Talking to our customers they get it and in fact move on pretty quickly," Hisco added.
Lloyds is now 41% owned by the British government and known as Lloyds Banking Group after Lloyds TSB  bought Halifax Bank of Scotland (HBOS) at the height of the GFC after then British Prime Minister Gordon Brown told Lloyds TSB's chairman Victor Blank it would be helpful if Lloyds could end the uncertainty surrounding the troubled HBOS by buying it. The British taxpayer has sunk £20.3 billion (about NZ$40 billion) into Lloyds.
In consumer customer satisfaction surveys National Bank has consistently scored higher than ANZ, including in Roy Morgan Research's August survey. And the ANZ group has decided to shift ANZ to National Bank's core banking system, rather than vice versa.
This article was first published in our email for paid subscribers this morning. See here for more details and to subscribe.