Aussie parents of NZ's big banks fighting new international derivatives regulations they say will cost them hundreds of millions of dollars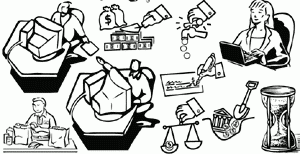 By Gareth Vaughan
New Zealand's big banks are not currently involved in a "vigorous fight" against new international derivatives regulations their Australian parents maintain could add hundreds of millions of dollars to their funding costs.
The Australian Financial Review reports ANZ Banking Group, Commonwealth Bank of Australia, Macquarie Bank, National Australia Bank and Westpac Banking Corporation, have written a joint letter to the the International Organisation of  Securities Commissions (IOSCO) saying the Australian banking system would be "severely impacted" by a plan that aims to reduce systemic risk in the global financial system, which  was proposed by the Group of 20 and is being implemented by IOSCO.
The AFR report said;
Australian banks would need to pay a margin of 6 per cent on about $350 billion of cross currency swaps.

The swaps are used to hedge foreign exchange and interest rate risk for offshore transactions.

KPMG partner Craig Davis said Australian banks were extremely large users of cross currency swaps due to their offshore funding dependence and the issues highlighted unintended consequences stemming from the wave of new global financial regulation being implemented in response to the global financial crisis.

"This would be a massive funding impost on the banks and potentially cost them hundreds of millions dollars in extra funding costs," Mr Davis said.
A Reserve Bank estimate puts New Zealand banks' combined outstanding cross currency swaps, used to convert money borrowed overseas into New Zealand dollars to help fund bank balance sheets and subsequently home loans and business loans, at about NZ$35 billion.
The AFR article also noted that;
The problem is unique to a handful of countries such as Australia and Canada, which are heavy users of cross currency swaps due to a shortage of deposits and reliance on international funding markets to fund their loan books.
And;
Australia's major banks rely on international wholesale markets for about 25 per cent of their total annual funding.

Most of their offshore funding is swapped back into Australia dollars, through cross currency swaps, which hedge against fluctuations in the exchange rate and interest rates.

One senior banker, who declined to be named, said that each of the big four banks used between $70 billion to $100 billion in cross currency swaps on gross outstanding debt.
The issue is also on the agenda at New Zealand's major banks. However, a spokesman for the New Zealand Bankers' Association told interest.co.nz the bank lobby group hasn't been involved in the issue to date.
New Zealand's big banks source even more of their funding from international wholesale markets than their parents. Credit rating agency Moody's estimates the big four, on average, source 37% of their funding from wholesale - both short-term and long-term - sources, with this including money sourced from their Australian parents.
Reserve Bank 'interested'
In its most recent Financial Stability Report the Reserve Bank said it was interested in new arrangements for  the clearing of over-the-counter (OTC) derivative contracts. It noted that after a G20 commitment last year, jurisdictions with the biggest OTC derivatives markets - the European Union, United States and Japan - have mandated clearing of many derivative contracts through central counterparties beginning this year.
"The Reserve Bank sees the adoption of centralised clearing as a positive move towards managing risks from derivatives contracts. New Zealand banks have now firmed up, or are in the process of firming up, arrangements with broker agents through which they will participate indirectly in international central counterparties," the Reserve Bank said.
"The Reserve Bank will monitor and assess the financial stability implications of such arrangements, particularly where risks might arise from the concentration of clearing services being delivered by a small number of broker agents."
Following the 2008 collapse of Lehman Brothers the G20 made a commitment for derivatives trades to be transacted through central clearing parties in an attempt to reduce counter party risk. Leaders of G20 countries agreed at their Pittsburgh 2009 Summit that all standardised OTC derivative contracts be traded on exchanges or electronic trading platforms, where appropriate, and cleared through central counterparties, that OTC derivative contracts be reported to trade repositories, and that non-centrally cleared contracts be subject to higher capital requirements.
A report recently prepared for G20 ministers and central bank governors said although considerable progress had been made, much was still to be done to complete agreed reforms.
"While progress has been made toward meeting the G20 commitments, through international policy development, adoption of legislation and regulation, and expansion of infrastructure, no jurisdiction had fully implemented requirements by end-2012. Less than half of the Financial Stability Board member jurisdictions currently have legislative and regulatory frameworks in place to implement the G20 commitments and there remains significant scope for increases in trade reporting, central clearing, and exchange and electronic platform trading in global OTC derivatives markets," the report said.
NZ-Aussie dialogue through CER
David Love, director of policy & international affairs at the Australian Financial Markets Association (AFMA), told interest.co.nz it's widely accepted that the global regulatory reforms will increase financial intermediation costs.
"However, there is particular concern in this instance that the proposed initial margin requirements on non-centrally cleared derivatives trades would have a disproportionate impact on the Australian OTC derivatives market, because of our reliance on overseas capital and the associated high proportion of cross currency swaps carried out in our market," said Love.
"AFMA and our affected members are in continuing dialogue with the Australian regulators about this issue and representing our industry views to the Basel Committee on Banking Supervision-IOSCO Working Group."
Love said the respective regulators and government departments of Australia and New Zealand have a regular dialogue under the Closer Economic Relations agreement to discuss financial sector issues of common concern,  including the impact of global regulation and principles.
This article was first published in our email for paid subscribers. See here for more details and to subscribe.