Bank for International Settlements highlights massive growth of central banks' balance sheets, wary about impact of them ending easy monetary policy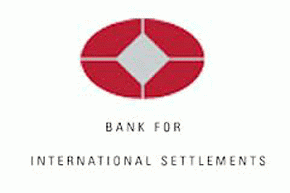 By Gareth Vaughan
The value of assets held by the world's central banks have doubled over the past six years to be worth about US$20 trillion, the equivalent of about 30% of global Gross Domestic Product (GDP), according to the Bank for International Settlements (BIS).
BIS, the central banks' bank, issued its 83rd annual report over the weekend. In it BIS highlights looming dangers as "overburdened" central banks, heavily relied upon to stimulate economies over recent years through "very accommodative" monetary policy,  look to unwind their unprecedented positions.
"There are growing concerns at this juncture about the effectiveness of these (accommodative) policies and their negative side effects," BIS says. "Monetary accommodation can only be as effective as the balance sheet, fiscal and structural policies that accompany it."
BIS notes balance sheet build up has been strongest in emerging Asian economies, being China, Chinese Taipei, Hong Kong SAR, India, Indonesia, Korea, Malaysia, the Philippines, Singapore and Thailand. Across these countries central bank assets correspond to more than 50% of GDP, although this percentage is unchanged since late 2007  given GDP in the region has also grown strongly.
Central banks in these countries have mainly grown their balance sheets by accumulating foreign exchange reserves. At the end of 2012, foreign reserve holdings in these emerging Asian countries amounted to more than US$5 trillion, equivalent to about half the world's total stock of foreign reserves.
Meanwhile, in Switzerland, the Swiss National Bank is holding assets equivalent to 85% of GDP after sharply increasing its foreign reserves to about US$470 billion by the end of 2012 in defence of its exchange rate floor against the euro. Here in New Zealand, the Reserve Bank's total assets rose about $5.6 billion between 2007 and 2012 to $26.7 billion, which is the equivalent of about 13% of New Zealand's GDP.
Central bank total assets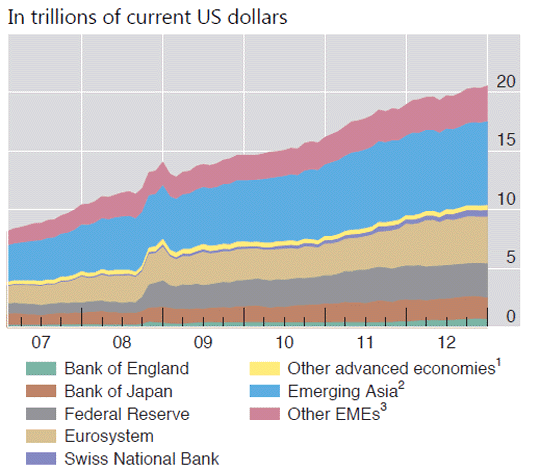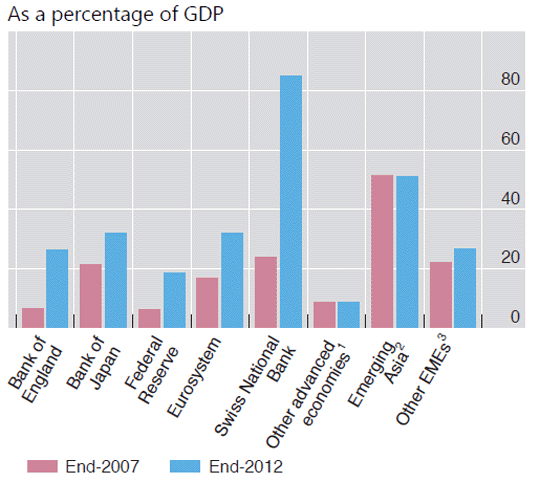 1 Australia, Canada, Denmark, New Zealand, Norway and Sweden.

2 China, Chinese Taipei, Hong Kong SAR, India, Indonesia, Korea, Malaysia, the Philippines, Singapore and Thailand.

3 Argentina, Brazil, Chile, Colombia, the Czech Republic, Hungary, Mexico, Peru, Poland, Russia, Saudi Arabia, South Africa and Turkey.

Sources: IMF, International Financial Statistics; Datastream; national data.
Exit challenges
BIS notes in the years ahead exiting these "extraordinarily accommodative policy stances" will raise significant challenges for central banks.
In the United States, for example, the Federal Reserve's quantitative easing (QE) programme currently sees it buy US$40 billion worth of mortgage-backed securities per month, and US$45 billion worth of longer-term Treasury securities a month.  The Fed's benchmark interest rates, the federal funds rate, remains between 0% and 0.25% where it has been since December 2008. The Fed's current QE programme is its third over the past few years, with these having seen its balance sheet rise to a record high of US$3.41 trillion.
Last week Chairman Ben Bernanke said the Fed might start tapering off its unprecedented QE programme later this year.
BIS notes that in exiting their accommodative monetary policies the world's big central banks, ultimately including the Bank of England, European Central Bank and Bank of Japan as well as the Fed, will need to strike the right balance between the risks of exiting prematurely and the risks associated with delaying exit further.
"While the former are well understood, it is important not to be complacent about the latter just because they have not yet materialised. And central banks will need to ensure  that exit proceeds as smoothly as possible.'
Furthermore, BIS says, each exit will need to be engineered in an environment of high levels of debt, much of which has been issued at record low interest rates.
"With interest rates having been extraordinarily low for so long, the high levels of debt together with the special lending schemes in place are likely to strengthen indebted sectors' reaction, especially if their expectations and patterns of behaviour have become accustomed to this unusual environment," BIS says.
Interest rates too low for too long can create distortions
The annual report points out the Central Bank of Norway has recently amended its benchmark policy model to capture the notion that interest rates that are too low for too long can create distortions over time.
BIS points out that, as central bank balance sheet size and scope is unprecedented, so will the exit be.
"This magnifies the uncertainties involved and the risk that it will not be smooth. Moreover the longer the current accommodative conditions persist, the bigger the exit challenges become. This puts central banks in a very uncomfortable position and highlights the need to address the economies' underlying balance sheet and structural problems without delay."
"The crisis has also reinforced the view that price stability is not enough. That said, efforts to integrate financial stability concerns into monetary policy frameworks are still a challenging work in progress. And at the same time, in a more globalised world, central banks will increasingly need to factor in global policy spillovers."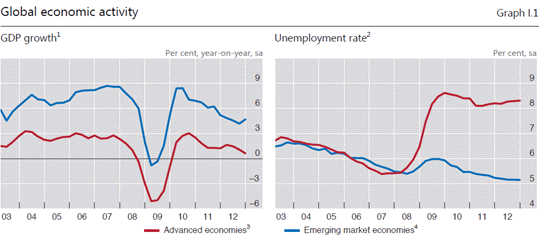 This article was first published in our email for paid subscribers. See here for more details and to subscribe.