Auckland Council borrows NZ$300m through 15-year Norwegian bond, takes offshore borrowing to NZ$819m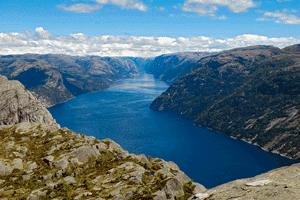 By Gareth Vaughan
The Auckland Council has borrowed 1.4 billion Norwegian krone, (about NZ$300 million), through a 15 year bond issued to Norwegian institutional investors, which lifts its offshore borrowing to date to roughly NZ$819 million.
Mark Butcher, Auckland Council's Treasurer, told interest.co.nz the Norwegian bond issue stemmed from "reverse inquiry" to the Council via HSBC.
"We were approached by HSBC, which is one of our banks, saying they had some Norwegians interested in the Council name, in the Council credit, and would we be keen to issue to them," Butcher said.

"So it wasn't solicited, it wasn't a public deal."
Butcher said the investors, who he declined to name, would receive annual interest of 4% in the Norwegian krone.
He said a price to the Council for the Norwegian borrowing of about 113 basis points over the 90 day bank bill rate was about right, although there were "a few extra costs on top of that."
The Council hedges its currency risk and swaps money borrowed overseas into New Zealand dollars.
"(So) it doesn't matter if we're issuing in Australian dollars with a 5.5% coupon, or a Norwegian market with a 4%, or a Swiss market with a 1.1%. It's all about what it comes back at after all the exchange rate has been hedged out, after all the swap has been done into New Zealand dollars. It would if you weren't hedging the currency risk, but because we do, it becomes irrelevant," said Butcher.
Of the Norwegian bond he said; "It came back here in line with our domestic funding levels."
"For us it's a great transaction. Transpower borrowed in Australian dollars for 10 years (recently) and they were around 145 over for only a 10 year. So we were 30 odd basis points tighter and for a longer term," Butcher added.
The Council had done one 15 year bond issue previously, domestically, raising NZ$100 million about two years ago with a wider spread over swap than the Norwegian deal was priced at. Butcher wasn't aware of any other New Zealand entity having issued bonds in Norway.
"Norway's a bit like Switzerland and Japan, they're a major savings centre," said Butcher.
Three borrowing options
The Auckland Council is able to borrow domestically, such as through a NZ$125 million, six year retail bond issue last December that's paying investors 4.41%, through the Local Government Funding Agency (LGFA), and through its offshore borrowing programme. The latter, the first from a New Zealand local authority, has an upper limit of US$2.5 billion. It also has the option of listing debt and the Council's Norwegian bond is listed on the Singapore Exchange.
The Auckland Council "Super City" was established on November 1, 2010 through the amalgamation of eight Auckland councils - the Auckland Regional Council, Auckland City Council, Franklin District, Manukau City Council, North Shore City Council, Papakura District Council, Rodney District Council and Waitakere City Council.
Butcher said other offshore borrowing to date includes two retail issues to Swiss investors earlier this year, one in January and one in May. Both for durations of 11 years, they raised CHF100 million each, about NZ$256 million in total, and are paying 1.125%. They have Swiss market listings.
The Council's also issued 10 year Australian dollar denominated bonds to Japanese investors, which aren't listed and raised about NZ$263 million. This puts the Council's total offshore borrowing to date at about NZ$819 million.
Butcher said terms of 10, 11 years and 15 years for the bonds was good because the Council's assets are 50 years or 100 years long.
"We're never going to get our debt out that far, but it certainly is prudent from a borrower to lengthen a little bit longer. Then you avoid all the refinancing risk if you have everything borrowed, two, three, five years. So by getting out a fair chunk longer it makes it less risky and easier to manage."
The Council needs to borrow money from overseas to lengthen the term of its debt, and diversify its borrowing sources because it can't borrow all it needs from the domestic market, Butcher said.
Has borrowed NZ$860 mln through the LGFA
Since the LGFA's February 2012 launch the Auckland Council has borrowed NZ$860 million through the local government "bond bank", Butcher added.
The Council was unlikely to borrow any more money for another couple of months, Butcher said, but there was still a big borrowing programme ahead.
"I think across the group in the next 12 months it's about NZ$1.9 billion to borrow. About half that is refinancing existing debt, and obviously we've got a large capital expenditure programme to finance. We'll be borrowing offshore, by LGFA and doing some domestic issuance," said Butcher.
 The Auckland Council Group's net debt at 30 June was NZ$5.5 billion. Total debt was NZ$5.9 billion. The Council's Long-Term Plan suggests this will increase to reach a peak of NZ$12.5 billion in 2021/2022. Standard & Poor's has an AA credit rating on the Council and Moody's Aa2.
See more on Auckland Council's borrowing strategy in this Double Shot interview with Butcher from last December. And there's more information at the Council's investor centre.
This article was first published in our email for paid subscribers. See here for more details and to subscribe.