US Fed has now printed US$1 trillion in its bond buying program; no end in sight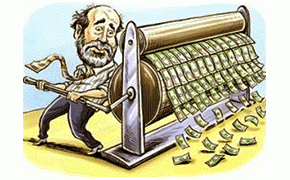 The US Federal Reserve has now bought more than US$1 trillion of bonds as part of its current program of 'financial crisis support' - or open-ended quantitative easing.
Starting in September 2012, the part of the Fed system that carries out these activities, the Federal Open Market Committee (FOMC) decided to increase policy accommodation by purchasing agency-guaranteed mortgage-backed securities (MBS) at a pace of US$40 billion per month "in order to support a stronger economic recovery and to help ensure that inflation, over time, is at the rate most consistent with its dual mandate".
In addition, starting in January 2013, the Federal Reserve began purchasing longer-term Treasury securities at a pace of $45 billion per month.
According to our calculations (below), that means that they have now pumped more than US$1 trillion of 'free money' into their banking system.
There is no end in sight.
Fed officials have signalled they would taper these programs back when they were sure that unemployment was going to be 6.5% or below, but today's NFP report shows that is still a long way off.
Bond buying is the third major step in the Fed's fight agains the GFC. 
It started be reducing its target Federal Funds rate from 5.25% to effectively zero in August 2007.
Then it juiced up liquidity in an emergency response as the crisis deepened by lending aggressively at its traditional 'discount windows' in its TAF, PDCF and TSLF programs. Essentially, these programs loosened the criteria for commercial instruments for which the Fed would lend against, and was aimed only at banks.
It followed up these moves with huge bilateral currency swap agreements with 14 other central banks.
Then, in a second tilt at the problem, it pumped liquidity directly to key borrowers (banks) and investors (insurers and other big money market players) in key US credit markets, in programs known as CPFF, AMLF, MMIFF and the TALF. The TALF involved new credit support of US$200 billion.
Now the on-going bond buying 'third leg' has pushed on up through the US$1 trillion level this month.