Key acknowledges Treasury may forecast budget deficit in December 16 HYEFU, but he remains confident of final surplus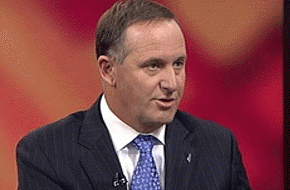 By Bernard Hickey
Prime Minister John Key has acknowledged that slower inflation and a lower dairy payout may mean the Treasury forecasts a Budget deficit when it releases fresh forecasts on December 16 in its Half Yearly Economic and Fiscal Update (HYEFU).
But Key told his weekly post-cabinet news conference that although it would be challenging for the Government to reach its long-targeted surplus in the current financial year to June 20, 2015, he remained confident of a surplus once the accounts were finalised.
His comments are the first to openly suggest a deficit forecast is possible after Finance Minister Bill English said last week that a final surplus was still planned, but a surplus forecast on December 16 was a challenge.
"As you will have seen from Bill English's comments, the HYEFU is going to be challenging. There are a number of different factors in there and ultimately what that final HYEFU number looks like, we'll know very soon. Even if it was to show a small negative number, it doesn't mean that's actually what the number is going to be when the deficit or surplus is finally determined for the 2014/15 year," Key said.
"Historically when you look at the HYEFU, there's been a lot of very wild fluctuations that have taken place. We've had times where the HYEFU numbers have been billions of dollars different from the actual surplus or deficit at the end of the year," Key said.
China still confident
Elsewhere, Key said Chinese President Xi Jingping had told him in discussions last week that he was very confident about China's growth numbers. Over the weekend the People's Bank of China surprised financial markets by easing monetary policy, suggesting growth may be slower than expected.
Key said President Xi had referred to the Chinese Government's target of doubling per capita GDP to US$14,000 by the Chinese Communist Party's centenary in 2021, which would require GDP growth of 6.5% per year until then "and they think that's quite conservative on their modelling."
"So they are changing the structure of the Chines economy. They're very much focused on not just top line GDP number, they're quite focused on the quality of living, the quality of the environment, the urban/rural split and the GDP/capita growth," he said.
"He told me they were not that concerned by the top line GDP numbers slowing down. They expected that because of the steps that they took. They're much more worried about some of these longer term issues," Key said.
Housing slowdown, not consumer
Asked if he was concerned about China's absence in recent months as a buyer in Fonterra's Globaldairytrade auction, which had contributed to a 49% fall in prices this year, Key said: "He (President Xi) is very confident they are going to buy New Zealand products in a very prolific way. That matches with with what COFCO are saying, who are one of the biggest importers of food in the world, when we saw them in China for APEC, they confirmed consumer demand is very strong."
"Like everyone, we're concerned that there's some slowdown there. But the slowdown is happening in credit markets and in particular their housing market, and not on the consumer side. What drives the consumer side is GDP/capita income. As he pointed out, they've now got 300 million people currently who are defined as middle income in their terms and that number is going to grow," Key said.
(Updated with more Key comments on China)