Treasury forecasts NZ$176 million Budget surplus for 2015/16; Govt dumps NZ$1,000 kick start for new KiwiSaver members; Benefits and Working For Family payments nudged up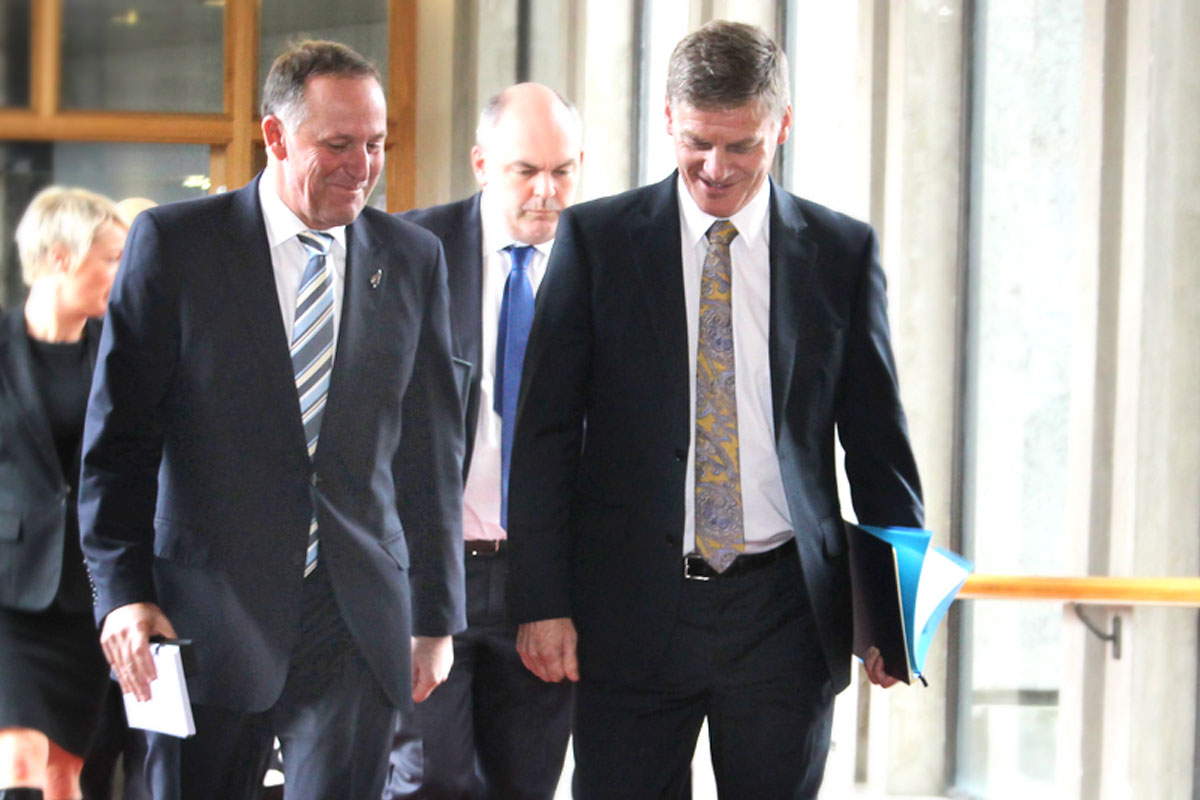 By Bernard Hickey
The Government has forecast a Budget surplus of NZ$176 million for 2015/16 in Budget 2015, which is one year later than it promised before the last two elections and thin enough to turn into a deficit with any economic downturn.
But the Government only managed to get to that wafer-thin figure by ditching the NZ$1,000 kick-start for new KiwiSaver members from today to save NZ$175 million in 2015/16 and by imposing a new NZ$22 per trip levy on tourists to raise NZ$100 million a year to pay for customs and bio-security costs.
However, the Government followed through on its post-election promise to spend some money on addressing child poverty by increasing benefits and tax credits by up to NZ$25 a week at a combined cost of NZ$200 million a year from 2016/17.
But it also added the attached string of making parents on benefits work part time once their children reach the age of three, down from five previously. The money being spent is also not as large or as soon as some would like with the first benefit increases not starting until April 1.
Finance Minister Bill English and Social Development Minister Anne Tolley announced a plan to spend up to an extra NZ$240 million a year on benefit payments and Working For Family payments for low income families.
The plan is forecast to cost NZ$790 million over four years and includes a NZ$25 a week increase in after-tax benefit rates for families with children, which English and Tolley said was the first time core benefits had risen faster than inflation since 1972. But the benefit increase from April 1, 2016 comes with a big attached string. Most sole parents and partners of beneficiaries will have to be available for 20 hours work a week once their youngest child turns three, which is up the youngest child turning five.
All beneficiaries with part-time work obligations will also now be expected to find 20 hours work a week, up from 15 hours now. It will cost NZ$125 million a year from 2016/17, but just NZ$32 million in 2015/16 when the Government's budget surplus is at its most wafer thin.
Low income working families earning less than NZ$36,350 a year before tax will get an extra NZ$12.50 a week in Working For Families tax credits. The base rate will rise 21% to NZ$72.50 a week. Some very low income families on the Minimum Family Tax Credit will get up to NZ$24.50 extra per week.
The extra Working For Families payments progressively decline as after tax incomes rise above the NZ$36,350 threshold. However, there is a sting in the tail for higher income families. Those earning over NZ$88,000 will receive around NZ$3 a week less. The Working For Families changes will cost NZ$74.6 million in 2016/17, but just NZ$19.4 million in the budget-constrained 2015/16. Childcare assistance for low income families will increase from NZ$4 an hour to NZ$5 an hour from April next year, which would affect 40,000 families.
'Still room for tax cuts in Budget 2017'
The Government left its Operating Allowances unchanged from December at NZ$1 billion in Budget 2015, NZ$1 billion for Budget 2016 and NZ$2.5 billion for Budget 2017 to help pay for modest tax cuts "should fiscal and economic conditions allow."
The extra income for low income families amounts to just NZ$51.4 million in 2015/16, before rising to a combined NZ$210 million a year from 2016/17. For comparison sake, spending on NZ Superannuation payments is expected to rise in line with the ageing population and average wages to the tune of NZ$667 million in 2015/16 alone to a total of NZ$12.256 billion.
Government to borrow more
Elsewhere, The NZ Debt Management Office announced a domestic bond programme for 2015/16 of NZ$8.0 billion, which was NZ$1.0 billion higher than forecast at the Half Yearly Economic and Fiscal Update in December.
The Government said it remained on track to start reducing net debt from a peak of 26.3% of GDP in 2015/16 to 19.7% of GDP in 2020/21.