PM sees Govt moving to charging GST on services delivered online from overseas firms such as Apple and Netflix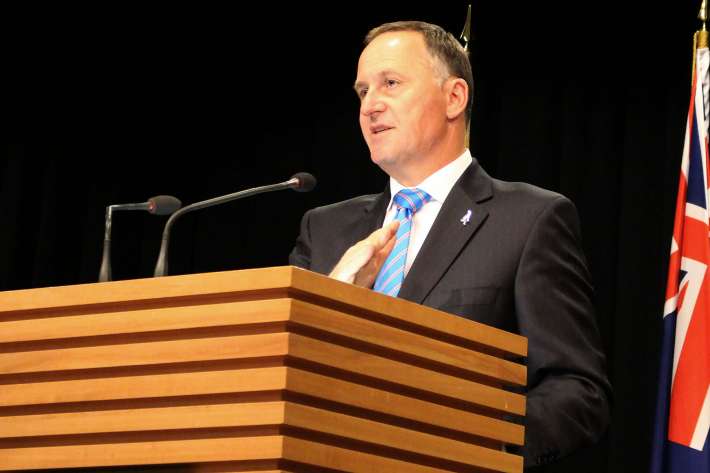 By Bernard Hickey
Prime Minister John Key has foreshadowed the release tomorrow morning of a discussion paper from Revenue Minster Todd McClay that will propose the imposition of GST of digital services bought online, including from the likes of Apple, Netflix, Google and Amazon.
Key told his weekly post-cabinet news that Government was also looking at lowering the current GST-free threshold of NZ$400 for physical products imported through overseas websites, although he said this would be more difficult and take longer to implement. He suggested in the news conference the GST for online services could be in place by Christmas, but this was later down-played by officials.
Key denied these measures to tax such physical and digital imports was a new tax, saying it simply created a level playing field with 'bricks and mortar' stores and service providers based in New Zealand who had to collect GST and pass it on to the IRD.
He said the increasing prevalence of people buying goods online and from offshore websites had created a 'hole' in the Government's revenues of around NZ$180 million per year. He said imposing GST on imported services used in New Zealand could also raise hundreds of millions of dollars for the Government.
A spokeswoman for McClay said the discussion document would be released at 10 am tomorrow.
Key said legislation to make companies such as Apple and Netflix register for GST purposes and start collecting GST revenues to pass onto the IRD could be introduced later this year. He said the measures to lower the threshold for physical imports bought online could take longer and was likely to be more complicated.
He said the IRD's officials were working to harmonise their moves with those in Australia, which is looking to reduce its GST-free threshold from A$1,000.
Key said New Zealand's threshold of NZ$400 was among the highest in the world, although it was unlikely to be lowered to zero. He pointed to thresholds of C$20 in Canada and even lower than that in Europe.
"That's the more complicated nut to crack and I anticipate that cabinet will get a series of recommendations in the latter part of this year, sort of by the end of October, and then we will be able to report back on our steps there. So the first step: services. Second step: online purchases," Key said.
"I think you should have to pay (tax) for online services. And, in fact, there are about 12 jurisdictions in the world that do that, including Europe, so it's a well-trodden path and it actually works," Key said.
"And, in principle, if you buy, for instance, Sky TV and you pay for that in New Zealand, you pay GST for the Sky services you get. Why shouldn't you pay if you get Netflix from overseas?," he said.
Key said the Government would be able to move relatively quickly to tax services online because it had been done overseas.
"There's a consultation period where the discussion document will be put out into the public domain, and then on the basis that we decide to move forward, which would be the government's hope, then it becomes the implementation of that. So that is, arguably, a lot easier because it's really about registration of some of those big companies. So that' s an easier process," he said.
"I think in terms of the purchase of goods that come across the border, that is more challenging. We are working on that and I reckon we will get there, but it's just going to take a little bit more time," he said.
Asked if the services GST could be in place by Christmas, he said: "Could be, yep. I think that's possible. Certainly it will take a month or six weeks or so for them to report back so that puts you into the end of September. It might be a little optimistic by Christmas."
Key downplayed suggestions the GST-free threshold could be lowered from NZ$400 to zero.
"By definition, if you went from $400 to zero then everything would be caught. But the problem is, the government is trying to balance up the need to be both fair to existing retailers who have bricks and mortar on the ground, the fact that we have got a hole in our revenue accounts that emerging because more and more purchases are online, but also reflecting the fact that consumers for convenience, not necessarily for price, want to purchase online," he said.
"So if we make the de minimis zero, everything gets held up at the border and that's a massive inconvenience to consumers. There's got to be an easier way through that. I think there is an easier way but we just have to work our way through it."
(Updated with more comments.)