Govt sees NZ$0.7 bln OBEGAL surplus in 2016/17; rises to NZ$6.7 bln by 2019/20; NZDMO to borrow NZ$2bln less this year and repay NZ$9.2 bln of debt by 2020; NZSF contributions to restart 2 yrs earlier in 2020/21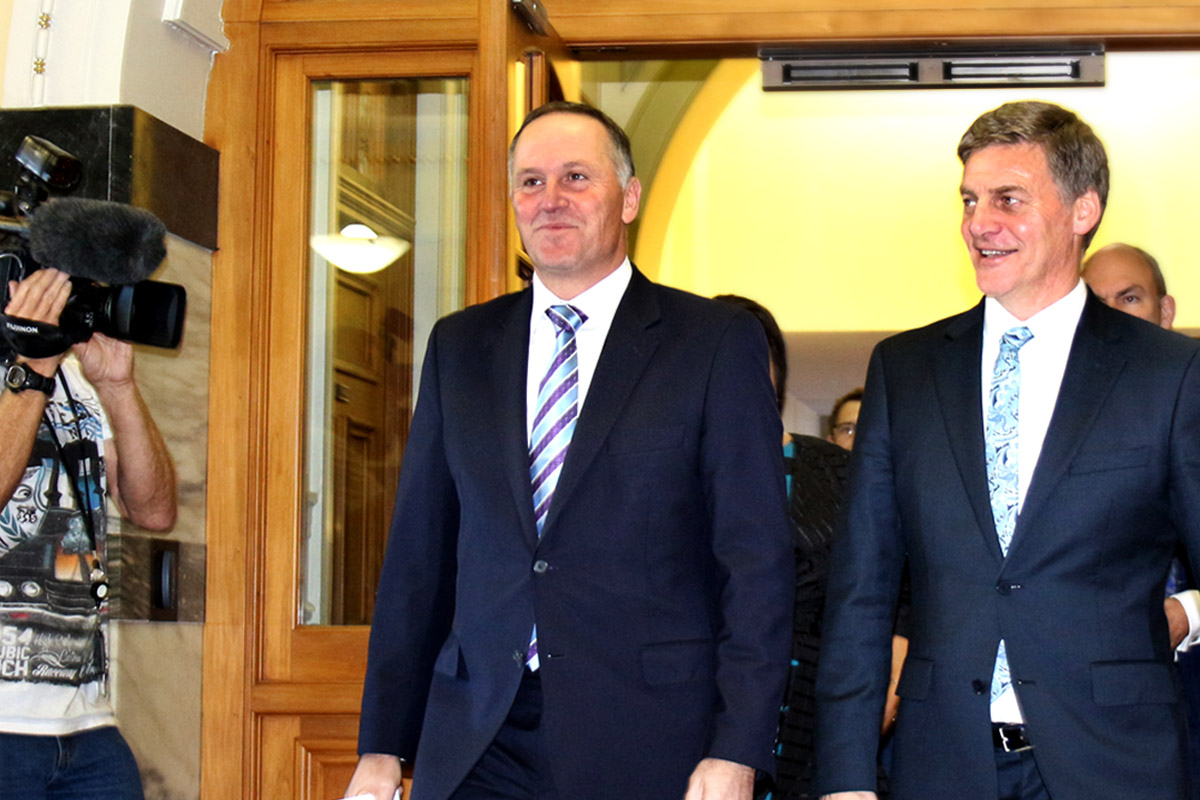 By Bernard Hickey
Finance Minister Bill English has unveiled his eighth Budget with few major surprises and barely enough room for tax cuts from next year.
At first blush, it appears to be a 'holding pattern' Budget that keeps the Government on track to meet its surplus and debt targets, but with the flexibility (just) to announce income tax cuts before the next election, if the economy keeps growing solidly.
It lacks the big bang announcements of previous years around benefit rate increases or new spending on doctor's visits, and instead keeps the Government's powder dry ahead of the 2017 election.
Here are the key details:
As largely foreshadowed, English increased the Government's spending allowance in Budget 2016 for the 2016/17 year to NZ$1.6 billion from NZ$1.0 billion to accommodate extra spending on health and education because of population growth, and includes money spent up front on child welfare reforms.
English reduced the planned new spending allowance for Budget 2017 from NZ$2.5 billion to NZ$1.5 billion, partly by shuffling forward the NZ$600 million for extra spending this year and using the rest to repay debt.
This leaves little room for the NZ$3 billion of tax cuts indicated last week by Prime Minister John Key, but English was coy about what decision the Government would make next year, saying only that the Government would make its decision next year based on the fiscal conditions and the choices before the Government.
"Those are decisions for the future," English told a news conference inside the lock-up in the Beehive.
The focus on debt repayment over the next three years, rather than the tax cuts indicated for 2017 and beyond at Budget 2015, meant the New Zealand Debt Management Office (NZDMO) was able to reduce its planned borrowing in the 2016/17 year by NZ$2 billion to NZ$7 billion. It also said it would reduce net bond issuance by NZ$9.2 billion over the three years up to 2019/20. It also means net debt was forecast to fall to 19.3% of GDP from 25.6% now.
This slight improvement in the debt track allows the Government to bring forward the resumption of contributions to the New Zealand Superannuation Fund by two years to 2020/21. However, English told the news conference that resumption would be one of the options the Government considers as it tosses up whether or not to offer tax cuts next year.
The Government cut its capital spending allowance to NZ$1.4 billion from NZ$1.7 billion in December, when English had lifted it from NZ$700 million. However total new capital spending, which includes NZ$883 million on 480 new classrooms and nine new schools, totals NZ$2.6 billion for 2016/17. However the second-biggest chunk -- NZ$857 million -- will go to the IRD's 'Business Transformation' new computer system.
However, English did highlight that a further NZ$599.6 million has been set aside in the Budget as a contingency for additional infrastructure investment, without being specific about how or where it might be spent.
Elsewhere, the Government scrapped its 1 for 2 concession for carbon credits in its emissions trading scheme and said tobacco excise duty would rise 10% per year on January 1 for the next four years.
Reaction
Labour Finance Spokesman Grant Robertson said the Budget failed to deal with the structural challenges facing the economy, including "a housing crisis, rising unemployment, underfunded health and creaking infrastructure."
"This Budget applies a sticking plaster to a compound fracture. There is nothing tangible in the Budget to create more jobs, deliver a real increase in wages and diversify the economy through encouraging new and emerging businesses to grow and export," Robertson said.

"The Reserve Bank Governor will be kept awake at night. With the economy being driven by population growth, the inadequate announcements in infrastructure spending ignores Graeme Wheeler's plea for more economic legwork from the Government," he said.
Green Co-Leader James Shaw said the Budget showed "yet again, that in response to the great challenges facing our nation, all this Government is willing to do is plaster over the cracks when it could've been building houses."
"For eight years now, we've had a Government that has put together its budgets on the basis of what will do well in the polls, rather than what will fix the problems we face," he said.
(Updated with fresh picture, detail)