New law enables Crown to write COVID-19-affected SMEs loans; IRD to administer the scheme; Details to be unveiled on Friday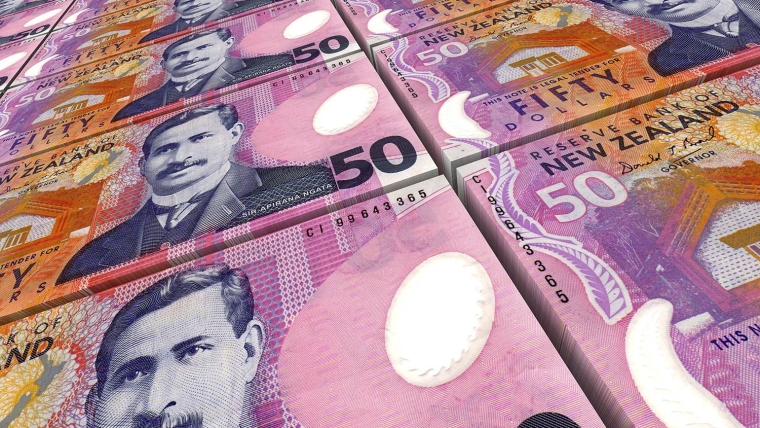 It appears the Crown will start offering loans to small-to-medium-sized businesses.
The COVID-19 Response (Taxation and Other Regulatory Urgent Measures) Bill, passed under urgency on Thursday, authorises the Inland Revenue Commissioner to grant businesses loans under a "Small Business Cashflow (Loan) Scheme".
The Bill says the scheme will "provide loans to assist small-to-medium businesses in the circumstances arising from the continuing impact of COVID-19 related measures or circumstances".
Revenue Minister Stuart Nash says the Government will make further announcements and provide more detail on Friday.
It hasn't at this stage revealed an eligibility criteria, the size of the loans, their terms, the interest rates that will be charged, and how credit risk will be assessed.  
The Inland Revenue already administers student loans. In the US, a loan scheme for SMEs is overseen by the Federal Reserve.
The Small Business Cashflow (Loan) Scheme is distinct from the Business Finance Guarantee Scheme, through which taxpayers are underwriting 80% of individual bank loans to eligible SMEs. 
While both Finance Minister Grant Robertson and Reserve Bank Governor Adrian Orr have urged banks to lend courageously to businesses under this scheme, banks will ultimately lend according to their own criteria and within their own risk appetites. 
Banks can also only lend to businesses under the scheme if those businesses have exhausted other options with their banks.
Banks that are members of the New Zealand Bankers' Association wrote $5.9 billion of new business loans between March 26 and April 29.
To put this figure in context, there was $118.0 billion in business debt owed to New Zealand-registered banks as at March, according to Reserve Bank data.
Here's a snippet from the Bill: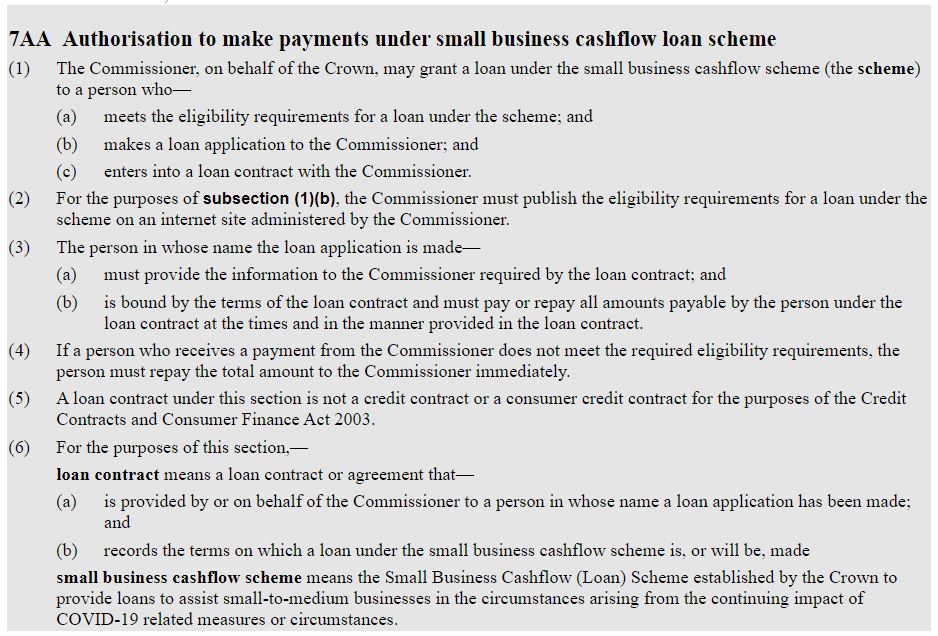 By way of background, here's the eligibility criteria for the Business Finance Guarantee Scheme, launched on April 1.
Businesses must be New Zealand-based and have had turnovers of between $250,000 and $80 million at the end of the 2019 financial year.

The loan can only be used to meet urgent liquidity or bridging financing needs due to COVID-19 disruption.

Loan proceeds can't be used to cover capital assets/projects, distribution of dividends, on-lending outside the borrower's group, or to refinance existing debt unless it was advanced on or after March 16, 2020.

The maximum amount banks can lend to each business under the scheme is $500,000.

The maximum term for each loan is three years. Different banks will have different rules regarding terms.

The scheme only covers new lending.

Property development, property investment and agriculture are among the businesses excluded.

Borrowers can only take out a loan under the scheme if they've used their bank's existing facilities (other than credit cards, trade finance and other types of finance specified by banks).

If a loan is for $50,000 or more, the bank must use its best endeavours to obtain security from the borrower under a general security agreement.

Participating banks include ANZ, ASB, BNZ, Heartland Bank, HSBC, Kiwibank, SBS Bank, TSB and Westpac. 
---
Note: Interest.co.nz previously reported an incorrect figure for average monthly new business lending by banks. The story has now been corrected.