Adrian Orr sees the economy making a 'sluggish' rather than a 'V-shaped' recovery; Says retail banks should lend 'courageously' but 'we need to keep open-minded to other forms of credit'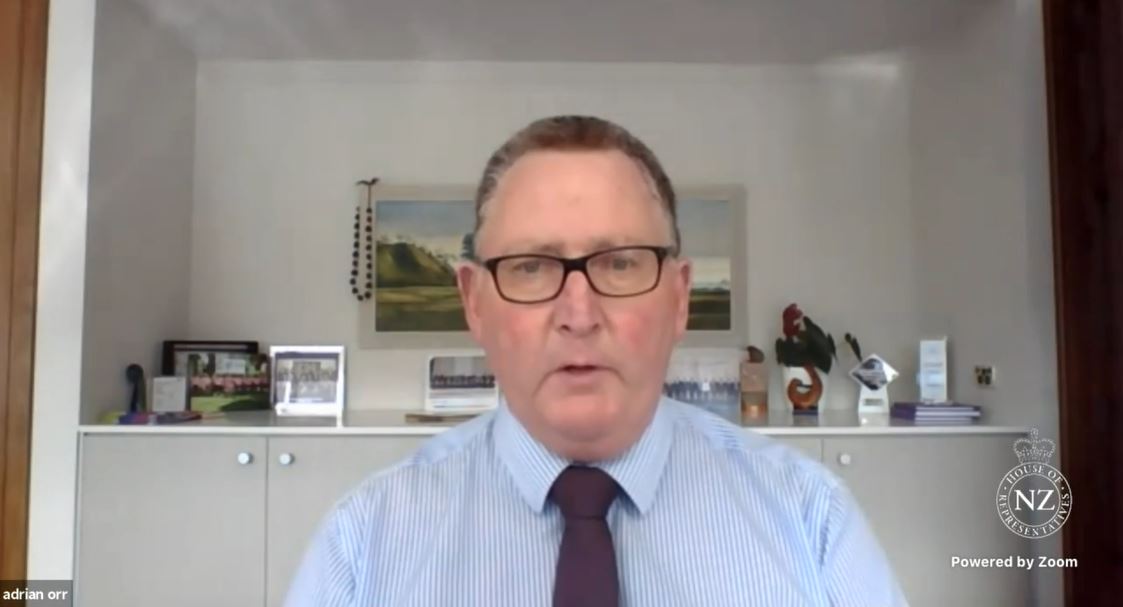 Reserve Bank (RBNZ) Governor Adrian Orr is emphasising the need for government spending to cushion the blow of COVID-19, saying monetary policy can only play a "supporting role" and retail banks can't be the country's sole source of credit.
Fielding questions by members of the Epidemic Response Committee on Thursday, Orr said: "The longer an economic slowdown persists, the higher unemployment becomes, the harder and harder it is for the banking system itself to be the provider of credit.
"That is why we need to keep open-minded to other forms of credit.
"The banking system will play a critical part, but even that has a limit to it."
In terms of these other forms of credit, Orr said firms could raise debt themselves.
The RBNZ has told retail banks they can swap their holdings of "corporate paper" (big business debt issuances typically with shorter maturities) and other "asset backed securities" for the RBNZ's cash.
By encouraging banks to support the corporate paper market, the RBNZ is helping corporates keep issuing debt.
The RBNZ is offering up to $500 million a week under this "Open Market Operation". Assistant Governor Christian Hawkesby said banks haven't taken it up on its offer yet, but its availability is giving banks confidence and is "helpful at the margin".
Orr said the government also had a key role to play through "wider fiscal policy" like income support, wage subsidies, and direct employment by the state.
He didn't mention the possibility of the RBNZ writing businesses loans, as the Federal Reserve is in the US for example.
Banks need to be 'courageous'
Despite making these comments around limits to credit provided by banks, Orr assured New Zealand's banks are well capitalised.
He also said: "Banks have to be out there doing their business, they have to be courageous and they have to be thinking about the long-term wellbeing of their customers."
The RBNZ is supporting banks as the Government instructs them to be a bit more liberal with their lending to business customers that quality to have their loans 80% underwritten by taxpayers under the Business Finance Guarantee Scheme.
The RBNZ is offering banks loans with three-year terms, at a rate above the Official Cash Rate (OCR), to help them lend to businesses.
Orr maintained it was too soon to say how the Business Finance Guarantee Scheme was going, but said he'd be monitoring banks' lending through the scheme and the interest they charge.
'Sluggish' rather than 'V-shaped' recovery
Commenting on the state of the economy more generally, Orr said: "The real driving part of this particular economic challenge is domestic demand around the world.
"That demand - particularly with labour market displacements, the uncertainty around household wealth - will mean that a bounce-back in demand will be potentially very sluggish… rather than a traditional V-shaped bounce-back…
"One of the worst economic scenarios we see is where we're bouncing between a Level 4, into 3, back to a 4; on again, off again.
"The most optimistic scenario is where we come out of this very very tight lockdown and we remain out of that lockdown in varying degrees of economic activity… domestic demand will be slow and partial and employment growth will be challenging.
"So it's kind of not like a recovery from the Global Financial Crisis [where] suddenly the banks are all good again, or the Asian Financial Crisis."
'End of the beginning'
Orr remained adamant fiscal policy should be the key response to the crisis, saying monetary policy is playing a "supporting" role.
The RBNZ is ready to buy more New Zealand Government bonds on the secondary market, should Treasury need to issue more debt so the Government can keep supporting businesses and households.
"At most, we're at the end of the beginning around what may need to be done and what we can do," he said.
The RBNZ's Monetary Policy Committee on March 23 committed the central bank to buying up to $30 billion of New Zealand Government bonds on the secondary marketing over the next year. It on April 7 agreed to buy up to $3 billion of Local Government Funding Agency bonds over the next year.
Orr pointed out the $30 billion was equivalent to 40% of these New Zealand Government bonds on the market at the time.  
"We don't want to crowd out the rest of the market by being the only participant, but as that opportunity grows, so does our ability to continue the quantitative easing," he said.
He repeated what the RBNZ told interest.co.nz last week, that cutting the OCR below 0.25% where it's at now, after fulfilling its commitment to keeping it at that level for a year, is an option.
Retail banks' computer systems aren't ready to go into negative interest rate territory yet.
QE programme equivalent to cutting the OCR by 150 points
Orr said the RBNZ's Large Scale Asset Purchase programme is doing the same job in terms of helping the Monetary Policy Committee reach its inflation and employment targets.
Hawkesby said that international research suggests asset purchases worth 1.5% of a country's gross domestic product (GDP) equate to 25 basis points of monetary easing.
So the RBNZ's $33 billion bond buying programme should have a similar effect to cutting the OCR by 150 basis points.
The Monetary Policy Committee could expand the Large Scale Asset Purchase Programme after its next scheduled meeting ahead of its releasing its quarterly Monetary Policy Statement on May 13.
Hawkesby said the Statement (which details a range of economic forecasts) will also include scenarios, much like those released by Treasury this week.