PM: A move to Level 2 could be phased in; Gatherings limited to 100 people; Domestic travel allowed; Retail, hospitality and beauty businesses can open under restrictions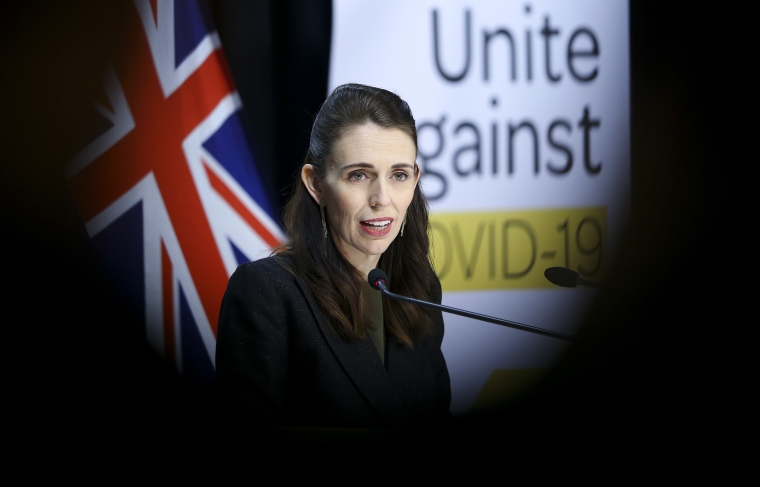 Prime Minister Jacinda Ardern has released guidance on what Level 2 will look like, saying the country might have to make the move step-by-step rather than with a single leap. 
She said a move to Level 2, which is quite different to Level 3, might be phased in if the Ministry of Health makes this suggestion. 
Cabinet will make a decision on Monday, May 11.
At Level 2 domestic tourism can resume. Retail, beauty and hospitality businesses can open, if they can follow health rules and keep track of those they have contact with.
A rule for groups of bar/restaurant-goers to have to be separated, seated and served by the same person will make things tough for the owners of bars, nightclubs and music venues.
Ardern said the principle at Level 2 is "play it safe".
New Zealand will move to Level 2 if "household transmission could be occurring" and there are "single or isolated cluster outbreaks".
It will stay at Level 3 if "community transmission might be happening" and "new clusters may emerge but can be controlled through testing and contact tracing".
This is what Level 2 will look like:
Personal
Socialising beyond household bubbles allowed. Large parties discouraged. More details to come.
2-metre distancing from strangers, 1-metre from workmates and people that can be contract-traced.
Mass gatherings
Restricted to fewer than 100 people indoors and outdoors.
Travel
Border remains closed. New Zealanders arriving from overseas still required to self-isolate for two weeks in government-managed facilities.
Domestic travel allowed. People urged to be mindful of the activities they do when travelling, rather than the travelling as such. 
People encouraged to support tourism industry safely.
Business
Businesses can restart for staff and customers. Must have contract tracing systems in place to record everyone who enters their premises and maintain 1m distancing between groups of customers. 
People can return to their offices with good hygiene practices. Alternative ways of working encouraged (eg remote working, shiftbased working, physical distancing, staggering meal breaks, flexible leave).
Malls and larger retailers required to follow measures similar to supermarkets. Number of people allowed in-store restricted.
Hairdressers and beauticians must wear appropriate protective equipment.
Hospitality businesses can open but customers must be seated, separated and be served by one waiter/waitress. People can't order from counters.
Recreation
Playgrounds, gyms, public courts, pools can re-open. Some can open more quickly than others.
Sport involving close contact allowed if contact tracing is maintained for training and games.
Professional sport can resume domestically. Gatherings still limited to fewer than 100 people.
Public venues can open within the safety rules. 
Education
Schools, early childhood centres and tertiary education facilities will open the Monday after a move to Level 2 is confirmed.
Distance learning available to school students who can't attend.
Output expected to be 85% to 91% that of normal levels
Treasury and the Reserve Bank expect direct output to be between 85% and 91% that of normal levels at Level 2. 
Percentage of normal time GDP produced at each alert level
 
RBNZ
Treasury
L1
96.2
90-95
L2
91.2
85-90
L3
81
75
L4
63
60
'A much higher level of individual responsibly'
Ardern said: "Every alert level to fight COVID-19 is its own battle. When you win one, it doesn't mean the war is over.
"In a nutshell, Level 2 is a safer normal designed to get as many people back to work as possible and the economy back up and running in a safe way, made possible only by our collective actions at Levels 4 and 3 to beat the virus and break the chain of transmission.
"Strong public health measures such as physical distancing, good hygiene and contact tracing will be essential to making Level 2 work.
"There is a much higher level of individual responsibly required at Level 2 to prevent the spread of the virus. Even though the economy will be significantly opened up we still need everyone to remain vigilant and continue to act like you and those around you have the virus.
"On Monday, May 11, we will make a decision on whether to move, taking into consideration the best data and advice we can, recognising the impact of restrictions, and ensuring we don't put at risk all of the gains we have made.
"We need to balance the risk of the virus bouncing back against the strong desire to get the economy moving again.
"We will continue to act with caution and not move before it is safe to do, so entry into Level 2 could be phased, with higher risk activity occurring when there is stronger evidence it is safe to do so."