Our national airline is not giving any specific financial guidance for the year ahead but says each of the scenarios it is currently modelling suggests it will make another loss in 2021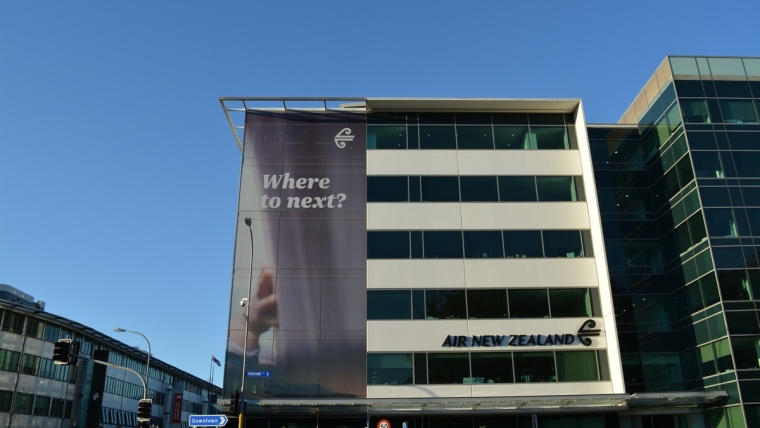 Our national airline, Air New Zealand, has slumped to a $454 million after-tax loss for the year to June 2020.
And while it is not making any specific forecasts for the year ahead as such, the airline says "each of the scenarios we are currently modelling suggest we will make a loss in 2021".
Air NZ says short-term liquidity as of August 25, 2020 was approximately $1.1 billion, made up of cash and the $900 million standby loan facility from the New Zealand Government.
"Due to the strong cash position pre-Covid-19, swift action taken by management to reduce cash burn and a better than expected return of domestic demand after the initial lockdown was lifted in New Zealand, the airline has not yet utilised the standby loan facility. However, it expects to start drawing on these funds in the coming days," the company says.
It says "cash burn" averaged approximately $175 million per month from April to June, including higher than average refunds, redundancy payments and fuel hedge close out costs, but this reduced to $85 million for July.
"The airline is estimating the go forward average monthly cash burn to be in the range of $65 million to $85 million while international travel restrictions remain and assuming resumption of domestic travel with no social distancing requirements, as well as a continuation of government-supported cargo flights."
Air New Zealand says the Government has recently reaffirmed the Crown's long-standing commitment to maintaining its majority shareholding in Air New Zealand, "having regard to the unique and critical role the company has in New Zealand's economy and society".
"This is reflected in the Crown loan facility that provides Air New Zealand with liquidity support whilst the airline works through to a permanent solution. Air New Zealand is engaging constructively with the Crown as it continues to assess its capital structure and funding needs."
The net loss of $454 million (compared with net profit of $276 million a year ago) included a tax credit of $174 million. Air New Zealand said the result (pre-tax) included an $87 million loss before "significant items", while the aforementioned "significant items" comprised $541 million. As per this table.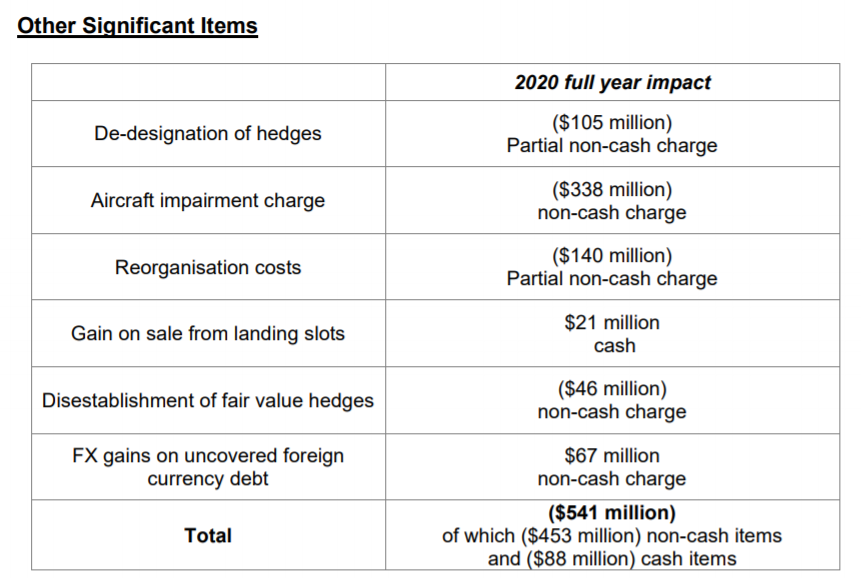 Air New Zealand chief executive Greg Foran said Covid-19 has highlighted "once again" that the core strength of the airline is its people and their ability to respond to change quickly.
"I am in awe of the dedication, perseverance, and professionalism of Air New Zealanders across the business and never cease to be amazed at the resilience and strength of our people as we work our way through this crisis."
Air New Zealand provided this Financial Summary:
• Operating revenue of $4.8 billion, down 16% on the prior year as a result of travel restrictions due to Covid-19
• Total network capacity decline of 21% compared with the prior year
• Cargo revenue of $449 million, up 15% on the prior year
• Loss before other significant items and taxation of ($87) million
• Loss before taxation of ($628) million
• Board has determined not to declare a final dividend for the 2020 financial year, given current financial pressures
• Short-term liquidity of $1.1 billion at close of business 25 August 2020, (including funds available under the Government standby loan facility which has not yet been utilised)