Statistics New Zealand says retail card spending slumped by over half a billion dollars in August as Auckland entered Covid-19 alert level 3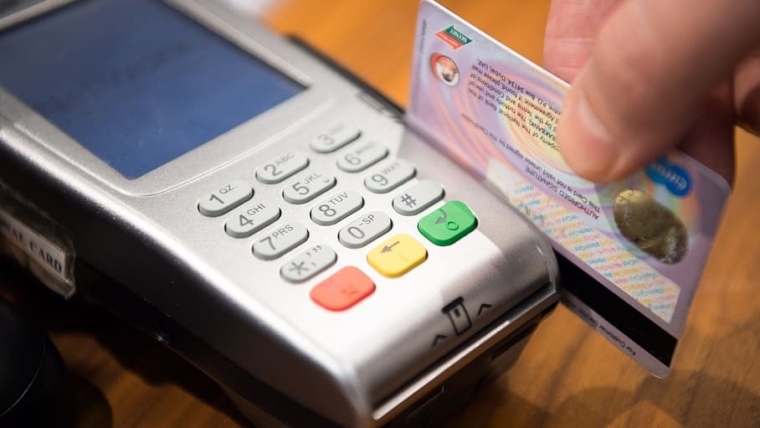 The re-emergence of Covid-19 in Auckland has knocked retail card spending again, according to the latest figures from Statistics New Zealand.
Stats NZ said retail card spending fell $530 million in August 2020 compared with July as Auckland entered Covid-19 alert level 3.
Retail statistics manager Kathy Hicks said in actual terms, retail spending using electronic cards was $5.4 billion in August 2020, down $46 million (0.8%) from August 2019.
In contrast, retail spending in July 2020 had been up $610 million (11%) on July 2019 as spending continued to bounce after the earlier lockdown in April.
"Auckland was the only region under alert level 3 [in August], but this third of New Zealand's population could only spend on restricted services, resulting in lower card spending at the national level,"  Hicks said.
Westpac senior economist Satish Ranchhod said the fall in August figures was in line with Westpac economists' expectations.
"Looking ahead, we expect spending levels will take a sizeable step higher in September. Following the dialling back of the Alert Level in Auckland, weekly gauges of retail spending have rebounded and are now back at the levels we saw at the start of August. That's consistent with our experiences in the wake of the first lockdown, when we saw that large swathes of the domestic economy were able to get back up to speed quickly when restrictions were eased," he said.
"But while overall spending levels appear to be recovering, the recent lockdown has left many retailers with even larger holes in their earnings this year, particularly in the hospitality sector.
"In addition, continued Alert Level 2 restrictions are prompting changes in household spending. New Zealanders are spending less on hospitality and entertainment, but more on groceries and durable items. That pattern in spending is likely to ripple through the labour market, with the hospitality sector already reporting a large number of job losses."   
Card spending fell in four of the six retail industries in August 2020 compared with August 2019: hospitality, fuel, apparel, and motor vehicles (excluding fuel).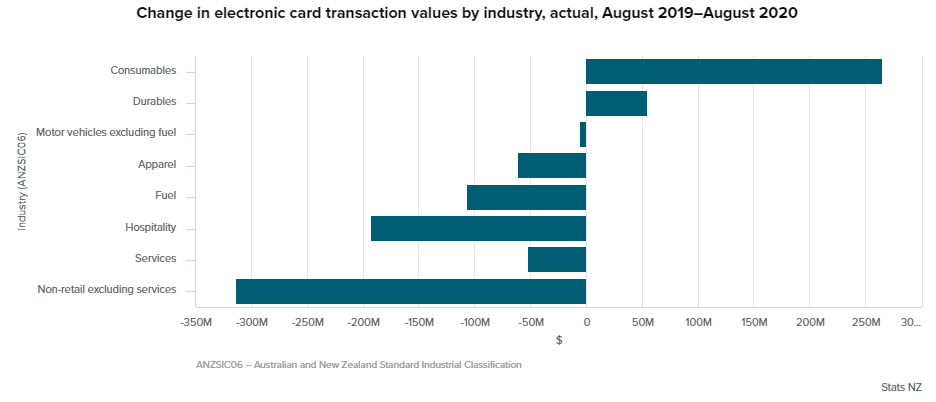 Spending on eating out (food and beverage services) and on hotels, motels, and other accommodation had the largest fall in August 2020, down $192 million (18%) on August 2019.
"Renewed measures to slow the spread of Covid-19 meant the hospitality sector was hit hard again with falling sales, just as businesses were picking up in July," Hicks said.
Fuel spending was down $107 million (19%) in August 2020 compared with August 2019.
"Restrictions on non-essential travel in Auckland from August 12 as well as lower prices at the pump led to reduced spending on fuel," Hicks said.
Spending on groceries and liquor (consumables) had the largest increase, up $265 million (13%) compared with August 2019. 
"Kiwis stocked up on groceries and drinks before Auckland's shift to Covid-19 alert level 3 and the rest of New Zealand's shift to level 2," Hicks said.
"Spending on supermarkets has been strong for the last six months beginning with the record high in March, as they remained open as an essential service under all alert levels."
Spending on furniture, hardware, appliances, and other durables had the next largest increase, up $55 million (4.2%) in August 2020 compared with August 2019.