Labour aims for three-to-five year extension to life of the Southland smelter, including 'supporting' Transpower to allow reduced power costs for the smelter owner NZAS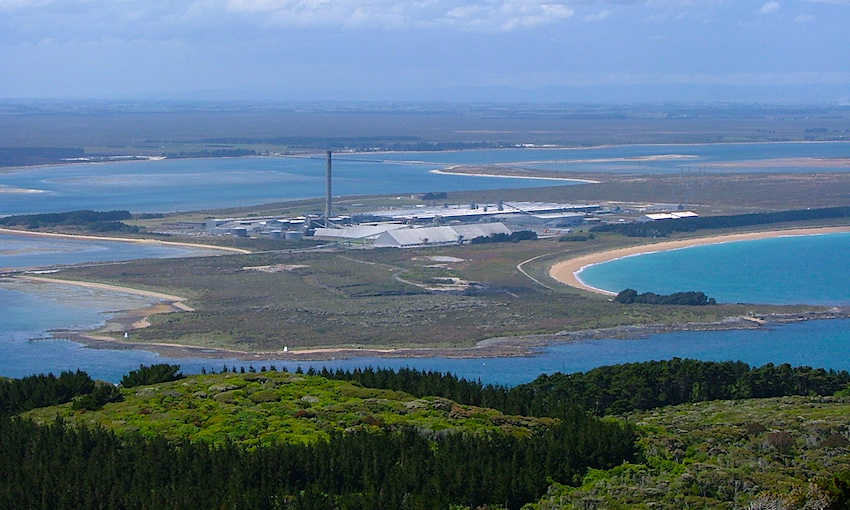 The Labour Party is now pledging to extend the life of the Tiwai Point aluminium smelter in Southland by three-to-five years, including allowing the smelter owner to negotiate a cheaper power price - something Labour had appeared to explicitly rule out earlier.
Both Labour's coalition partner in the current Government NZ First and the National Party have pledged ways of extending the life of the smelter.
Smelter owner NZ Aluminium Smelters, majority owned by the giant Rio Tinto, gave notice in July that it would close the smelter next August (2021), with the likely direct loss of 1000 jobs and 1600 indirect jobs. The impact on the Southland economy will therefore be huge. 
At the time, Energy Minister Megan Woods, appeared to rule out cutting a deal for NZAS/Rio, saying the Government wouldn't give the company a handout.
"Since the smelter opened, taxpayers have been subsidising Rio Tinto to keep it open, either directly or indirectly through cheaper power, and Emissions Trading Scheme allocations of over $48 million per year," Woods said on the day the NZAS/Rio announcement was made.
However, on Monday, Woods, as Labour's Energy Spokesperson pledged to extend the life of the smelter for three-to-five years, including the Government "providing support to Transpower to enable reduced transmission charges over the closure period while avoiding a redistribution to other electricity users". Labour released this fact sheet on the proposal.
Woods didn't go into any greater detail on what the "support" would entail and said the final negotiation of transmission pricing is commercially sensitive "so details will be released as appropriate".
She said Labour wanted Southland to develop new industries "that are future focused and will integrate into the local community providing a source of well paid jobs for current Southlanders and future generations". 
"Extending the life of the aluminium smelter requires an agreement on electricity transmission costs. Normally, any reduction in transmission costs for a major customer like the smelter would result in higher prices for other consumers. Labour will negotiate a way forward to keep the smelter operating and prevent extra costs falling on other consumers. We'll do this by supporting Transpower to form an agreement with the smelter that preserves jobs in the medium term and gives Southland time to build a new economic future."
She said if terms could be agreed in order to extend the smelter for 3 – 5 years, they would include conditions that ensure the Smelter would:
Continue operating for agreed period of time

Work on remediation of the site

Maintain employment at the site

Work with government on the future use of the site.
Woods said a period of about three to five years would give the workers, Iwi, local community, Government and other stakeholders more time to engage on plans for the future of Southland's economy.
"We're already hearing from a range of other energy users interested in setting up in Southland, such as for hydrogen production, data centres, or solar panel production. There are also opportunities to use that energy to reduce the amount of fossil fuel usage in the energy system such as replacing coal boilers with using electricity from the grid."
She said Labour was "clear" that any reduction in transmission charges must be fair, "not just for the Aluminium Smelter, but also for New Zealand".
"If our bottom lines are not met, or agreement cannot be reached on a fair transmission charge for the extended closure period, we will immediately pivot our focus to supporting the workforce and region should Rio Tinto decide to proceed with their original closure date next year." 
Woods said Labour had been clear in Government that there will not be any further direct subsidies for Rio Tinto to continue operating the Aluminium Smelter.
"This is a position taken by successive governments since former Finance Minister Bill English told Rio Tinto in 2013 there would be no further taxpayer money offered up.
"But Labour also recognises the importance of an orderly closure over time, both to enable workers, Iwi and the local community to plan for what comes next and to avoid a sudden increase to transmission prices for other electricity users around New Zealand that would occur if the smelter closes.
"That's why we are willing to negotiate with Rio Tinto on a more managed exit."