Statistics New Zealand says seasonally adjusted retail card spending dropped slightly in January; absence of international tourists hitting the hospitality industry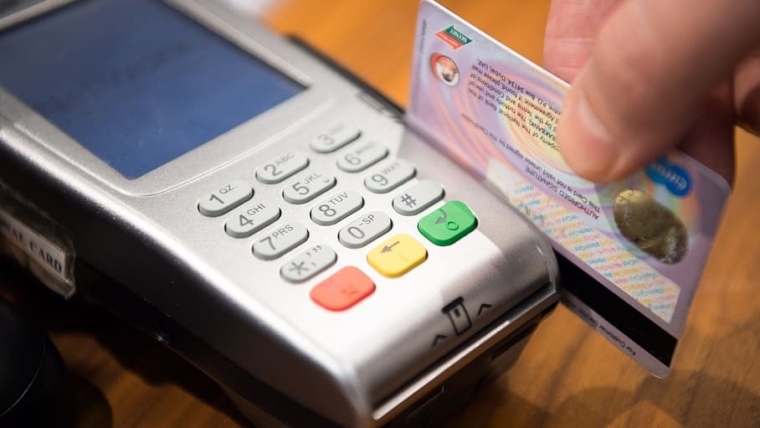 Statistics New Zealand says retail card spending dropped slightly on a seasonally adjusted basis in January.
After the disruptions last year caused by Covid 19 and the lockdown Stats NZ stopped producing seasonally adjusted figures because of the massive distortions in the figures. 
So, January's figures are the first to be measured by the newly reintroduced seasonally adjustment.
However, seasonal adjustment has NOT been reintroduced yet on the hospitality industry as Stats NZ says there still has not been any return to a clear seasonal pattern due to the Covid disruption.
The absence of international tourists is hitting the hospitality industry, with accommodation in particular down.
In terms of the figures that have been seasonally adjusted, Stats NZ said spending in the retail industries fell 0.4% ($24 million) in January, while spending in the 'core' retail industries (excluding fuel and vehicle components) fell 0.7% ($39 million).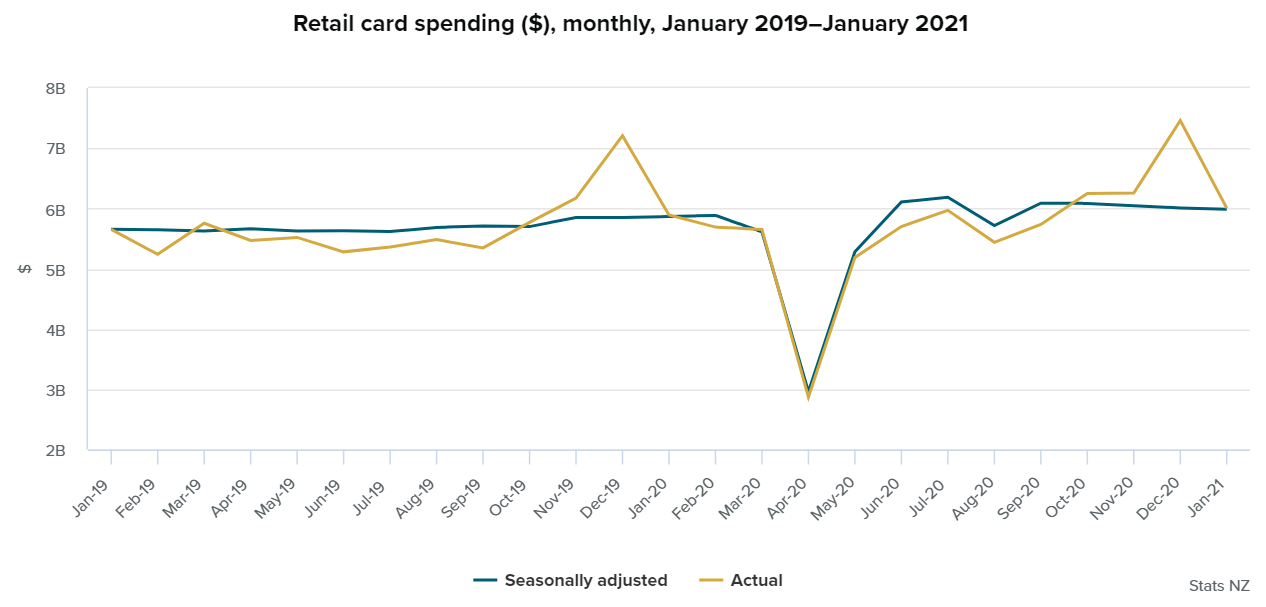 By industry, the movements were:
durables, up $34 million (2.1%)
motor vehicles (excluding fuel), up $3 million (1.7%)
fuel, down $1 million (0.3%)
apparel, down $7 million (2.0%)
consumables, down $31 million (1.3%).
In actual terms, hospitality was down $60 million (4.9%) compared with January 2020.
While the hospitality industry has been doing it tough, electronic card spending on the furniture, electrical, and hardware sub-industry was up $104 million (17%) in January, compared with the same month in 2020.
"Following the Covid-19 national lockdown in 2020, spending on furniture, electrical, and hardware has been higher than in previous years," Stats NZ's business insights manager Sue Chapman said.
"This may reflect people nesting at home because they are unable spend on overseas travel."
ASB senior economist Jane Turner said retail spending has been an area that proved much stronger than expected over the winter months, helping support a quick bounce back in NZ economic activity. 
"There was some concern that retail spending may start to soften considerably over the summer months, as the absence of foreign tourists starts to take its toll.  And while some slowdown in spending has appeared, the fall is not as large as feared and overall spending trends have remained reasonably resilient (to date)," she said. 
"From this data at least, it appears that NZers are doing a pretty good job at providing some offset to the impact of reduced foreign tourist inflows.  Going forward, it will be hard to escape the headwinds of slower population growth on spending growth. In saying that, a resilient labour market and a pick-up in wage inflation could be just the ticket to continuing to support NZ's retail sector."