New Zealand's only oil refinery at Marsden Point to become an import-only fuel terminal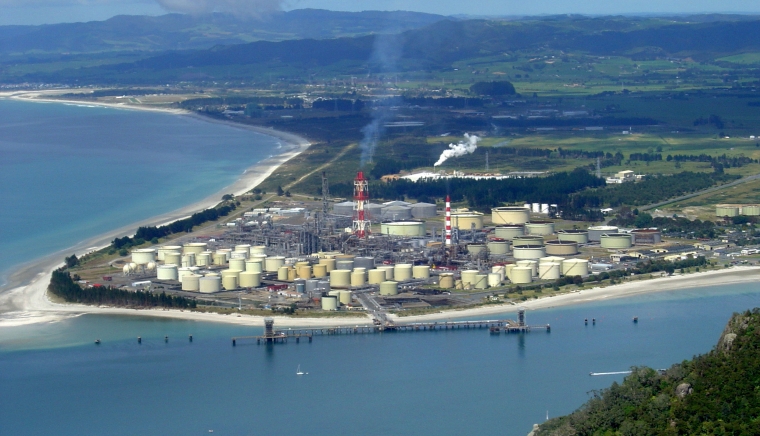 New Zealand is losing its only oil refinery.
Refining NZ shareholders have voted overwhelming in favour of a proposal for the company to become an import-only fuel terminal, under the name 'Channel Infrastructure'.
The change is expected to see 240 people lose their jobs over two years, leaving the company with just 60 employees.
Refining NZ board chairman, Simon Allen, said: "Ahead of a final investment decision to be taken by Refining NZ's Board in coming months, the company will negotiate binding legal agreements with customers - including Mobil, who we are in advanced discussions with - and proceed with detailed engineering and design plans to enable this change.
"We expect to be operating as a fuel-import terminal by mid-2022, with full plant decommissioning and terminal upgrade works set to continue for a number of years."
Refining NZ said: "The Company will utilise the deep-water harbour and jetty infrastructure of Marsden Point to import refined fuel, owned by its customers. This will replace the crude oil that our customers import today for refining.
"Fuel would be stored at the Marsden Point site in existing tanks at what would be the largest fuel terminal in New Zealand, with 180 million litres of shared capacity, as well as capacity to provide additional storage if required.
"Channel Infrastructure will continue quality fuel testing services both at the Marsden Point site and around New Zealand, through its IPL subsidiary.
"Fuel from Marsden Point would then be distributed on behalf of Channel Infrastructure's customers primarily to the Auckland and Northland markets, which make up around 40% of New Zealand fuel demand, through the 170-kilometre Refinery to Auckland Pipeline (the RAP) and the truck loading facility (the TLF) located adjacent to the Marsden Point site."
The industry group for energy intensive businesses, Energy Resources Aotearoa, said the decision was "understandable but disappointing".
"This continues a worrying trend of de-industrialisation and job losses in the regions," CEO John Carnegie said.
"Recent examples include the closure of the Norkse Skog paper mill in Whakatane, Methanex mothballing their Waitara Valley plant and New Zealand Steel reducing production.
"While there are many domestic and global factors at play, the high cost of energy has been an element in all of these decisions.
"We are worried things will only get worse as our appetite for energy grows but economic and reliable renewable alternatives are not yet available.
"We all want to see a smooth transition to lower emissions, while protecting local jobs and keeping energy affordable and reliable."