Auckland storm flooding could delay construction projects by months, keep construction inflation high
[updated]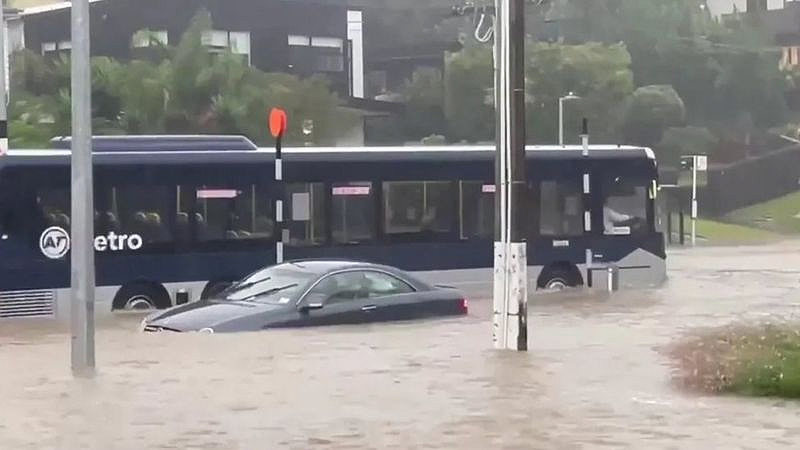 Construction projects may be delayed for several months as civil contractors prioritise emergency flood repair work, and Westpac is warning construction costs will stay high as a result of increased demand triggered by Auckland's storm.
Auckland University of Technology professor of construction management, John Tookey, said civil contractors have emergency contracts to clean up damage which supersede current work in events like Auckland's record-breaking rain which has wreaked havoc on the region.
Fixing land slips with heavy equipment such as rollers and excavators and "flattening down slopes" will be a priority for contractors so they don't get worse, Tookey said.
"But you'll end end up with a whole bunch of potential delays [to projects] bolted in as a result of the groundworks contractor not being on site because he's fulfilling his emergency contract requirements."
Tookey said building sites will also need work. Excavated sites can fill with water and need to be pumped out or can be damaged. Sites in the latter stages of construction would be easier to sort out and could potentially be fixed in about three weeks.
"It kind of depends what stage the site is and how exposed the ground is. How much erosion has taken place, how much intended excavation has occurred, and so on."
He said delays on construction projects are inevitable as a result of the severe flooding, but how long the delays would be depended on further flooding and damage from more bad weather.
Red stickered
More than 70 properties in Auckland have been red stickered by council inspectors, meaning they are not safe to enter. A further 318 homes had been yellow stickered, which restricts entrance to the property to limited times.
Auckland Council has cancelled booked building inspections for Tuesday and Wednesday, and said it might have to cancel bookings for Thursday and Friday as well.
Building consents general manager Ian McCormick said in an email that "the situation we are facing left us no other option".
McCormick said inspectors had been urgently conducting rapid building assessments across Auckland and there was only a small team of inspectors available for "urgent or essential" work.
"I realise how disruptive this situation will be for the industry, and that you yourselves are probably having to deal with storm damage that has affected your own homes and construction sites."
People who have had inspections cancelled would need to rebook.
McCormick said 1350 buildings had been assessed for storm damage in two days and there were thousands of flood-affected buildings that needed to be inspected.
"Some of the damage we are seeing is heart breaking, there are hundreds of displaced families due to unsafe or insanitary houses out there."
Inflation warning
Westpac senior economist Satish Ranchhod said the storm and resulting destruction would mean construction cost inflation stayed high. He said the construction industry had seen large cost increases with 17% annual inflation, and "that pressure would remain".
"There are already a lot of projects in the pipeline."
CoreLogic's Cordell Construction Cost Index released in December showed the cost to build a standard home increased 10% in the final quarter of 2022, breaking the previous record of 9.6% in the third quarter of 2022. Home building in Auckland has also been pumping, with average new home completions in Auckland running 32% higher than they were pre-Covid.
The Westpac economist said while the initial cleanup would be disruptive for the region in a few months activity would recover, and pointed to the example after the Christchurch earthquakes.
Some people wouldn't come through it without taking a hit, however.
"We'll still see a number of households taking a big financial knock, the damage to their houses and also the cost of replacing items. A lot of that is covered by insurance. Not all of it will be, and there will be many households who don't have insurance covered."