Kiwi online retailers holding a 60% market share, holding off the challenge from the gigantic international online retailers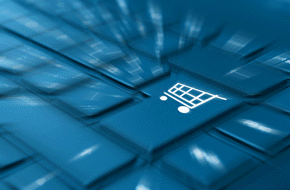 The stellar growth in online retail sales slowed in again October to +10%, and down to a three month average of 12% (chart below).
However, online sales growth continues to outpace traditional store-based retail spending.
Retail sales figures for the September quarter released by Statistics New Zealand recently showed that spending in categories BNZ monitors was up 3.3% over the 2012 September quarter.
The BNZ Online Retail Sales Index was up by 15% over the same period.
Online sales by local merchants generates NZ$1.6 billion in sales per year of the $44 billion retail market.
Retail spending reported by Statistics New Zealand at clothing, footwear and personal accessories stores was down 6.6% on the September quarter last year. BNZ's measure of online sales for the same categories and period, was up 5% on a year ago at NZ sites (mainly due to a strong July) and up more than 15% at international sites.
Overall, these latest October results show that New Zealand based online retailers are holding their own against their gigantic offshore challengers, with their share of online transactions rising slightly to 60.1%, a 3:2 advantage for domestically based firms.
This is the first time this share has risen above 60% in 8 months.
This latest BNZ review also shows that retail sales at "daily sales" or "one day sales" websites, such as "GrabOne and 1-day, have exploded in recent years. Since the start of 2010 there has been an 8-fold increase in the amount sold at these types of sites.
However, the sector now appears to be maturing, with sales contracting in the last two months. More details on these trends are in the attached Report.
BNZ's new survey does not include cars or fuel purchases, accommodation or foodservice, nor the person-to-person trade in second-hand goods (ie via Trade Me), but it does cover retailer-to-customer Trade Me transactions.* Among the data sources used for the survey are the BNZ credit and debit card transaction records.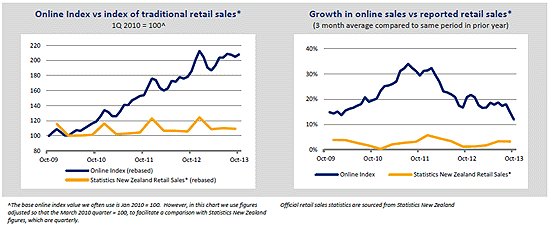 * This survey has been designed to cover the same retail transactions as the Statistics NZ retail sales Division G, except for motor vehicles, car parts, fuel, and some marine equipment. By doing it this way the BNZ survey can be directly compared with the equivalent Australian one, and the two surveys show equivalent growth trends over the three years to September 2013.