Reserve Bank must consider interests of policyholders as it mulls whether to clear IAG's proposed Lumley purchase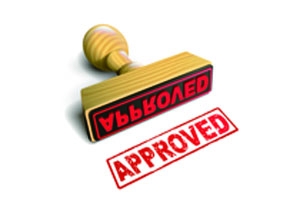 By Gareth Vaughan
The Reserve Bank, the last of three New Zealand regulators to decide whether to clear Insurance Australia Group's proposed takeover of rival Lumley, must take into account the interests of policyholders and any other matter it considers relevant.
In its only public comment to date on a deal that has been cleared by both the Commerce Commission and Overseas Investment Office, the Reserve Bank said it is "significant" for the New Zealand insurance market given IAG is already New Zealand's biggest general insurer.
However, Chapman Tripp partner Tim Williams told interest.co.nz he can't seen any reason why the Reserve Bank won't approve the deal.
"There's no alarm bells ringing at this stage that a consent won't be given by the Reserve Bank, I wouldn't imagine," Williams said. "The harder one was the Commerce Commission and that has been given."
"The biggest interest of policyholders will be is the company going to remain solvent? If the Commerce Commission has cleared it for market dominance purposes, I wouldn't imagine the Reserve Bank would consider those aspects as being concerning in this context," said Williams.
As prudential regulator of the insurance sector,  the Reserve Bank is considering the IAG-Lumley deal under the Insurance (Prudential Supervision) Act 2010. Among things the Reserve Bank must take into account are the interests of the Lumley and IAG policyholders, and any other matter it considers relevant. The Act notes the Reserve Bank can arrange for an independent actuary, or any other "suitably qualified" person, to compile a written report.
The Reserve Bank must give its decision within 20 working days of receiving all the information it reasonably requires to help it make a decision, and all the reports it has arranged to receive. The Reserve Bank can approve the deal, decline the deal, or give conditional approval, with potential conditions including ones  related to carrying on business in a prudent manner. If it declines a deal, the Reserve Bank has to provide a list of reasons for the rejection.
'Significant'
Included in the Reserve Bank's bi-annual Financial Stability Report last week was a paragraph on IAG's planned Lumley acquisition.
"This is significant for the New Zealand insurance market because IAG group is already the largest general insurance group in New Zealand through its ownership of IAG New Zealand Limited and AMI Insurance Limited. The inclusion of Lumley would increase the group's market share of general insurance to about 50%, and around two-thirds for home and contents insurance," the Reserve Bank said.
"The Commerce Commission considered competition issues and cleared the purchase on 7 May 2014. The Reserve Bank must now consider whether Lumley continues to meet existing licence criteria, and will also review licence conditions. At the time of printing, the Australian approvals that the purchase also requires were not completed."
A Reserve Bank spokesman declined to comment further.
The Overseas Investment Office issued its consent on March 6.
Williams said a key test for the Reserve Bank is whether it's still satisfied about the matters that justified approving insurance licences for Lumley and IAG in the first place. 
"You wouldn't imagine much of that stuff would change by virtue of (Lumley) going to an already licenced provider because to the extent the company's going across whole, most of the internal functions and steps it has to take and all those sorts of things will remain intact. So you'd expect the entitlements to be licenced to persist," said Williams.
"Secondly they would think about whether there are implications vis-a-vis solvency of the entity and a reduction in solvency standards. But again, if it was solvent before it should be solvent now."
"(And) as for support from shareholders, which is one element they might look at because one of the categories is ownership structure...I wouldn't imagine that's likely to lead to any problems in relation to this," added Williams.
The December 2011 announcement of IAG's planned acquisition of AMI's good business (with the Government assuming its earthquake related liabilities on behalf of taxpayers), received Commerce Commission approval on March 1, 2012, and a tick from the Reserve Bank more than a month later on April 5.
66% of home, contents and vehicle insurance market
A Commerce Commission spokesman said a public (read edited) version of the written reasons for its controversial decision to approve the deal should be available by the beginning of next week
IAG already owns NZI, AMI and State Insurance. In December Australia's IAG group announced a A$1.845 billion deal to buy the underwriting businesses of Australia's Wesfarmers, which includes Lumley in New Zealand.
The deal will increase IAG's share of the overall New Zealand insurance market to about 50.5% from 41.5%, lifts its share of the home and contents and vehicle insurance market to 66% from 60%, and gives it 40% of New Zealand's intermediated insurance market. Taking over Lumley will also give IAG control of insurance relationships with three of the big four banks in ASB, BNZ and Westpac. ANZ works with Vero and Tower.
In a December interview with interest.co.nz IAG's New Zealand CEO Jacki Johnson said IAG would sell assets to gain Commerce Commission approval for the Lumley purchase if it had to, but saw itself as the natural owner of the assets.
"The Commission is satisfied that the proposed acquisition will not have, or would not be likely to have, the effect of substantially lessening competition, for personal and commercial insurance products," chairman Mark Berry said when the Commerce Commission announced its decision.
"Lumley has a small presence in personal home, contents and motor vehicle insurance, where three main insurance providers (IAG, Vero, Tower) will continue to operate in New Zealand in addition to a number of other companies providing general insurance products. While Lumley's presence is larger in commercial insurance, as with personal insurance, a number of providers will continue to operate in New Zealand including Vero, QBE, Zurich, Allianz, AIG, ACE and others."
Below we chart movements in house, contents and car insurance premiums in comparison to non-tradable inflation since 2001.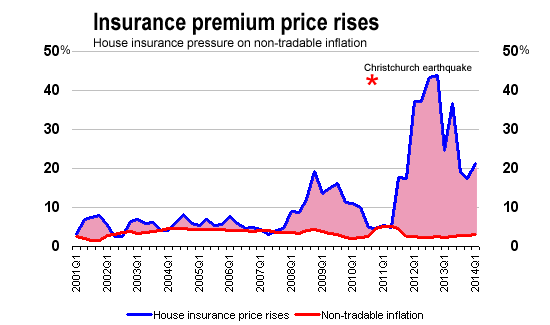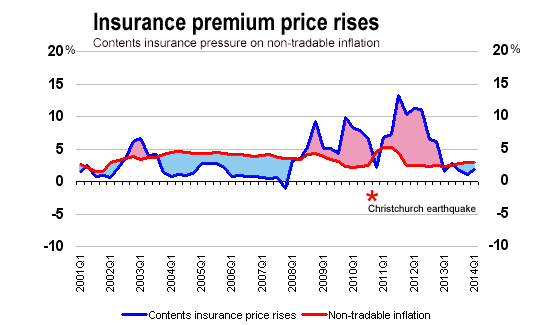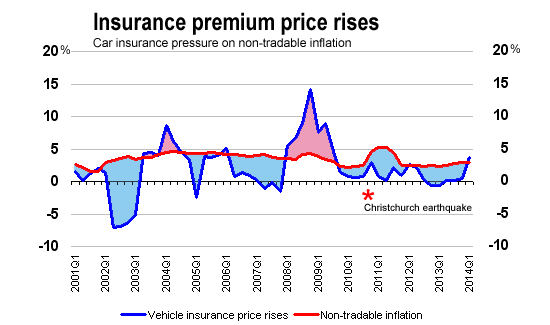 This article was first published in our email for paying subscribers. See here for more details and to subscribe.