Professor Ang describes Wal-Mart's Chinese dilemmas to show how the pitfalls can dull the opportunities even when you get it right in China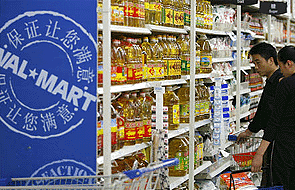 We spend time observing what our larger New Zealand companies do in China and how they are performing there.
Even our largest companies would say that there are resource limitations in them trying to carve a market in China.
There are merits to this claim.
Just ask Wal-Mart.
Wal-Mart in China
Few companies put themselves in the same category as Wal-Mart when it comes to size. Wal-Mart is the largest (retailing) company in the world by revenue - racking in a staggering $473 billion US dollars in sales last year.
Twenty-nine percent of its revenues are generated from the 6,200 stores located outside of the United States.
It employs about 2.2 million people across the globe.
Wal-Mart entered the Chinese market in 1996. Its first store was based in Shenzhen, which was the country's first and by far the most successful special economic zone.
As of April 2014, the company operates about 400 stores in approximately 170 cities in the country. It also runs seven distribution centres and nine fresh products distribution centers, and employs 90,000 in the most populous country in the world.
Late in 2013, the company announced that it seeks to expand further in China by opening another 110 stores within the coming three years.
Given its size of operation in China and growth trajectory, the latest expansion plan represents the huge prospects of the Chinese market in the eyes of the company.
Yet, behind this optimism, Wal-Mart does not really have a strong position in the vast China market.
Despite its recent growth, the company commands only about 10 percent of the Chinese market. And while it plans to open more stores across the country, it is also closing an estimated 25 stores that are not performing while investing a further $93 million US dollars in remodeling 55 of its current stores to make them competitive.
Business in China never as usual
As Wal-Mart closes down some of its under-performing stores, its practice of layoffs caused major disputes with its employees. In one particular case, the trade union at the Changde store in Hunan claimed that they were not consulted, as local authorities have bypassed the process to legalise the layoffs. Similar disputes are likely in other cities if the practices of layoffs remains consistent.
Since 2012, Wal-Mart has also been fined millions of dollars on several occasions for violating food safety regulations.
Some of these instances deserve our empathy, for example that "the font size of English was bigger than Chinese characters on the product level" and "the font size of the 'net weight' was too small."
In wanting to terminate 300 local suppliers on the grounds of inadequate food safety standards, the company also faced some obstacles as those suppliers had paperwork from authorities to prove that they were certified suppliers to have met safety standards.
Despite the company investing further into food safety measures and testing with an injection of $48 million US dollars, the fact that it has around 7,000 suppliers in China suggests that the process of trying to weed out sub-standard suppliers is far from complete.
In the midst of all these, and in the aftermath of the Shanghai Husi scandal involving fast food chains, one of its stores in Shenzhen was accused of selling food beyond its expiration date, reusing cooking oil, and reselling rice that had been returned by customers. In particular, the prepared food from the store was allegedly cooked in oil that had not been replaced for more than two weeks!
Investigations are still ongoing, though it must be said that this is not the first time that Wal-Mart is facing such food safety allegations. In 2011, one of its stores in Chongqing was fined for selling expired duck meat. Last year, a store in Shandong had been found to have mixed fox meat into donkey meat, triggering a recall of donkey meat sold at some outlets.
The Trillion-Dollar Dilemma
Wal-Mart's journey of expansion in China will not get any easier.
At home, it is facing some challenges with Amazon dwarfing it in e-commerce sales ($10 billion versus $60 billion US dollars). Resources need to be well allocated for battles on all fronts - local versus international operations, and store versus online sales.
There is no reason to believe that the largest retail company in the world should avoid the most populous country on the planet. So bowing out of China is not an option. But the Chinese market is clearly very competitive and fragmented.
The installation of more regulations for transparency will ensure that this trend continues. And as Wal-Mart is not yet well equipped for e-commerce, going online in China to confront Alibaba is not a great idea either. In moving forward, and as the company strategises for the Chinese market, trade unions and food safety will continue to generate road blocks.
All of the above are clear evidence that the Chinese market itself has evolved.
And in this case, a behemoth has been trapped within.
Like many companies, the dangling fruit of the trillion-dollar potential for Wal-Mart that the Chinese market provides is just too lucrative to abandon.
---------------------------------------------
Professor Siah Hwee Ang holds the BNZ Chair in Business in Asia at Victoria University. He writes a regular column here focused on understanding the challenges and opportunities for New Zealand in our trade with China. You can contact him here