BNZ CEO Anthony Healy says New Zealand can be judged by five key numbers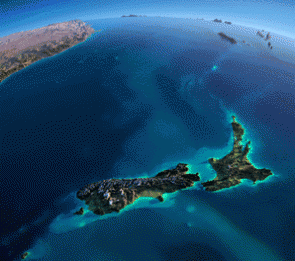 By Gareth Vaughan
BNZ CEO Anthony Healy has highlighted five areas he says measure the state of New Zealand now, and that should be used to judge the type of country handed over to future generations.
Healy used a speech to a Trans-Tasman Business Circle lunch in Auckland on Thursday to highlight five issues important to New Zealand's future. These five issues were based on five numbers, which he dubbed "the Healy Index."
"At a certain distance the figures look unrelated. But I'm not sure they are. These figures all matter to me, because of the story I believe they tell about the state of NZ Inc right now," Healy said.
His speech follows one from his predecessor Andrew Thorburn to the Trans-Tasman Business Circle two years ago when Thorburn said there was a lack of leadership in resolving Auckland's housing affordability crisis, and said the only person he knew who believed the retirement age was sustainable at 65 was Prime Minister John Key.
It also comes after Healy's counterpart at ANZ, David Hisco, recently called for bold moves from the re-elected National Party-led government in education, technology, the environment, housing and tourism.
SMEs, the 'flesh & blood'
The first number Healy gave was 450,000, being the number of small and medium enterprises (SMEs) operating in New Zealand.
"In aggregate, the activity of this same 450,000 SMEs amounts to nearly 28% of New Zealand's total GDP. So if agriculture, and particularly the dairy sector, is the backbone of our economy, then the SME sector is in many ways the flesh and blood," said Healy.
"And this sector is a deep reservoir of employment, talent, innovation and sheer bloody hard work."
"I don't wish to exalt the SME sector at the expense of others.  But the importance of the SME sector is a useful counterweight to the idea of New Zealand being a fundamentally commodity-based economy. The overarching importance of our dairy sector can hardly be over-estimated," said Healy.
The challenge, he added, is to add value to what we grow in New Zealand, process and sell to the world. He highlighted two examples of companies doing this in Tatua and the Dairy Goat Co-Operative.
"My broader point is that the prosperity of business, small and large, matters profoundly to the success of the company in which we all have a stake – New Zealand Incorporated. A thriving SME sector is an indicator of this, and I will support any policies and initiatives that will help to achieve this," said Healy.
Growing Asian population and trade with Asia
The second number he gave was 470,000, being the estimated number of Aucklanders of Asian origin by 2021. This, he said, would make Asians nearly one-third of the Auckland region's  population. He went on to highlight the success of New Zealand's free trade deal with China, but said progress with respect to hearts and minds was "rather more mixed."
"Given the fundamental importance of our trading relationships with Asia; given our longstanding reliance on the savings of people in other countries to fund our lifestyles and livelihoods here in New Zealand; given the importance of migrants to our SME sector; given the enthusiasm with which our universities seek to recruit fee-paying students from Asian countries; given our love of holidaying in Asian destinations and waxing lyrical about them on our return to these shores; given all of this, I do find the occasional knee-jerk response to some types of direct investment from some countries a little disheartening. It betrays a close-mindedness that can seem at odds with our self-image as a generally confident, connected, outward-facing and tolerant nation," said Healy.
Water
His third number was 62%, being the percentage of New Zealand's lowland river waterways officially classified as unsuitable for swimming, according to a report by Parliamentary Commissioner for the Environment Jan Wright.
"The idea of a clean and green nation is one that has a strong hold over our collective consciousness. We sell ourselves to the world based on that very image. The PCE's figures don't demolish that image but they should at the very least give us pause for thought," said Healy.
"The very notion of 'clean and green' is, fundamentally, about water. Now I'm optimistic. That's because I've observed the emergence of an interesting coalition of aligned voices on the issue of water quality. These voices are not confined to one part of the ideological spectrum."
He then read two recent quotes on water quality.
The first one was;
"You will see us talking more and more about feeding the children of New Zealand and fencing and planting all the waterways of New Zealand. We will be talking about other topics like effluent treatment on farms, emissions [and] animal welfare."
And the second;
"We want our rivers to be clean enough for swimming, playing, fishing, and gathering kai, and to remain clean and healthy enough for our children and grandchildren to enjoy in the future."
The first quote was from Fonterra CEO Theo Speirings, and the second from the Green Party.
"How much daylight can you see between the two viewpoints, really?" Healy asked.
Everyone should take an interest in the Parliamentary Commissioner's reports, he suggested.
"We should also show a collective interest in the huge amount of policy thinking and action already in place around water quality, such as the government's recently-announced initiative on the fencing of streams on farms, and the Million Metres Streams project."
"And we should show an interest in how individual businesses, in the dairy sector and elsewhere, are already responding to the challenges and opportunities, by thinking differently and looking for innovative ways to tackle the problem," said Healy.
He went on to say water quality wasn't just a farmer's issue, with the problem owned collectively  by anyone who has eaten anything produced on a farm.
"Which pretty well covers all of us, including a banking sector with deep and abiding ties with agriculture in New Zealand," said Healy.
Ultra fast broadband
The fourth number Healy gave was 517,000, being the number of New Zealand premises that can access ultra fast broadband.
"I am not sure if this makes us an authentically digital nation yet. I said can access UFB – when in fact less than 40,000 do. For now," said Healy.
There was no doubt digital technology will enable savvy New Zealand producers to expand their trade with the world. These producers can use digital technology to take New Zealand goods, services and products directly to consumers around the world.
"As an example, look at the recent promotion that saw NZTE join forces with China's most popular business-to-consumer online shopping platform Tmall.com, part of the now famous Alibaba," Healy said.
"The promotion was run for a week in April, and allowed Chinese shoppers to buy live seafood fresh from New Zealand's waters, then have it packaged and sent by air to Shanghai within 36 hours. The morsels available included paua, greenshell mussels, and oysters. From Shanghai these salty delicacies were then shipped to customers throughout China."
"Now Tmall is continuing to build its fresh food platform through the joint promotion with NZTE," he added.
The consequences of not responding to rapid change could be sobering, with Google having erased 85% of the market capitalisation of major GPS companies after launching its mobile maps application, Healy said.
"This same chicken may well come home to roost in the industry I work in, too. Accenture has estimated that competition from non-banks could erode one third of traditional bank revenues by 2020. It's self-evident to me that these threats will have powerful digital propositions at their core."
Education
The fifth number was 26%, being the percentage of New Zealand students who left school last year without a qualification at NCEA level two or above.
"Is it acceptable that in a first world country of just 4.5 million, one in four school leavers have no qualification at all, and are the consequences of this acceptable?" Healy asked.
"I think we should throw the kitchen sink at improving this statistic, and build on the small progress made in recent years. Multiple approaches may be needed, given the likelihood that the factors behind the statistics are themselves numerous."
"If our children aren't achieving at school, it won't be for any one reason. It's a problem that in my view is caused by a combination of parental role-modelling, issues of poor housing and health, child poverty, and others. I believe in the absolutely fundamental importance of education," said Healy.
Healy went on to say a profitable business sector, including banks, has the capacity and responsibility to play a role in tackling some of the issues highlighted by his statistics.
"That's because the sustainable prosperity of local business is ultimately dependent on the health, well being and advancement of the communities we serve."
'A useful ready reckoner on the state of NZ'
In conclusion Healy said his index serves as a "useful ready reckoner" on the state of New Zealand today.
"And I shall be watching the figures closely for as long as I have the privilege to lead BNZ, and beyond. The figures will give me more than a glimpse of the New Zealand my children will inherit. And that's what does keep me awake at night," said Healy.
A range of questions Healy said were raised by the index included;
"How do we maintain government policy settings that maximise the capacity of our SME sector to grow and prosper?"
"Might better-educated children have a better crack at becoming the sorts of SME entrepreneurs and owners we need more of in a digital world?"
"How do we ensure the increasingly diverse face of New Zealand society puts us in a better position to imagine and capture the enormous opportunities presented by the Chinese and Asian economic growth?"
"How do we join together to respond to the sorts of environmental issues that could undermine our clean and green image, such as the degradation of our lowland waterways?"