Professor Ang says global automakers are the canary in the mine of lower economic growth in China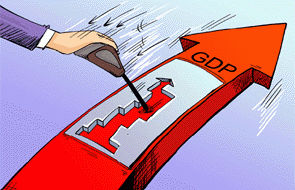 One of the most discussed topics in world economy for a large part of year 2014 has been whether China will be able to sustain its growth rate of more than 7%.
As we enter the second month of year 2015, this discussion seems to have intensified as presumably many are thinking it's time that the reality sets in.
Message of the 'New Normal'
Chinese President Xi Jinping has reiterated the need for China, and the rest of the world, to adapt to a "new normal" - the slower pace of economic growth.
A major contributor to this slower growth is the internal structural reform that China is undertaking on all fronts.
Stimulus are also put on hold to see how the reforms transpire.
This message, sent by President Xi, was intended to manage expectations.
Yet, the extent of the importance of the Chinese market to many multinational corporations' bottom line means the stakes are high.
In this context, such a message can also be read as increased uncertainty or even a crisis.
A first lesson of consequences from 'New Normal'
Like many industries, the Chinese market is key to the performance of many global automakers.
Global automakers generally rely on car dealers to reach out to the massive and geographically dispersed markets within China.
In this arrangement, global automakers would set sales targets for the dealers, who in turn will try to meet those targets in order to qualify for year-end bonuses.
The fact that these bonuses constitute around half of the profits that the dealers make from selling cars mean that they would try all means to get more cars sold.
The "new normal" has arrived at the doorstep of the automobile industry as we speak.
A slowdown has prompted Chinese car dealers to come together as a collective to demand lower sales targets and more share of the profits from the global automakers.
BMW is the first to bail - promising a package of US$823 million to share the burden of their car dealers. Other global automakers such as Volkswagen, General Motors and Toyota are likely to follow suit.
BMW's response was needed to ensure its continued presence in the Chinese market. The car dealers' cooperation is key to its success to the market.
The reality of competition means that other global automakers will almost have no choice but to follow BMW to avoid repercussions from their own car dealers.
Reflecting on the situation
A couple of lessons can be learnt from the automobile case here.
First is the demonstration of collectivism. In this case, Chinese car dealers are able to come together as they empathise with each other's situations, despite being competitors.
Would foreign automakers be able to do the same and to counter with a proposition of their own before further bargaining takes place? Or would competition step in the way of cooperation?
Second is the invisible hand of competition. Competition has clearly forced the global automakers to respond, given limited time to do so and most often limited options to think about.
The question to ask is 'would the global automakers be able to give up less if they had anticipated this situation?' In this instance, a strategy of avoiding being disadvantaged is being used rather than one to which an advantage can be achieved.
In any case, the global automakers' experiences represent those that are likely to be occurring in other industries that operate in a similar way.
Chances are that the 'new normal' will affect some industries more than others.
Further, it will affect these industries differently throughout the year.
It is clear that anticipation of how that would affect your industry is needed to avoid being at the back foot like the case of the global automakers.
---------------------------------------------
Professor Siah Hwee Ang holds the BNZ Chair in Business in Asia at Victoria University. He writes a regular column here focused on understanding the challenges and opportunities for New Zealand in our trade with China. You can contact him here.