Lloyd's of London backs EQC as insurers take aim at it, feels the pinch globally from low interest rates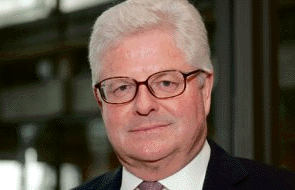 The Earthquake Commission (EQC) has received both a pat on the back and a slap in the face in the last 24 hours.
One of its reinsurers, Lloyd's of London, has endorsed it, while the insurance company, Vero, has questioned its existence.
Visiting New Zealand for the first time, Lloyd's chairman John Nelson told interest.co.nz EQC has the right structure to provide insurance cover in the event of a disaster.
He says that from a global perspective, the insurance component of the Canterbury rebuild has been "pretty well handled" and "very well organised."
"The Christchurch earthquake has strengthened our relationship with New Zealand, because we've paid out $4.2 billion worth of claims to New Zealand. That's probably going to rise to $5.8 billion. We have a big stake in New Zealand."
Nelson says he understands the relationship between EQC and the insurers that settle personal claims over its $100,000 cap, has been sound.
He admits Lloyd's has stood behind the insurers who have bore the brunt of frustrations over delayed settlements.
Yet he recognises authorities are reflecting on what could've been done better.
"I understand that the Earthquake Commission and any sensible government would do this, in the aftermath of something like this where the Earthquake Commission has been stress tested very seriously."
Vero less forgiving
Vero has received 31,050 Canterbury quake-related claims, valued at just under $4.8 billion.
Vero executive general manager of claims, Jimmy Higgins, says, "The inefficiency of a dual claims management model had a significant impact on the timely resolution of claims for customers.
"The question is whether having both an insurance company and EQC managing claims is the right approach."
"The feedback we've consistently had is customers want a much simpler and more efficient process, particularly around claims management", says Vero chief executive, Gary Dransfield.
Higgins explains, "Many insurers, including Vero, have worked hard to compensate for inefficiencies in the operation of New Zealand's natural disaster insurance model. The current set-up does not always have customers at the centre and there are lessons that have been learned which can be applied to getting outcomes for New Zealanders."
Vero's comments follow the release of a report it commissioned Deloitte to do – 'Four years on: Insurance and the Canterbury Earthquakes'.
Figures released by the Canterbury Earthquake Recovery Authority on Monday, reveal 43% of personal insurance claims, over EQC's $100,000, are yet to be settled.
The Insurance Council of New Zealand told interest.co.nz EQC needs to improve its process for settling claims, as a number of new claims are still trickling in from the organisation.
Its chief executive, Tim Grafton, has been urging Treasury to complete an overdue report into the Earthquake Commission Act, which should give insurers, reinsurers, and claimants a bit more certainty around its future.
EQC taking it on the chin
EQC responded to Vero's criticisms, saying it welcomes any opportunity to review insurers' responses to the quakes.
Chief executive, Ian Simpson, says "Under the current arrangement, EQC is managing 85% of the domestic property claims arising from the Canterbury earthquakes, while private insurers handle just 15% of them.
"Were private insurers to lead on all claims, they would have had to complete six times more assessments than they eventually did.
"We are talking to insurers regularly on how we better share this load and get better customer certainty and service. In the meantime, EQC has been providing good information – such as geotechnical data or the details of claims expected to go over cap – to insurers to allow them to manage claims as early and seamlessly as possible.
"We have also been looking at our own lessons learned and are implementing recommendations made by an independent review we sought on how we interact with our customers."
Low interest rates driving premiums down
John Nelson concludes debate over EQC's efficacy isn't creating concerning levels of uncertainty for Lloyd's's of London.
Lloyd's has another issue on its hands – low interest rates.
While the quakes have caused insurance premiums to climb in New Zealand, low interest rates have sparked the opposite around the world.
Nelson says low rates are attracting high levels of capital to the insurance industry, which in turn has driven premiums down.
While this appears good for consumers, the risk is that too much competition could lead to companies underwriting businesses too cheaply and therefore unprofitably.
This could see insurers left in the lurch when faced with another disaster.
Furthermore, Nelson says low interest rates mean Lloyd's isn't making good returns on its investments.
He says the quantitative easing that was announced in Europe a few weeks ago, signals it'll be a while before rates increase again.