Govt promotes success of new anti-money laundering laws on world stage, while those at the coalface fork out to meet standards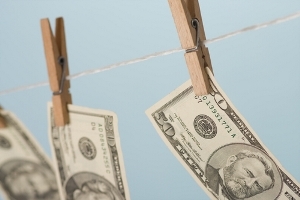 The Justice Minister says we're starting to see the benefits of the Anti-Money Laundering and Countering Financing of Terrorism (AML/CFT) Act, passed in 2013.
Addressing delegates at the opening of the Asia Pacific Group on Money Laundering conference at Sky City this morning, Amy Adams said the Government's crack-down on money laundering has seen the number of suspicious transactions reported to the Police's Financial Intelligence Unit increase seven-fold between 2012/13 and 2013/14.
Nearly 86,500 suspicious transactions, worth $3.5 billion were reported in the year to 2014, while only 12,000 transactions, worth $545 million, were reported in the year to 2013.
"Suspicious transaction reports are an invaluable tool for law enforcement agencies to "follow the money trail" in detecting serious crime and reduce the harmful effects of their offending", Adams said.
As an example, she pointed out these reports contributed to four major Police operations that led to 30 people being arrested and over $220 million worth of drugs and assets being seized between December 2013 and May 2015.
Under the AML/CFT Act Adams said, "Individual institutions and firms are now much more aware of their money laundering and terrorist financing risks and have implemented AML compliance regimes to mitigate and address those risks. 
"These changes have also led to New Zealand's financial institutions, casinos and trust and company service providers playing a much bigger role in detecting suspicious financial activity and alerting authorities.
"Under the changes, 1760 financial institutions are now required to conduct due diligence on their customers and regularly report suspicious activity to authorities.
"This means more comprehensive and accurate information is being collected and reported than ever before."
The Ministry of Justice is working on extending coverage of AML/CFT regulations to the likes of accountants, conveyancing practitioners, real estate agents and businesses that deal in high-value goods.
An Organised Crime and Anti-Corruption Legislation Bill, aimed at amending money laundering offences under the Crimes Act, is also before Parliament.
Adams said the changes would make it easier to prosecute money launderers. Financial institutions would also need to report international wire transactions of over $1000, and all physical cash transactions of $10,000 or more to the Police.
AML/CFT laws causing hiccups for money remitters and banks
While the 360 conference delegates will spend the week talking about ensuring different countries' AML/CFT laws meet an international standard, some of the financial institutions at the coalface are having a rough time meeting the standards while running profitable businesses.
Money remittance and currency exchange providers are being hit particularly hard, as it can be difficult for banks, which facilitate the transactions, to find out exactly who the money's being transferred between.
Lotus Foreign Exchange told interest.co.nz earlier this year that it had spent a considerable amount of money upgrading its systems to collect more information from its customers, and while it had received a big tick from the Department of Internal Affairs and an external auditor, banks were causing it grief.
According to a shareholder and director of E-Trans International Finance, Xiaohua Sun, eight of the 15 specialist money remittance and currency exchange providers trading in Auckland are believed to have had their bank accounts closed, forcing them to scale back their operations.
E-Trans is taking Kiwibank to court, after the bank said in March it was going to close the firm's account because it posed too great a risk under the AML/CFT Act.
The High Court in Auckland last month ruled Kiwibank had to keep the firm's accounts open pending a full hearing.
BusinessDesk reports E-Trans said it wouldn't be able to open accounts with another major trading bank if Kiwibank closed the accounts.
Kiwibank argued the burden and risks under the legislation arising from E-Trans' customers were disproportionate to the return it would get.
Kiwibank won't make any comment on the topic of money remitters while the matter is before the court.
However the Co-Operative Bank's chief executive, Bruce McLachlan admitted, "AML rules make providing these services very difficult, despite what regulators might say".
When interest.co.nz asked the Reserve Bank (a regulator) how much flexibility it was willing to give banks to choose which types of clients they wanted to gear themselves up to cater for, it said it hadn't changed the stance it made earlier this year.
In January it released a statement saying banks should be able to mitigate the AML/CFT risks posed by money remitters and couldn't use "blanket de-risking" as a procedure to manage risks.
The chief executive of the New Zealand Bankers' Association, Kirk Hope, supported the RBNZ's position.
He said banks consider how vulnerable money remitters are based on whether they are registered, accept cash deposits frequently or deposits with a high value, process transfers to or from high risk jurisdictions, aggregate bulk payments and thus remove the transparency on their clients, have little or no upper limits on the value or frequency of transactions, and have a comprehensive AML/CFT risk mitigation programme.
He said, "If banks have made a call their customers can't meet their standards, then it's a perfectly legitimate decision for them to make. There are justifiable reasons, but it's very difficult to do that for an entire category of customers.
"It's not just a set of New Zealand obligations, but they're international obligations."