ANZ warns the economy has 'slowed down markedly,' having looked at traffic on our key roads during August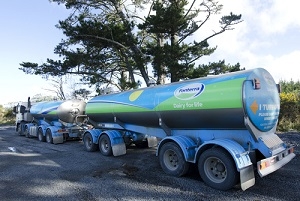 ANZ's analysis of traffic on our key roads over August is signalling bad news for the economy.
Its Heavy Traffic Index fell 0.6% in August, indicating a loss of momentum consistent with a weaker economy.
Its Light Traffic Index, which typically leads gross domestic product (GDP) by six months, also fell by 0.6%, bringing the strong upwards trend that's been evident since mid-2013 to an end.
ANZ's Truckometer is a measure of economic activity using real time traffic data from around the country. Traffic data is a good indicator of economic activity, as a large portion of freight in New Zealand is transported by road.
Looking at the Heavy Traffic Index first, ANZ points out it has declined during seven of the last eight months, declining in August further to a 0.3% drop in July.
However falls have been mild, and aren't close to capitulating as they did in 2008. The index has also increased by 0.7% in the last three months versus the three months prior, due to a decent lift in June.
ANZ senior economist, Sharon Zollner, says "It suggests the economy was fairly flat in the June quarter, and falls in both July and August suggest we'll need to put our foot down in September if Q3 [third quarter] growth is to look much better".
In other words, weak GDP growth in the second quarter declined further in July and August, pre-empting a less than rosy outlook for the third quarter.
"Whether we are in a pothole or a ditch should become clearer in the next couple of months", Zollner says.
The surge the Light Traffic Index has experienced since mid-2013 has also flattened, indicating that a dip of some sort is definitely on the horizon.
Zollner says that while the index rose 0.2% over the past three months, compared to the previous three months, any economic momentum has been discounted by August's result.
"Traffic flows fell in August on six of the 10 roads in the index", she says.
"Like any indicator, the Truckometer indexes have their hits and misses. However, they are pretty adamant that the economy has slowed down markedly.
"We expect further cuts in the Official Cash Rate as this slowdown is corroborated by GDP growth considerably slower than the RBNZ forecast back in June."