Brash warns the Govt risks being held liable for a bank or insurance company collapse, as the RBNZ's taking on too much responsibility as the regulator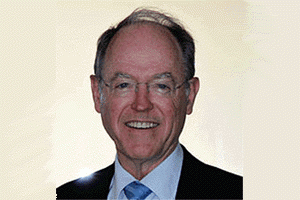 By Jenée Tibshraeny
Former Reserve Bank (RBNZ) Governor Don Brash is warning the RBNZ is "taking on too much responsibility" regulating banks and insurers, describing the current system as "nuts".
Speaking at Auckland University Business School on Thursday night, the former RBNZ Governor (1988-2002), National Party and Act Party leader, and current Industrial and Commercial Bank of China (ICBC) NZ chairman, argued the RBNZ's heavy-handedness over banks and insurers puts it at risk of being liable in the event of a collapse or something going wrong.
"The RBNZ today has been dragged back into the international framework, which I think is seriously flawed," he said.
"The RBNZ reserves the right to approve every bank director, to access the overall balance of experience in bank boards, to approve every bank CEO, and to approve every first report to a CEO."
Brash pointed out the RBNZ also gets a lot of information from banks, which isn't available to the market.
"At that point the RBNZ is taking responsibility for running the bank. Not just the systematically important banks, but every bank," he said.
He pointed out the RBNZ has to approve all of ICBC NZ's actions and appointments, despite it being a very small operation in New Zealand.
The China state-controlled bank, which received banking registration from the RBNZ in November 2013, has breached its conditions of registration twice. 
ICBC's breaches stemmed from not obtaining non-objection from the RBNZ on the appointment of a country compliance manager, and breaching its connected party credit exposure limit of 40% by 11% for six days. Brash reportedly described the first of the two as a "misunderstanding".
'Nuts'
Broadly speaking, he described the RBNZ prudential regulatory regime as "nuts".
"I just think that [the system] is nuts and involves a substantial fiscal risk to the Crown," Brash said.
"If a bank were to get into trouble, depositors and others could reasonably say, 'look you guys had the information that this bank was getting into trouble, we didn't.'"
He warned the first place depositors would go, would be the Governor, as the RBNZ is the part of the public sector that's approved all the financial institution's directors and senior management.
"The more the central banks gets involved in mandating the way the banks behave, the more implicit responsibility they take."
Brash has made a submission to the RBNZ on the issue, he dubs a "moral hazard in capital letters."
Banks should report to markets not RBNZ
Brash said the different approach he took towards banking supervision during his time as Governor is still the way to go.
He said he developed a system whereby bank directors had to take responsibility for their actions by issuing quarterly disclosure statements to the market.
They had to sign off statements to say their information was accurate and their banks had risk control systems in place appropriate to the nature of their businesses. The RBNZ had no more information than the market.
"We didn't have any restrictions on liquidity, on foreign exchange positions, on risk concentration, but the banks had to disclose all that in their quarterly disclosure statements," said Brash.
"This regime was detested by the banks themselves. The CEO of one the big Australian banks with a huge operation in NZ told me, 'Don, you can't do this.'
"I said, 'why not?'
"He said, 'because most bank directors know absolutely nothing about banking. We're asking the bank directors to make these judgements and frankly the bank directors don't have enough understanding of the issue to do that.'
"I said, 'I rest my case. You want the chairman of Rio Tinto or whatever on your board because it looks good, and you want me to make all the key judgements about what prudent banking is in New Zealand. I think that's nuts.'"
Brash said he couldn't prove whether this approach worked, but believed it was the right approach.
Insurers accountable to ratings agencies and market forces  
As for insurers, Brash said, "I for the life of me cannot see the logic of the RBNZ supervising insurance companies at all."
The RBNZ only started regulating insurers in 2010 through the Insurance (Prudential Supervision) Act 2010. Like banks, the RBNZ requires insurers to maintain certain levels of liquidity and meet high level reporting standards to maintain their licence.
Brash suggested insurers should be left accountable to market forces and ratings agencies like Standard & Poor's and AM Best.
"By definition, the strength of many insurance companies is not their balance sheets, but the quality of their reinsurance streams. The chances of a Wellington bureaucrat getting their head around the quality of those reinsurance streams is not that high," Brash said.
He maintained rating agencies were better equipped to make calls on insurers' solvency.
He said, "Mandate a rating requirement, and mandate that before you renew your policy every year you must be told the rating of your insurer. If you choose to get a slightly cheaper premium by using a lower rated insurer, then if something goes wrong, then you've got no one to blame but yourself.
"An insurance company would want to have a high rating to charge a high premium.
"Whereas what we have now, we still have a rating requirement, but the RBNZ has taken on responsibility for some 90 odd insurance companies."
Inflation-targeting good but not sufficient
Brash didn't comment directly on the RBNZ's restrictions on banks' high loan-to-value ratio (LVR) residential mortgagae lending that were introduced in October 2013.
"The one thing that troubles me, and I think most of the central bankers, is that you can stabilise the CPI (consumer price index) – and most central bankers have done that pretty effectively – but you may nevertheless have very rapid escalation in asset prices," he said.
"We've seen that in a number of countries, where CPI inflation's very low, but equity prices, land prices and so on, have risen very strongly.
"For that reason, a number of central banks have moved to various forms of macro-prudential controls and rules and policies to try to deal with this issue."
Brash quoted a former Bank of England governor who once told him inflation-targeting monetary policy was good, but not sufficient.
"It's important therefore to look for other instruments to avoid asset price bubbles," Brash said.
"There's a tension there, which we haven't yet resolved anywhere. Overall, I think the (inflation targeting) framework has worked well."