NZ registered financial service providers used in apparent duping of European football clubs & fraud committed against Asian investors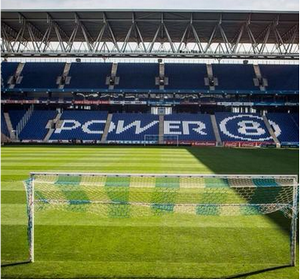 By Gareth Vaughan
The former New Zealand registered financial service provider London Capital NZ Ltd and its Australian shareholder Bryan Cook have been linked to another major international fraud.
This one, according to the Naked Capitalism website and Spain's El Economista newspaper, involve an entity called Power8 which struck sponsorship deals with two English and one Spanish football club. Naked Capitalism and El Economista have both linked Power8 to London Capital and Cook. And now Power8 has made it into The Wall Street Journal.
The WSJ says police in Taiwan allege Power8 used the sponsorships, with Everton, Fulham and the Barcelona-based RCD Espanyol, to "lure hundreds of investors in Asia into buying shares in the company before disappearing with their money...Espanyol says Power8 is overdue on its sponsorship payments and has started legal action."
According to the reports, London Capital NZ and a related NZ company, Asia Finance Corporation, were both used in the alleged Power8 fraud. This regulatory arbitrage, using NZ registered but unregulated companies, has seen London Capital NZ and Asia Finance Corporation also feature in other alleged frauds via Europe's GXG Markets, and in the case of Euro Forex, which is now under investigation by the City of London Police having allegedly duped thousands of Asian investors. 
Power8 arrests in Taiwan
Power8 claimed to be a "full service technology provider" to the international online gaming and sports betting industry and took naming rights for Espanyol's stadium. The WSJ says Taiwan police last week charged several people for alleged fraud and money laundering in relation to Power8. It quotes Houchih Kuo, a Taiwanese lawyer representing some of the investors, saying Power8's name was placed next to those of big, well known companies on the football club's websites so people thought it was another international brand.
Kuo estimates Power8 received about US$300 million from investors in China, Taiwan, Indonesia and other Asian countries.
Naked Capitalism's Richard Smith first wrote about Power8 back in January questioning whether the Costa Rica-registered entity with an office in Spain, a hard to trace board and no named auditor was a giant Ponzi scheme. By the time of a second article, in August, Smith had concluded all of Espanyol, Everton and Fulham had "inadvertently lent their names to a giant international investment fraud."
Here's Smith;
Via a loan agreement of late May 2014 that I have seen, Cook's London Capital NZ now has a major role: it is the source of funds for the Power 8 deal. But RCD Espanyol seem to have taken no interest in London Capital NZ's corporate profile at all. Of course, there are going to be some legal complications if the deal goes wrong: the Power 8 deal with RCD Espanyol is under Spanish law, while the deal with London Capital (NZ) is under New Zealand law.

There is now a sad but illuminating episode: in June, at least a hundred Far Eastern investors turn up in Barcelona, with their flights and hotels paid for by the Power 8 scammers. Each of them has paid in at least $100,000 to the Power 8 pyramid scam.
Ivan Gutierrez, who has covered Power8 for El Economista, told interest.co.nz that the financially challenged Espanyol agreed to grant Power8 naming rights for its stadium's in exchange for €35 million over seven years. However, when Cook was arrested last year Power8 "stopped paying and disappeared."
The Liverpool Echo reported in August that Everton had suspended relations with Power8. The deal had given Power8 advertising space around Everton's Goodison Park stadium and on the club's official website. Power8 had a similar deal for advertising space at Fulham's Craven Cottage stadium.
Power8's website currently says; "The management of Power8 has decided to temporary suspend our business operations due to disputes with our affiliate partners & sponsors. Our executive team is in the process of evaluating our business strategies and making plan to relaunch our brand in 2016."
London Capital NZ's successor company, Asia Finance Corporation was deregistered from New Zealand's Financial Service Providers Register in July. It does remain a NZ registered company, however. Cook's associate Thomas Yi replaced Cook as shareholder last month and is now also sole director. London Capital NZ also remains a NZ registered company with Cook listed as sole director and shareholder. Cook and co. registered Asia Finance Corporation on the Financial Service Providers Register to replace London Capital NZ in April 2013 after NZ authorities deregistered London Capital NZ.
Cook was arrested in Switzerland in June 2014 and extradited to Germany. In June this year he was sentenced to imprisonment for a term of one year and nine months on probation for intentional market manipulation. 
*This article was first published in our email for paying subscribers. See here for more details and how to subscribe.