Companies with NZ 'licences' offering 'investment expertise to global clients' linked to alleged major international fraud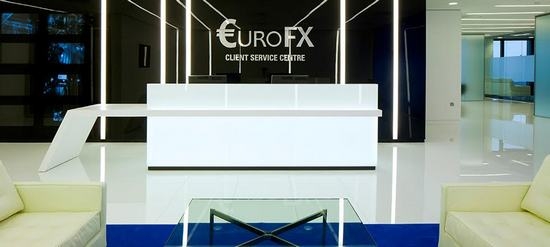 By Gareth Vaughan
Angry Chinese investors, faked IDs, allegations of international fraud on a large scale with a "professional criminal group" involved, a London address the same as that used by Capital World Markets, and five registered New Zealand financial service providers.
All of the above are present in the mysterious and disturbing tale of Euro Forex, which was allegedly a major international financial fraud with an office apparently key to its activities located in central Wellington, right under the noses of NZ regulators. 
A Chinese language website links Euro Forex Investment Ltd, EFIL - Euro Forex Investment Ltd, and PFS Pacific Finance Services Ltd to what is claimed to be a "huge international fraud." Information provided to interest.co.nz also links PFS Pacific Finance Services Ltd (same name, different registration), plus the interlinked London Capital NZ Ltd and Asia Finance Corporation Ltd to Euro Forex. All have been registered NZ financial service providers.
David Mapley, the Swiss-based Brit who appeared in this interest.co.nz interview blowing the whistle on the European activities of London Capital NZ/Asia Finance Corporation, first drew interest.co.nz's attention to Euro Forex. Mapley says he was approached - via his Intel-Suisse firm - by a large group of Chinese investors who've "lost a fortune" on the Euro Forex "scam".
And one of the alleged investor victims has provided interest.co.nz with detailed information on Euro Forex, which became known as FX Capital International Corporation, or FXCAP, alleging it's a large international pyramid scheme-type fraud.
"The scheme claimed to have more than 50,000 investors around the world from more than 100 countries. So far, the confirmed victims have exceeded 3,000 people from nearly 10 countries including the UK, US, Australia, Canada, Japan, Singapore and China. In China there are victims from nearly 100 different cities including Hong Kong, Taiwan and Macau," the investor, who hasn't provided a name, says.
The investor says potentially as many as 10,000 people have been "defrauded" of US$2 billion with a "professional criminal group" ultimately behind the scheme.
"The (professional criminal) group takes advantage of the complexity of international law and the constraint of legal jurisdictions of different countries," the investor says.
According to the investor, investors believed Euro Forex was helping them do online forex trading and now believe most of their money found its way to Singapore and "some key criminals". The information provided to interest.co.nz by the investor includes lists of names of "criminals and suspects" and photos, including from glitzy promotional events held in the likes of London, Hong Kong, Macau, Seoul, Bangkok and Kuala Lumpur, which are said to have featured celebrities.
Below is the top section of the disgruntled investors' website's homepage.

The Cook siblings
Among those named in the material provided by the investor as allegedly involved in the scheme are some of the same individuals involved in London Capital NZ/Asia Finance Corporation, including Australian siblings Bryan and Julie Cook. The Cooks, via a lawyer, declined to comment.
Asia Finance Corporation was recently removed from the NZ FSPR after its shareholder Bryan Cook received a one-year-nine months jail sentence on probation in Germany, having already spent a year in jail, for deliberate market manipulation. Cook is now out of jail and believed to be in Britain.
Mapley has contacted both the Financial Markets Authority (FMA) and New Zealand Police Financial Intelligence Unit describing Euro Forex as "a scam set up in the UK, administered from New Zealand, and sold mainly into China" that involved foreign exchange products.
Mapley, who believes investor records may have been kept in Wellington, says "possibly more than US$1 billion" was defrauded and personal bankruptcy, financial ruin and suicides have resulted. 
The picture of Euro Forex promotional material below, featuring a NZ Companies Office logo, was provided by the investor.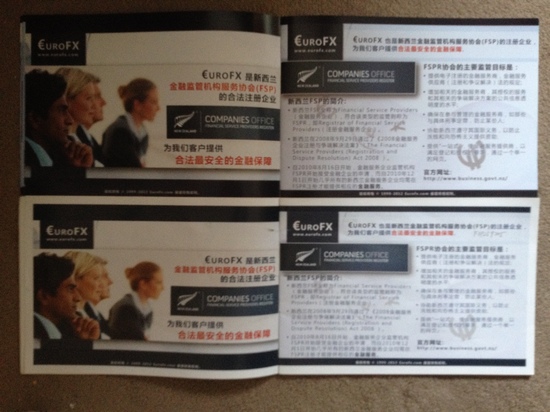 'Not authorised'
In February 2013 Britain's Financial Conduct Authority said Euro Forex Investment Ltd was not authorised to carry on regulated activities in the UK, but may be targeting UK consumers. Online cache information (see below) shows Euro Forex boasting its "New Zealand license" enabled it to offer "investment expertise to global clients".
"Under the leadership of Chief Executive Officer, Mr. Lucas O'Leary, €UROFX is now ready to accept multiple clients from all over the globe with a few exceptions due to financial and geo-political reasons," Euro Forex said.
When contacted by interest.co.nz about Euro Forex a spokeswoman for the Financial Conduct Authority declined to comment further.
The investor says police in China, Singapore and the UK are investigating.
Interest.co.nz hasn't yet received responses to requests for comment from UK and Singaporean authorities.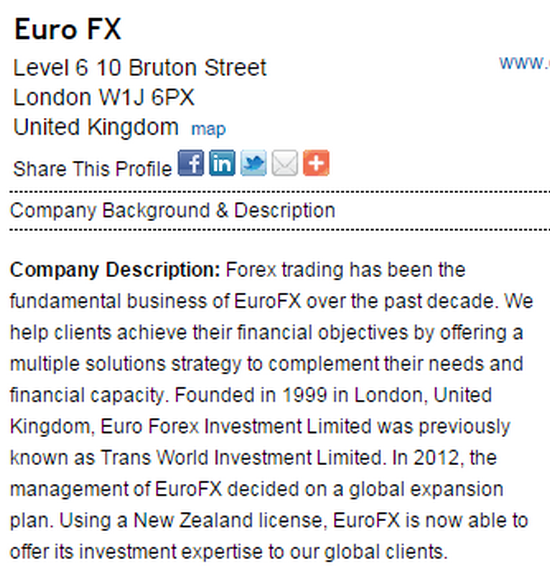 Despite the claim above, Euro Forex never had any NZ licence. Rather it was registered on the NZ FSPR but wasn't regulated in NZ.
'Unique' trading approach
The investor says the earliest known date Euro Forex Investment Ltd started promoting itself in China was June 2012. It claimed to have 13 years history of forex trading and managing money for investors. Euro Forex used the reputations of the UK and NZ to make itself look trustworthy, the investor adds. It claimed to have trading offices in Paris, Switzerland and Greece and more than 200 employees.
According to the investor, the company claimed to use a "unique" trading approach that enabled it to deliver monthly returns of 9% to 16% with very low risk. It offered silver accounts paying 9%, golden accounts paying 12%, and premium accounts paying 16%. Each investor had to stump up at least US$100,000.
Over time the name on brochures "quietly changed" to EFIL-Euro Forex Investment Ltd, the investor says. Then on July 20, 2013 all accounts were frozen with trading halted. The explanation given was that this was due to the implementation of NZ's Anti-Money Laundering and Countering Financing of Terrorism Act, which took effect on June 30, 2013.
The investor says the company said accounts would be frozen for three months  to clear out "bad" accounts. Investors were allegedly told if they opened a hedging account, trading would continue during this three month period. Investors were told they would be able to withdraw their money from October 18, 2013. Just prior to that, on October 13, Euro Forex became FXCAP, with its website redirecting users to www.fxci.com.
'An endless assortment of unpleasant inquiries'
Euro Forex/FXCAP also offered payments cards issued by British company Prepaid Financial Services Ltd, known as PFS, with documents that came with the card allegedly coming from Pacific Finance Services Corporation Ltd, known as PFS NZ which was to be contacted if there were any problems. These cards apparently didn't meet investors' expectations, turning out to be prepaid cards not connected to their trading accounts and with no money on them, plus a load limit of US$2,500 per year.
An update posted on FXCAP's website during 2013 claimed more than 50,000 application forms had been received for debit cards. A later one refers to "aggressive behaviour" from clients issued debit cards who've made "an endless assortment of unpleasant inquiries." Due to this the "issuing bank" had allegedly cancelled the cards.
Another update on the website, dated September 1, 2014, says management had decided to stop clients from trading their accounts from this date. Clients would be allowed weekly withdrawals of between 3% and 5% of their current account balance from January 2015, the update said, and new clients would then be able to open accounts. An apology was made for "inconvenience" caused during 2014.
"The fact is that after merging a few entities the management is facing many administrative and financial enquiries from regulators of many countries. As a result, we are not allowed to accept new clients and all out-going payment is prohibited until every issue is resolved," FXCAP said.
The investor in touch with interest.co.nz says no one has been able to withdraw any money for two years now.
'UK companies'
A spokesman for the Ministry of Business, Innovation and Employment (MBIE), which oversees both the Companies Office and FSPR, says Euro Forex Investment Ltd, EFIL-Euro Forex Investment Ltd and PFS Pacific Finance Services Ltd are all UK incorporated companies.
Euro Forex was registered as a financial service provider between July 22, 2012 and November 10, 2012 when it was deregistered because it didn't have a place of business in NZ. In what appears a cheeky move and one NZ authorities should have nipped in the bud, EFIL was then registered on the FSPR from December 3, 2012 until it was deregistered on March 6, 2013 also on the grounds it didn't have a place of business in NZ, the spokesman adds. 
EFIL was registered on the NZ overseas companies register on November 7, 2012 and remains a registered overseas company.
PFS Pacific Finance Services had two stints on the FSPR. Firstly between July 15, 2012 and January 15, 2013 when it was deregistered by the Register of Financial Service Providers under section 8A of the Financial Service Providers (Registration and Dispute Resolution) Act 2008 because it didn't have a place of business in NZ. It was again registered between January 21, 2013 before voluntary deregistration on January 30, 2013 after the Registrar had started the deregistration process once again.>
An FMA spokeswoman said the FMA is not investigating the three companies, "which are all deregistered from the FSPR". Since last year the FMA has been able to direct the Registrar of Companies to decline a registration or deregister a financial service provider if the provider is using the registration to create a false or misleading impression as to the extent it's regulated in NZ.
When interest.co.nz forwarded Mapley's information on to the NZ Police Financial Intelligence Unit (he had already done so but has received no acknowledgement), we were told; "We will enter this into our system and one of the operation supervisors will assess it for some analytical work to be completed."
Wellington staff stay mum
Interest.co.nz also contacted a Vikram Kaushal whose LinkedIn profile says he's based in Wellington & Wairarapa and worked as a manager for Euro Forex Investment between December 2012 and October 2013, then as an accounts manager for Asia Finance Corporation, trading as London Capital NZ, from January 2013 to the present. We were hoping to clarify what his roles at Euro Forex and then Asia Finance Corporation involved. However, no response has been received to our questions.
We also contacted Bryony Keriana whose LinkedIn profile says she was also Wellington and Wairarapa based and worked as a general manager at Asia Finance Corporation between August 2013 and October 2014, and as a manager at Pacific Finance Services between October 2012 and October 2014. Again we wanted to clarify what her role at Asia Finance Corporation involved, but no response has been received. Keriana's profile now says she's an English teacher and travel writer in Peru.
Julie Cook, meanwhile, is listed as director and shareholder in Companies Office records of Pacific Finance Services Corporation Ltd, which was on the FSPR for two years between March 2013 and March this year. It's understood to have had an office in Wellington, firstly in Aviation House at 131 Featherston Street, and then at Level 20, Plimmer Towers, Gilmer Terrace, with two or three staff operating an online business.
Companies Office records show Euro Forex Investment's director as British resident David Andrew Byrne who replaced Joaquim Magro Almeida whose given address was in Portugal. Byrne was also EFIL Euro Forex's last director having replaced an Andres Christodoulou of Te Atatu, Auckland.
Almeida, this time with a British address, was also a director of PFS Pacific Finance Services for a time with the British based Julie Cook latterly listed as director. Almeida is understood to have had, or still have, links to international company formation agent Atrium.
Capital World Markets connection
Apart from the Bruton Street London address noted above, Euro Forex also had an office on the 21st floor of London's Heron Tower, the same location where London police raided the offices of Capital World Markets in March arresting 13 people on suspicion of fraud by false representation and money laundering. Here's a video of the Euro Forex "client services centre" at Heron Tower.
FXCAP's website says the company was "founded in 2013 to help clients to achieve financial freedom".
"FXCAP is set to become one of the world's largest financial services organizations serving more than 1 million clients by 2015. Our aim is to be acknowledged as the world's leading international financial corporation. Through merger and acquisitions, FXCAP is well positioned in the faster-growing market to benefit from global growth of High Net Worth (HNW) clients. FXCAP was registered with multiple tax-haven jurisdictions around the world. Such complex structure gives FXCAP an unequal advantage to grow its Forex Trading, Financial, Fund & Asset Management portfolios," the website says.
However, an online post dating from February this year says of FXCAP "old name eurofx"; "Can't withdraw from account over 1 year I opened a account with this company, their official website at present is : http∥FXCAP. One account is 100,000$ at least. This company engaged in foreign exchange trading every day, and committed allowing customers to extract weekly return on the investment, also the freedom to withdraw their funds. However, after September 13, 2013, they issued a series of announcements using a variety of reasons as excuses, to freeze funds. Until now they has frozen my funds for more than a year. And I know this company got most customers from China, do you know this company? Is this company a scam?"
Interest.co.nz has not received any response to questions emailed to FXCAP.
Image theft
The Chinese investors' website has pointed out eight of 10 photos of FXCAP's alleged management board members are in fact photos of academics from a series of universities in North America and one in Russia. 
Michael Trevan, professor and department head at the Department of Food Science at the University of Manitoba in Winnipeg, Canada, is among those whose image has been used. On the FXCAP website Trevan's photo appears next to the name Peter M Sanders who is described as head of asset and wealth management.
"I am aware of the Peter Saunders issue, but not the Chinese connection," Trevan told interest.co.nz. "To put it bluntly I am not best pleased about this misrepresentation of my visual image, but have not been sure what I can do about it. Whilst it did not seem to be a big issue that my photo was attached to the wrong name, the Chinese issue is rather more concerning."
"I originally found out about this because someone I didn't know sent me an email alerting me to this issue. I believe he must have been familiar with the University of Manitoba website and my picture, and made the connection somehow," Trevan said.
Below is "Peter M. Sanders" as he appears on the FXCAP website. And underneath is a photo of Michael Trevan from the Winnipeg FreePress. Others whose images appear to have been used in the same way include academics from the University of Alaska, the University of Texas, and one from First Moscow State Medical University.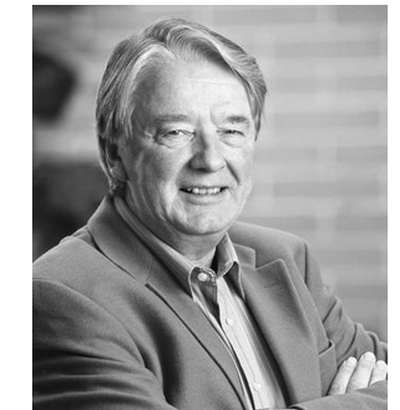 MBIE's review
Although merely a simple registration system with similarities to a phone book directory, a presence on the FSPR appears to have been used by those behind Euro Forex to claim their presence on it means they're regulated NZ financial service providers when they're operating overseas and aren't. 
As part of a review of the Financial Advisers Act and the Financial Service Providers (Registration and Dispute Resolution) Act, MBIE is consulting on whether misuse of the FSPR by offshore financial service providers is a significant risk to NZ's reputation as a well-regulated jurisdiction and/or to NZ businesses, and whether any changes should be made to the registration requirements or regulator's powers in response. (Here's my submission on this to MBIE).
Mapley notes that the Euro Forex case again demonstrates how "clever, fraudulent" operators can abuse the NZ FSPR and purport to be bona fide international financial companies.
*This article was first published in our email for paying subscribers. See here for more details and how to subscribe.