Ex-NZ financial service provider allegedly behind major international fraud boasted to investors of its NZ 'licence' & NZ regulatory oversight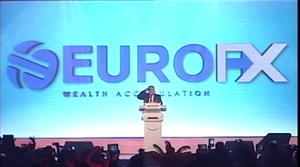 By Gareth Vaughan
British police have confirmed they're probing Euro Forex, or Euro FX, a company that allegedly committed sizeable international financial fraud with the assistance of several companies registered on New Zealand's Financial Service Providers Register.
Meanwhile, a series of videos posted to YouTube by a group of apparent Euro FX victims shed further light on the extent to which the company and those behind it used their New Zealand connection to legitimise the scheme.
"Can confirm the City of London Police are investigating a foreign exchange company in relation to fraud. No arrests," an emailed response from the City of London Police to interest.co.nz questions about Euro Forex said.
Euro Forex, which subsequently changed its name to FX Capital International Corporation, was allegedly a major international forex trading scam run through British companies with New Zealand financial service provider registration. (See our earlier story on Euro FX here).
An unnamed investor has told interest.co.nz potentially as many as 10,000 people have been "defrauded" of US$2 billion with a "professional crime group" ultimately behind the scheme. An office apparently key to Euro FX's activities was located in central Wellington. The investor maintains confirmed victims to date top 3,000 who are from several countries with Chinese the most prominent.
"The (professional crime) group takes advantage of the complexity of international law and the constraint of legal jurisdictions of different countries," the investor said.
'Key criminals in Singapore'
Interest.co.nz has been told investors believe most of their money found its way to "some key criminals" in Singapore. Police there are understood to be investigating, as are those in China and Hong Kong. Police in both Singapore and Hong Kong have declined to comment.
The entities that were, but are no longer, New Zealand financial service providers and have been linked to Euro FX are; Euro Forex Investment Ltd, EFIL - Euro Forex Investment Ltd, PFS Pacific Finance Services Ltd, PFS Pacific Finance Services Ltd (same name, different registration), London Capital NZ Ltd and Asia Finance Corporation Ltd.
Offshore entities are able to register on the New Zealand Financial Service Providers Register and operate overseas without regulatory oversight from New Zealand authorities so long as they don't offer services within New Zealand. The Financial Service Providers Register, along with the Companies Office, is run by the Ministry of Business, Innovation & Employment (MBIE).
Registration on the Financial Service Providers Register is, however, meant to be just that. It's not a licence of any form although numerous entities, including Euro FX, have claimed it is and that they're regulated in New Zealand.
As part of a review of the Financial Advisers Act and the Financial Service Providers (Registration and Dispute Resolution) Act, MBIE is consulting on whether misuse of the Financial Service Providers Register by offshore financial service providers is a significant risk to New Zealand's reputation as a well-regulated jurisdiction and/or to New Zealand businesses, and whether any changes should be made to the registration requirements or regulator's powers in response. (Here's my submission on this to MBIE).
CEO boasts of 'new New Zealand licence'
In a video recorded in Bangkok in January 2013, David Byrne, a Brit who is described as Euro FX's CEO, speaks to investors in English with a translator repeating his words in Mandarin. Byrne who is associated with an entity called the Intermarket Group, was once involved in a bid to buy the West Ham football club.
"To better match Euro FX's future operations and development, our company launched a renewal of its New Zealand FSP auditing procedures in October 2012 and successfully passed the audit on the third of December 2012, with the FSP licence FSP259205...," Byrne said.
This "licence" was in fact EFIL - Euro Forex Investment Ltd's registration on the Financial Service Providers Register, replacing Euro Forex Investment Ltd which was deregistered because it didn't have a place of business in New Zealand.
"This range of reaudits was aimed to expand the range of financial products that Euro FX can provide. Providing different products is extremely important to our development because as you'll remember we do not only create wealth, but also protect the value of our wealth," Byrne said.
"With the approval of our new licence we'll be quickening the pace of our development in 2013," added Byrne.
He went on to say Euro FX would open a new account in the second half of 2013 so clients could experience forex trading themselves and signed off by wishing the audience a "happy new year, good health and ceaseless wealth."
'An office in Wellington'
In a second video, of a speech apparently made in Malaysia in July 2013, Byrne said; "We've now established an office in Wellington, New Zealand with a highly experienced manager. This was the final requirement by the New Zealand authorities in order for us to renew our financial service provider's licence."
He goes on to say the introduction of a premier account will help Euro FX scrutinise client applicants to make sure it maintains "the highest quality clientele base globally according to the standards set out by the New Zealand FSP."
He said all premier account holders can expect a minimum monthly trading profit of 16%, with commission fees dropped from 20% to 5%.
By the time of the next video, said to be of a speech at a gala dinner in August 2013 to investors in Thailand, Byrne is more defensive. He notes some investors are "apprehensive about your account being frozen," but said it's just for a 90 day period that will put in place "a mechanism to ensure that you don't lose your money."
He talks about a new hedging account and said he only slept four to five hours a night working across several time zones "because I need to make sure your money is safe and that our trading team delivers consistent returns for all of us," Byrne said.
The investor who has corresponded with interest.co.nz says investors haven't been able to access their money for two years now.
Byrne described the 90 day "cooling off period" as good house keeping so the fast growing Euro FX could "shake the apple tree so all the rotten fruit falls off." Clients, would however, continue to be paid 12% to 16% during this period and after it can choose to close their accounts and take away all their initial capital and profit, added Byrne.
NZ Police stay mum
Andrew Hill, a manager at the Financial Intelligence Unit of the New Zealand Police, said restrictions on disclosure of information prevent it from commenting on specific persons or entities.
"More generally, abuse of legal entities, including financial service providers, is identified internationally as a significant enabler of money laundering and predicate offending. Recognising the risks to New Zealand in this regard, the New Zealand Police FIU works with domestic authorities as well as overseas FIUs, law enforcement and regulatory agencies to disrupt abuse," Hill said.
Below is Byrne taken from one of the Euro FX videos posted to YouTube.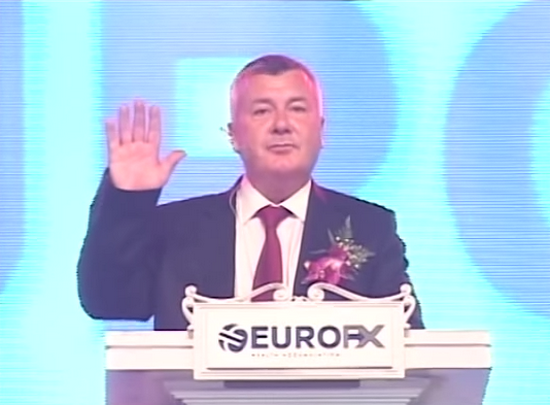 *This story was first published in our email for paying subscribers. See here for more details and how to subscribe.