KPMG's annual FIPS says bank bosses are questioning whether the beginnings of a structural change in the way Kiwis invest is hitting their deposit funding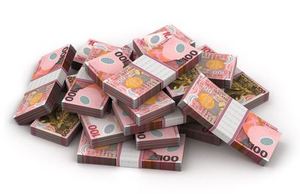 By Gareth Vaughan
Is a major structural change underway with some New Zealand savers and investors falling out of love with bank deposits? Or is it just that they're looking elsewhere for higher returns due to the low interest rate environment?
This is a question pondered in KPMG's annual Financial Institutions Performance Survey (FIPS), out today.
Covering the year to September 30, 2016, the survey notes banks experienced their fastest lending growth in eight years, with their loan books growing by 8.1%, or $29.7 billion, to $395.71 billion. This outstripped growth of deposits, used by banks to on-lend to borrowers and meet their Reserve Bank enforced Core Funding Ratio requirements. Lower levels of deposit funding mean banks need to borrow more money through volatile overseas wholesale funding markets.
In a low interest rate world with the Official Cash Rate cut to a record low of 1.75%, banks' deposit interest rates have dropped to very low levels by historic standards with stiff competition among lenders to raise deposit funding.
"One of the questions raised with executives was whether the decrease in deposits experienced by some banks was the beginning of a structural change or more of a blip. Some executives speculated that it was the beginning of a move away from deposits, caused in part by a greater flow of money into KiwiSaver and other investments, which was caused partly by the low deposit rates and partly by consumer preference in the younger demographic," the FIPS says.
The million dollar question
John Kensington, KPMG's head of banking and finance, told interest.co.nz whether this was a structural change or a blip was the million dollar question. He points out many New Zealanders haven't had as wide a range of investments as people in some other countries, but the introduction of KiwiSaver in 2007 has given us an opportunity to understand a broader range of investments.
"There's only ever so much money going around and people only have a certain amount to invest. In the past it probably went into property, or maybe it went into deposits until you had the deposit for a property and then it went into paying off your property. And once it was paid off you went into deposits. So the New Zealand psyche was fairly simple and structured and straight forward," said Kensington.
"Maybe we've had too much [money] in property and deposits and not enough in other things. One catalyst will be that deposit rates are low, [and] another might hopefully be that people have become a little more educated on where to put their money, and how to spread their money around to diversify their risk."
"But is it a structural change or is it just a blip? That's the million dollar question I can't answer. Are we seeing younger people that are perhaps a bit more savvy, a bit more impatient and not just prepared to put their money in a deposit? If that is the case it could be driven by the fact that rates are so low. Or alternatively it could be driven by the fact, and it'd be nice if it was, that people understand more about investing now," Kensington adds.
"It's probably just too soon to tell. If you look at other countries there has to be some shift in where we are because we are heavily, heavily biassed toward property and heavily biassed, after that, to bank deposits for convenience. It could be the beginnings of structural change but I honestly don't know."
Banks battling for deposits has a flow-on effect to the non-bank sector comprising finance companies, building societies and credit unions. Executives in this sector say they are finding it increasingly difficult to compete with banks for deposits, especially when the banks carry out special six-to-nine-month deposit offers at the same rates as offered by credit unions and building societies.
"Finance companies that are backed and funded by a bank are also being cautioned that they can no longer borrow the same level of funds at the same historically low interest rates that they have enjoyed. This is a clear signal from the banking sector to expect tougher times ahead as they shore up their capital balances and source additional deposits, while also trying to rein in lending growth," KPMG says.
Return on equity & return on assets both drop
The FIPS report notes bank sector profit fell for the first time n seven years, dropping 6.5% from the 2015 record high of $5.17 billion to $4.84 billion. The drop came as the sector interest margin fell 13 basis points to 2.15%. KPMG attributed this to "less relief on the funding side of the balance sheet and intense competition on the lending side."
Funding costs across the sector fell 62 basis points to 3.25% as interest expense, or what banks themselves pay to borrow money, fell 10.6%, or $1.5 billion.
KPMG also points out that the banking sector's return on equity (ROE) and return on asset (ROA) levels fell on an annual basis. ROE fell 200 basis points to 13.96%, and ROA dropped 16 basis points to 1.00%.
"The decreases in ROE and ROA played a large role in why banks have scaled back lending growth in recent months, as they look for deals that are appropriately priced as opposed to primarily looking for loan book growth. These decreases are also a reflection of an increasingly challenging environment where banks are finding it more difficult to maintain current levels of earnings. The cost pressure of growing regulatory compliance, increased competition, volatility in markets and the costs associated with staying digitally competitive are examples of the current challenges the industry is facing," the FIPS says.
"Funding's going to be as challenging, if not a little bit more challenging, to get. Banks, especially the large Australian ones, [are] recognising they may have some tightness on the funding side coming up, and it might be a good time to be a bit careful because the property market is quite heated up. Over the last two years they have hit some return on equity and return on asset triggers that have meant that there's deals that they need to look closely [at] to see if they want to do it," Kensington says.
Meanwhile, the FIPS report also says bank executives perceive that the Reserve Bank is "becoming increasingly cautious" about the banking system's liquidity and credit quality.
*This article was first published in our email for paying subscribers early on Thursday morning. See here for more details and how to subscribe.