Justice Minister Amy Adams says estimated compliance costs of extending anti-money laundering net have fallen by as much as half to between $800 mln and $1.1 bln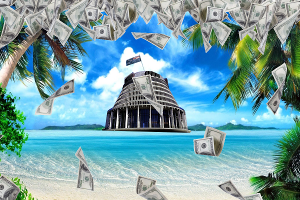 The Government has slashed, by up to half, its estimate of what the cost to businesses of complying with the Anti-Money Laundering and Countering Financing of Terrorism Amendment Bill will be.
Justice Minister Amy Adams revealed this staggering reduction when announcing late on Monday the introduction of the Bill to Parliament. The Bill is known as stage two of the AML/CFT Act, of which stage one took effect in 2013.
So why the reduction? Because fewer businesses than previously thought will have to comply, and some companies will work together in groups to meet their obligations.
"Over the past several months, we have worked with affected sectors to better understand how the changes will impact their businesses and refined options to help them meet their obligations. This has significantly reduced the predicted compliance costs – the initial estimate of up to $1.6 billion over 10 years has been lowered to between $800 million and $1.1 billion," Adams said.
The Bill extends the existing AML/CFT Act to lawyers, conveyancers, accountants, real estate agents, and sports and racing betting. Businesses dealing in some high value goods, including motor vehicles, jewellery and art, will also have obligations under the Act when they accept or make large cash transactions.
In December Adams said compliance costs stemming from extending AML laws could ultimately be passed on to "mums and dads," costing $1.6 billion over 10 years. So how has the Government managed to effectively halve this estimate, which came from an EY report done for the Ministry of Justice, in four months?
"The main reason for the difference is because fewer businesses than first thought will have to comply with the Act. For example, many dealers in expensive goods will probably not accept large cash transactions, and it's likely more businesses will use provisions that help them to reduce their compliance costs, such as setting up designated business groups that allow companies to work with others to meet their AML/CFT obligations," the Ministry of Justice says.
Adams, via a spokeswoman, told interest.co.nz the Government had worked with businesses to minimise compliance costs and develop options to reduce compliance requirements.
"Business compliance costs were estimated by a survey of industry participants, interviews with Phase I supervisors [the Department of Internal Affairs, the Financial Markets Authority and the Reserve Bank], and interviews with the potential phase two sectors. In addition, the Government held workshops across the country with experts from the different sectors, which helped refine our figures so that they better reflect how businesses will manage their costs," Adams said.
Fewer law firms, accounting firms and real estate agents to be supervised
Figures included in the Government's draft cost-benefit analysis released in December, compared with figures in the cost-benefit analysis made available on Monday (see charts below), show some major differences. These include that fewer law firms, accounting firms and real estate agents will be supervised for AML/CFT Act compliance than initially proposed.
Chart from December report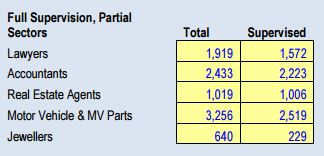 Chart from March report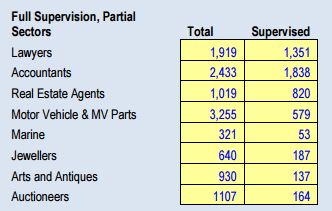 The initial cost-benefit analysis incorporated high value dealers consisting of full supervision on motor vehicle dealers and jewellers only. In the updated analysis high value dealers consists of motor vehicle dealers, boat traders, jewellers, art, auctioneers and second hand dealers with "light" compliance and a $15,000 cash threshold for transactions. That $15,000 threshold is up from $10,000 previously. The updated cost-benefit analysis estimates 0.27% of GDP will be "restrained" in the regulated sectors in any given year, down from 0.33%.
Expert non-plussed
Ron Pol, a former lawyer completing a PhD in anti-money laundering and thus an AML expert, is underwhelmed by the reduction in businesses who will be caught in the net, and their compliance costs.
"Adjusting the number of businesses covered and massaging the cost-benefit numbers won't materially affect the policy effectiveness equation," Pol told interest.co.nz.
"The new bill will help position New Zealand to meet its international obligations. Box ticked. Police will also no doubt welcome the Bill, as another small addition to their intelligence capabilities. But the international and New Zealand evidence suggests that it is unlikely that the incremental approach of adding more reporting entities will have a significant or demonstrable impact on the detection, prosecution and prevention of serious crime," Pol said.
Meanwhile, Adams says the Bill, once passed, could disrupt up to $1.7 billion in fraud and drug crime over the next decade. Government estimates also suggest it may prevent up to $5 billion in broader criminal activity and reduce about $800 million in social harm related to illegal drugs trade.
Staggered compliance timeframes for newbies
The Department of Internal Affairs will supervise all of the phase two entities for compliance with the AML/CFT Act. The newcomers will have staggered timeframes from when they'll have to comply. Lawyers and conveyancers will have to comply by July 1, 2018, accountants by October 1, 2018, real estate agents by January 1, 2019, and high volume goods dealers and the NZ Racing Board, which administers sports and racing betting, by August 1, 2019. See more on the Bill here, which the Government wants to have passed by mid-year.
These so-called phase two entities will be required to comply with the AML/CFT regime when they offer specific services. Their compliance obligations will include appointing an AML/CFT compliance officer, undertaking an initial risk assessment of their business and customers, preparing a written AML/CFT programme setting out how they will comply, doing customer due diligence, filing suspicious activity reports on any suspicious activity they see, preparing an annual report on their AML/CFT programme, and having their AML/CFT programme audited biannually by an independent auditor.
Since 2013 banks, insurance companies, investment advisers, money remitters and casinos have had to comply with the AML/CFT Act. The Bill also makes a series of changes affecting these "phase one entities" including expanding suspicious transaction reports. Now, these entities have to report suspicious information when it is directly related to a transaction. However, it's proposed that all reporting entities will have to report any suspicious activity, even when a transaction has not taken place.
*A version of this article was first published in our email for paying subscribers early on Tuesday morning. See here for more details and how to subscribe.