What New Zealand can learn from South Korea about being mates with both China and the US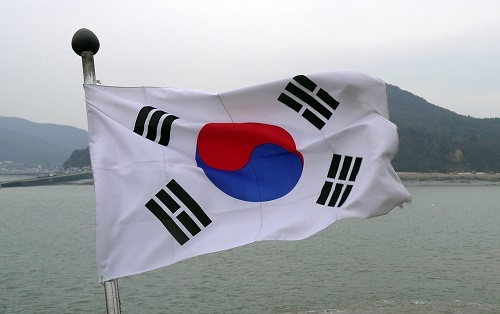 The old proverb – "When whales fight the shrimp's back is broken" – is striking a chord with South Koreans, ahead of US President Donald Trump and Chinese President Xi Jinping meeting this week.
South Korea's Vice Foreign Affairs Minister has dubbed China's move to boycott its relationship, due to it employing the US's anti-ballistic missile system, as "extremely irrational".
Speaking at the World Journalists Conference in Seoul on Monday, Ahn Chong-ghee said: "In the face of North Korea's growing array of short, medium, long range and even submarine-launched missiles; in the face of this looming existential threat, Korea has every right to seek to better defend itself.
"One critical means to do so is the deployment of the Terminal High Altitude Area Defence or the so-called [US] THAAD missile defence system..."
He explained: "North Korea has recently been stepping up its nuclear development at a deeply troubling pace. Just last year alone, it conducted two nuclear tests and 24 ballistic missile launches. This year has already seen three separate rounds of missile tests.
"A sixth nuclear test might also be in the offing. With every launch and every test North Korea comes ever closer to mastering the technology to wreak mass destruction.
"The world has seen that North Korea will not confine itself to mere bluster. VX nerve agent – an extremely lethal chemical weapon – was used to assassinate the brother of the North Korean leader in broad daylight in a third country. The incident is a glaring reminder of the utter recklessness of the young leader.
"The coupling of such recklessness with weapons of mass destruction would be a recipe for disaster. It is precisely for this reason that North Korea now tops the list of global security concerns for the world."
'Questioning the legitimate right of self-defence is inappropriate'
Ahn went on to say: "Questioning the legitimate right of self-defence is inappropriate. The retaliatory measures by China against a defensive deployment directed solely against North Korea is something that defies comprehension.
"Korean companies have been subject to widespread discriminatory inspections. The company that provided the land for the deployment has seen more than 80% of its operating outlets in China suspended.
"As of March 15, sales of travel packages to Korea have ceased and group visits have come to a half altogether. Cultural programs have been cancelled on countless occasions. These across the board measures are deeply misguided and they need to stop...
"China has in recent months been championing free trade, standing form in resisting protectionism. We very much welcome this stand. But at the same time, we strongly hope that these words are matched with action."
Ahn's hard line approach in some ways echoed Trump's, who earlier told the Financial Times: "If China is not going to solve North Korea, we will."
Ahn added the various agreements reached with North Korea had been useless.
"…those 20 plus years have seen North Korea come closer and closer to acquiring a more advanced nuclear capability. If the past is any guide, a dialogue for the sake of dialogue brings us nowhere."
As well as encouraging the US's presence in South Korea, he called for tougher sanctions against the country and support from the international community.
China opposes 'escalation of tensions for self-interest'
Also speaking at the conference, a public relations director for the People's Daily – the official newspaper of the Chinese Communist Party – affirmed the "Chinese media's" opposition to THAAD.
Zhang Yong said: "The Chinese media are more concerned with the recent THAAD issue than the nuclear test of the North. We believe that THAAD will open the Pandora's Box.
"First, the North Korea will take more reckless action under new pressure, and it may never come back to negotiation.
"Second, China's national security and strategic interests will be greatly challenged and undermined. China is bound to take countermeasures in a serious manner…
"Few people in China think that the THAAD battery to be deployed in the South Korea has effect in shielding the threat from the north… But it has a major role to play for the United States to put half of China under its radar surveillance.
"Third, the balance of power in the north-east Asia and the whole world will be changed and the new round of arms race will be triggered…
"The relations between China and the South Korea will be crippled…
"From 2003 to 2009, the dialogue and negotiation on the issue have been effective in calming down the North Korea and the situation on the Peninsula was relatively stable. Since 2009, the talks were suspended and the issue was dealt with through confrontational means.
"The situation has appeared to be a vicious circle: nuclear test led to sanctions, and sanctions led to new test, and it goes on and on…
"We oppose the provocation and escalation of tensions for self-interest, and eschew the practice of shifting trouble onto neighbours and seeking gain at the expense of others."
Tensions underscore need for diversification
The evident threat of a nuclear war aside, the tensions breaking South Korea's back, beg the question; could New Zealand face a similar fate with its two largest trading partners – China and the US – at odds with each other?
Lukas Beech, a DHR International executive who works with international companies in South Korea, and is a board member of the New Zealand chamber of commerce in South Korea, doesn't believe so, but maintains it underlines the need for New Zealand to diversify its trade strategy.
Speaking to interest.co.nz, he said he didn't see China's severing of economic relations with South Korea lasting long. He noted the big South Korean Lotte chain isn't scaling back its operations in China, despite THAAD prompting Chinese authorities to close dozens of stores.
And while Ahn in his speech didn't mention anything about the impeachment of South Korea's former President Park Geun-hye, and how the upcoming election in May could affect matters in South Korea, Beech noted the left-wing opposition was touted to win.
Known for being less confrontational and more open to dialogue with North Korea, a change in government could therefore see South Korea soften its approach in line with China's strategy.
Beech's view contrasts that of Australian journalist and film maker, John Pilger, who last week told the Herald New Zealand was "precariously placed" in its dealings with the US and China.
While the Government made ambitious new economic commitments with China, this relationship is being undermined by its growing support for American provocations in the disputed South China Sea, Pilger argued.
"It almost seems that New Zealand is beckoning China as an enemy," he said.
---
Jenée Tibshraeny was sponsored to attend the World Journalists Conference in Seoul by the Journalists Association of Korea.