Green Party says would prioritise light rail from Auckland CBD to airport for 2021; Would look to partially fund it through land value capture
The Green Party Wednesday promised to fast-track building light rail from Auckland's centre out to the airport by 2021 if it is in government after 23 September.
The move may not come as surprise, but could serve to put more pressure on current government Ministers and the Auckland Council to research how to bring forward work on the project.
Greens transport spokesperson Julie Anne Genter said the $2.3 billion cost would be met from the government's transport fund. However, the Greens would also investigate partially funding the project through land value capture (value uplift tax).
Interest.co.nz on Sunday wrote that Transport Minister Simon Bridges was in a Mexican stand-off with parties including Auckland Airport on funding for the project. One trigger for the government agreeing to bring the project forward from its current 30-year timeframe would be agreement between beneficiary parties on new funding measures, such as value uplift tax.
Speaking to media in Parliament Buildings later on Wednesday, Bridges questioned the Green Party stance, saying they were generally opposed to processes used to fast-track development. See further comments in Question Time.
But Bridges did welcome the discussion on the issue, particularly around the Greens' support for using land value capture to help fund such a project. "I think they stole that from us," he said. "These are things that we want to do as well. We want to get private money involved in these things."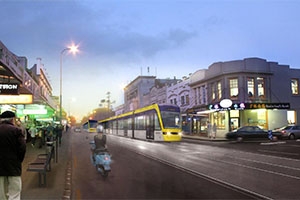 "Simply put, what we mean and what we're very open to, is getting new private money in to help us do the job in Auckland," Bridges said. Asked whether that meant the Airport and Dominion Road businesses needed to come to the table, he replied: "I think potentially those things are possible. We're not quite there yet in terms of having those discussions."
"If we did a serious public transport project, as I think we're going to, between Auckland CBD and airport, ...there would be other parties that would benefit significantly from that," Bridges said. "Around the world – Australia, the UK, I think parts of America - they've looked at how they've managed to help fund [projects] through those sort of things. We're very open, in fact interested in doing some of those things here as well."
Bridges disputed that the current timetable meant a 30 year wait for rail to the airport. "What I've always said is that we support route protection now, we want to get on with that, and we want to have a public transport corridor. I think moving from bus to light rail's probably a question of when demand requires that.
"Now look, that may well be sooner than later and I'm very open to that. I'm actually open to reasonable suggestions around this corridor and what sort of project it might be," he said.
The government's central plan at the moment is to secure land for a rapid transit busway to and from the airport, which would eventually be converted to heavy or light rail. Bridges has said there are various roadblocks, including the work required to secure the land which might not be completed until 2019, before work can begin.
On Monday, Prime Minister Bill English said it might be possible to bring forward some planned Auckland Transport projects, although he was non-committal on which ones. Government and the Council are currently in discussion on the Auckland Transport Alignment Project (ATAP). An initial $24bn plan, of which $20bn has funding, may have already blown out 18 months after being first devised.
Auckland Mayor Phil Goff has said higher-than-expected population growth in Auckland in recent years means the initial $4bn ATAP funding gap may have widened to at least $7bn.
Emirates Team New Zealand's America's Cup win gave renewed vigour to calls to fast-track various Auckland infrastructure projects. The APEC forum will also be held in Auckland in 2021, with English saying the combination of events made the infrastructure picture there "a little bit complex."
Genter said bringing forward the project was an ambitious goal which would require unprecedented cooperation between government and the Auckland Council.
See the release from the Greens below:
The Green Party is announcing today that in Government it will fast-track the building of a new rail line to Auckland airport to be completed in 2021, in time for the next America's Cup.

By light rail it will take approximately 43 minutes to travel from Wynyard Quarter, up Queen Street and Dominion Road to the airport. The $2.3 billion rail line will be a project of national significance funded from the transport fund. In Government we will also investigate additional funding sources for this project such as land value capture.

"Light rail to the airport is the most urgently needed transport project in Auckland, and it will start this year when we're in Government," said Green Party transport spokesperson Julie Anne Genter.

"A new rail line will give people the freedom to by-pass congested roads and travel from the city to Dominion Rd and the airport easily and quickly.

"Light rail will mean far more consistent and shorter travel times for people traveling to and from the airport and surrounding suburbs.

"2021 is an ambitious goal that will require unprecedented cooperation between Government and Council, and we can make this happen.

"It's absurd that National still thinks this project isn't needed for another 30 years. In that timeframe the number of passengers travelling to and from the airport will double and the number of people working near the airport will triple.

"It took 6 years for National to realise the City Rail Link was a priority for Auckland. We can't wait 6 years, let alone 30, for work on airport rail to start.

"Rail to the airport is just one of a number of transformative rail projects that the Green Party will fast-track in Government. We intend to announce more projects closer to the election," said Ms Genter.