This is Part II of an ExportNZ paper commissioned from the NZIER. (Part I is here.)
---

Trade gives households greater choice…
Exports are the only way that people living in a small economy can get access to a variety of products and services and having access to a wide and increasing variety of products is a mainstay of economic and social progress… To access a growing range and quality of products and services, something needs to be given in exchange. In a large country this exchange can take place within national borders. In a small country [like New Zealand], making this exchange means exporting. 1
Going back to basics for a moment, New Zealand cannot affordably produce all of the goods and services that its population demands. It's unrealistic to expect a country of 4.5 million people to produce sufficient quantities of high quality agricultural products, low cost basic manufactured goods, premium hi-tech manufactured goods, non-traded services and export-focused services to meet households' demands.  
We therefore focus on producing what we have a comparative advantage in. We generate export revenue from this specialisation, which we can then exchange for imports of goods and services from other countries (including imported intermediate inputs to help us produce more efficiently).     
As well as this specialisation allowing more efficient use of resources and hence higher household incomes, trade also facilitates greater choices. There is a large literature that discusses the gains to households from access to greater product variety due to trade.2
One seminal paper showed that the variety of US households' imported goods increased three-fold from 1972 to 2001, which delivered benefits to US consumers valued at 2.6% of GDP.3 By way of illustration, if we applied this result to New Zealand's GDP in 2001, the gains to New Zealand households from improved product choice from trade would come to $3.9 billion, or around $2,300 per household.4
The EC (2010) has estimated that the gains to the average EU consumer from enhanced trade are around €600 per year.5
…and makes households' budgets go further
Exchanging our export revenue for imports is more beneficial for Kiwi households when the prices of those imports are falling, or at least rising slower than export prices. Lower import prices happen primarily through two channels: trade liberalisation (which reduces tariffs on the things we like to import) and technological change (which lowers the costs of production overseas).6
As Figure 1 shows, the prices of traded goods that all households buy, such as clothing, appliances and tools, have either fallen over the past decade, or only risen very slightly. In contrast, the prices for domestically-produced items in those groups have all risen by 40-50%.
The chart also shows the power of technological change on households' purchasing power: the prices of imported telecommunications equipment and audio-visual and computer equipment have dropped massively over the past decade.7
Figure 1 Traded and non-traded goods prices
% change in CPI sub-index, 2006Q2 to 2016Q3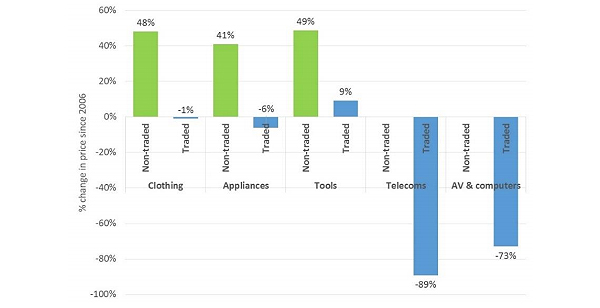 Source: NZIER, Statistics New Zealand
One US study estimates that trade contributes about 30% of an average US household's purchasing power.8 In New Zealand this share would be far higher, given how trade-reliant we are compared to the US. And the contribution of trade to purchasing power increases for lower-income families, who tend to spend more on imported items as a fraction of their income than richer families. 
Another US study9 looked at the gains to US households of increased manufacturing imports from China between 1998 and 2008, and estimated it to be around US$250 per person per year.
A US think-tank has recently explored the potential negative impacts of tariffs on household budgets in the US.10  They estimate that if the US were to impose tariffs on Chinese imports, as was suggested during the recent presidential campaign, "the total added cost of Trump's tariffs on your back-to-school shopping could cost nearly $300".11
There is limited New Zealand data on this issue, but one study12 explored the gains to Kiwi households from New Zealand's unilateral removal of import tariffs and other trade barriers in the mid-1980s reform period. It concluded that the reduction in tariffs generated around a 2% increase in Kiwi households' purchasing power. This was mainly due to lower prices for footwear, cars, household appliances and clothing.
Trade drives productivity and creates job opportunities…
The number of jobs depending on international trade has never been so high. There is a serious threat for employment to be considered for countries introducing new protectionist measures.13
The central reason why countries trade is because they are comparatively more efficient at producing some goods and services than others. In New Zealand's case, generally we are highly efficient at producing high quality food and beverages, and tourism, and less efficient at producing high-volume manufactured items due to our lack of scale. So we produce and export the former, and import the latter.
This specialisation lifts the economy's overall efficiency (or productivity), which should then lead to higher living standards. As Figure 2 shows, the primary (trade-exposed) sector has shown far stronger productivity growth over the past 40 years than the largely non-traded services sector. Since it is productivity that drives up living standards, this provides an indication of the positive contribution of trade to Kiwis' wellbeing.    
Figure 2 Labour productivity, by broad sector
Labour productivity, index 1978 = 1000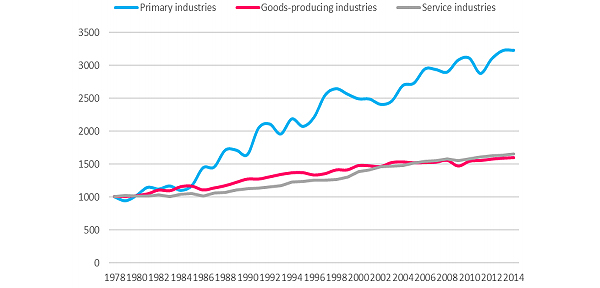 Source: NZIER, Statistics New Zealand
The tradable sector accounts for over $40 billion of GDP (20%) and over 350,000 jobs (17%) under a direct approach.14 When accounting for upstream industries – that is, including sectors that rely on these export- and import-intensive sectors – the tradable sector accounts for $85 billion (43%) of real GDP and some 725,000 jobs.15
Further trade liberalisation would support additional job growth. The OECD (2011), for example, looks at the potential impacts of a 50% cut in tariffs and non-tariff barriers by the G20 economies.16 Their modelling suggests that in the long run, this would boost New Zealand's real gross domestic product by over 8%, lift unskilled employment by 2.6% and skilled employment by 2.0%. Based on today's data, this would equate to an additional $18 billion of GDP (or almost $10,000 per household), 42,000 additional skilled jobs and 20,100 more unskilled jobs.17  
…but can put pressure on some industries
The culprit in that [pre-NAFTA] era was both international competition and the introduction of mini-mills, which allowed the production of steel with far fewer man-hours. Because of that and other technological innovations that improved productivity, total American steel output is about the same now as it was in 1990, even with far fewer workers.

That steep contraction in steel production jobs has been more than counterbalanced by a rise in other types of work. The 5,100 steel production jobs lost in Pittsburgh are dwarfed by the 66,000 health care jobs gained in the same span. Pittsburgh has often been viewed as the very model of a city moving beyond its heavy industrial history to find new prosperity in areas like health care, banking and professional services"18
Much of the recent backlash against trade liberalisation has been due to the perception that FTAs encourage imports from lower-cost producers, which can displace relatively higher-cost domestic production, causing job losses (including from shifting factories to lower-cost countries offshore), especially in manufacturing.
Two key points to note, however, are the following:
This is precisely what trade liberalisation is supposed to do. It encourages countries to specialise in what they are most efficient at producing. The idea is that the resources (labour, land, capital) that were previously employed in industries that hid behind tariffs or non-tariff barriers should be able to move into other more productive sectors that can compete more effectively in freer global markets.

This is good for the economy overall, but does cause some transitional costs – workers can't simply shift overnight from (say) steel production into high-tech medical equipment manufacturing. This is where government support for re-training is vital.
 
It is technological change, rather than trade liberalisation, that has caused the dislocation of the manufacturing sectors in most developed economies. Automation and capital-deepening mean that fewer workers are required per unit of output, and the consequence is lower prices for domestic consumers and firms. This is not something we can or should try to fight with trade barriers.
As the OECD notes, imports and unemployment are not correlated in the long term.19 This can be seen in the chart below – there is no positive relationship between import penetration and the unemployment rate in New Zealand.
Figure 3 Imports and unemployment in New Zealand
Imports as a share of GDP (LHS); unemployment rate (RHS)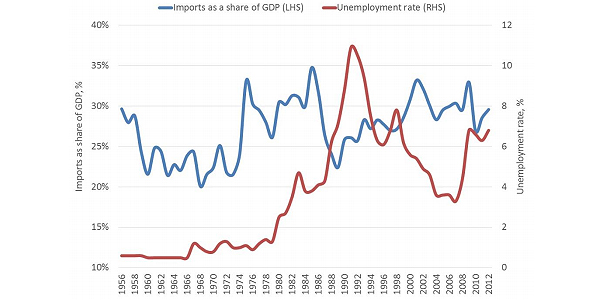 Source: NZIER, 1850 website
---
Notes: