After leaving a trail of destruction in its wake NZ's Asia Finance Corporation is being liquidated. But who is behind the liquidation?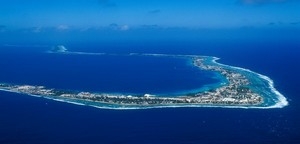 By Gareth Vaughan
A New Zealand financial service provider being tipped into liquidation after burning investors in several countries sounds like good news. But it's unclear who is behind the liquidation.
That's because the liquidation, approved by the High Court at Wellington, is at the behest of an opaque Marshall Islands company. This company is Blake Investments Ltd, which has had the NZ registered Asia Finance Corporation Ltd placed into liquidation as it strives to recover US$239,000.
Regular interest.co.nz readers with good memories may remember Asia Finance Corporation, which was previously known as London Capital NZ Ltd. It has featured in several interest.co.nz articles, the subjects of which are detailed below. But first Blake Investments. 
The Marshall Islands are located just north of the equator, almost directly above NZ on a world map. They're probably most famous for the United States' nuclear bomb tests at Bikini Atoll. That was after the US took the islands from Japan during World War II. The Marshall Islands signed a Compact of Free Association with the US in 1983 and gained independence in 1986. Although technically a sovereign nation, the US retains full authority and responsibility for Marshall Islands security and defence.
Blake Investments was established in August 2013. According to its court application to have Asia Finance Corporation placed into liquidation, it "carries on the business of small cap and private equity investments." But who its directors and shareholders are is a mystery even to the liquidator now working on behalf of Blake Investments.
That's because under the Marshall Islands Business Corporations Act, Marshall Islands non-resident domestic corporations aren't required to publicly file information with the country's Registrar of Corporations on their business activities, accounts, directors, officers, or shareholders.
Gareth Hoole and Clive Bish of accounting firm Ecovis KGA were appointed liquidators in late May. Hoole acknowledges he doesn't know who Blake Investments' shareholders and directors are.
"Nor am I particularly interested in knowing who they are. They are a judgment creditor recognised by the New Zealand Court and that is enough for me to know," Hoole said.
He is dealing with Blake Investments' NZ lawyers, being the Auckland and Hamilton firm Stace Hammond, and Auckland-based QC Jenny Cooper. Asked if the lawyers could shed some light, Stace Hammond partner Philip Morris said managing partner Patrick Wilson has knowledge of the matter and the relationship with the client. 
"He will no doubt take instructions and respond accordingly in due course," Morris said.
Wilson's currently on holiday. (After publication of this article Wilson got in touch to say, "I have taken instructions from our client and there is no information that can be made available regarding Blake Investments Ltd.")
Asia Finance Corporation's trail of destruction
London Capital NZ/Asia Finance Corporation was first drawn to interest.co.nz's attention in 2015. Its then sole shareholder, an Australian named Bryan Cook, received a prison sentence of one year and nine months in Germany for intentional market manipulation. This was after Cook was arrested in Switzerland and extradited to Germany. Before this, London Capital NZ caused headaches for Europe's GXG Markets. The Financial Markets Authority subsequently booted Asia Finance Corporation off NZ's problematic Financial Service Providers Register (FSPR), although it remained as a registered NZ company.
London Capital NZ/Asia Finance Corporation has also been linked to the large Euro Forex scam in China covered by interest.co.nz here and subsequently Reuters here, and the Power8 fraud case covered by the Naked Capitalism website, Spain's El Economista newspaper and The Wall Street Journal with police in Taiwan taking action. Additionally Asia Finance Corporation has made its presence felt in Canada where it was fined US$125,000, banned from trading in or buying securities and from engaging in investor relations activities in British Columbia after admitting to making C$8.25 million worth of trades on behalf of British Columbian residents without being registered.
Blake Investments' relationship with Asia Finance
According to court documents filed in its liquidation application, Blake Investments' relationship with Asia Finance Corporation began on October 4, 2013. That's when it opened an account with the NZ firm, and deposited shares into the account. On July 22, 2014 Blake Investments gave a power of attorney to Swiss firm Blacklight SA authorising it to close the Asia Finance Corporation account. Then in August 2014 Blacklight SA instructed Asia Finance Corporation to close Blake Investments' account and transfer stock and funds representing the proceeds of share sales to other accounts nominated by Blake Investments.
In 2015 Asia Finance Corporation transferred some of Blake Investments' funds, but US$239,228.05, or NZ$332,526.99, remained outstanding. Thus the liquidation is the culmination of Blake Investments striving to get this money back.
In their first report the liquidators note they haven't been able to make contact with Asia Finance Corporation's sole director and shareholder at the time of their appointment, Thomas Ungchun Yi. Companies Office records list a Sydney address for him. Thus the liquidators also haven't obtained any company books or records.
The liquidator's report says; "The company marketed itself as a Financial Service Provider under the New Zealand regulatory framework but in reality there was no regulatory oversight of its operations."
Hoole and Bish also say at the time of their appointment Asia Finance Corporation was "prima facie insolvent."
The liquidators say funds were placed on behalf of a client with a Canadian investment vehicle known as Wolverton Securities. The British Columbia Securities Commission investigated the activities of Wolverton Securities and froze all investor funds, including those placed by Asia Finance Corporation. However, they say the freezing order over Wolverton Securities was lifted and the business bought by another Canadian investment vehicle named PI Financial.
This week Hoole told interest.co.nz; "We have made contact with a company in Canada that is administering a portfolio of securities held in the name of Asia Finance Corporation and we are working with them to try to realise some value."
Blacklight SA & Kenneth Ciapala
Interest.co.nz's application to view the Blake Investments versus Asia Finance Corporation court file was granted by Justice Susan Thomas. However, at the behest of Cooper, we were not given access to an affidavit from a Kenneth Ciapala.
A Google search shows Kenneth Ciapala is a key figure at Blacklight SA, which is apparently based in Geneva. Attempts to reach Ciapala and Blacklight have thus far proven fruitless.
An article by "Mako Research" on the Seeking Alpha website about Nevada company Lifelogger Technologies Corporation which trades on the OTC market, paints Ciapala and Blacklight in a poor light.
Lifelogger entered into an agreement with Glamis Capital, SA a Marshall Islands based trust company where Kenneth Ciapala is the President and Anthony Killarney is a Director. The agreement was for a purchase of 416,666 shares for $250,000 or $0.60 per share. The securities will be delivered to Blacklight SA based in Switzerland which both Ciapala and Killarney are both Directors and Signatories.

Almost all of Ciapala's previous financing deals that I could find have left shareholders with nearly worthless shell companies and/or wipeouts. These are completed under several different entities (ANATOM ASSOCIATES SA, Craigstone Ltd, OMNIBUS S.A.).
Blacklight SA also popped up in the Panama Papers, connected to a series of other entities domiciled in British Anguilla which is a British Caribbean territory, Samoa and Ras Al Khaimah in the United Arab Emirates. However, without full access to the Panama Papers it's not clear what these connections mean.
*This article was first published in our email for paying subscribers early on Thursday morning. See here for more details and how to subscribe.