CEO Barbara Chapman says ASB has 'found no evidence of any problems' in probe of its anti-money laundering compliance processes in wake of Aussie parent's woes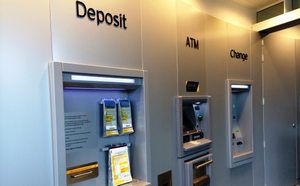 ASB CEO Barbara Chapman says the Reserve Bank is questioning New Zealand banks about their ATMs in the wake of the court action taken by Australia's anti-money laundering regulator against ASB's parent Commonwealth Bank of Australia (CBA).
"The Reserve Bank has sent out, in the last couple of days, a survey to all New Zealand banks because they have some questions around what different limits are and different machines and that sort of thing," Chapman told interest.co.nz.
"In terms of the actual AML [anti-money laundering] regulations, the Reserve Bank always has that on their agenda."
"From where I am I'm quite comfortable with how we are responding.The Reserve Bank are not saying that they are singling ASB out," Chapman added.
A Reserve Bank spokesman said the regulator is surveying all institutions that are supervised by the Reserve Bank for anti-money laundering compliance.
"When we have our regular AML discussions with those institutions, Smart ATMs will be on the agenda," the Reserve Bank spokesman said.
AUSTRAC files court case against ASB's parent
In Australia AUSTRAC last week announced it had initiated civil penalty court proceedings against CBA for "serious and systemic non-compliance with the Anti-Money Laundering and Counter-Terrorism Financing Act 2006." Among other things, AUSTRAC says for three years CBA didn't comply with the requirements of its anti-money laundering programme relating to monitoring transactions on 778,370 accounts.
For its part, CBA says it takes AUSTRAC's allegations very seriously and it will file a defence. CBA notes AUSTRAC claims some 53,000 transaction reports were filed late. But it says all these "alleged contraventions" arose from the same systems error. Each contravention faces a potential penalty of up to A$18 million.
AUSTRAC's action follows an investigation into CBA's compliance, particularly regarding its use of intelligent deposit machines.
Chapman said ASB operates a different type of intelligent deposit machine to CBA and uses different software.
"We do take the reporting of financial crime really seriously. And so certainly over the past few days we've looked again at our reporting processes, and I imagine every bank in Australia and New Zealand has done that. We don't operate the same type of intelligent deposit machines as CBA do or the same software. So we've found no evidence of any problems with our reporting to the Police Financial Intelligence Unit."
"And we regularly do meet with the Police Financial Intelligence Unit and they provide us with quarterly reports. And what they're saying to us is that the quality of our reporting of suspicious transactions to them, and the quantity of our reporting, doesn't suggest any problems. When they look at the size of our business, the quality and quantity they're saying is proportionate to the size of our business, so that gives me comfort," said Chapman.
Staying mum on pay cut
One of the CBA board's responses to the AUSTRAC court case has been to "reduce to zero" annual short-term variable remuneration, incentives and bonuses, for CEO Ian Narev and his group executives. Chapman is one of the group executives. However she won't be drawn on her pay.
"CBA isn't required to disclose my remuneration. Under the Australian corporations law I am not considered a key management personnel at CBA. And here [New Zealand] it's not required to be disclosed...So I'm not going to talk about my rem[uneration]," Chapman said.
She was speaking after ASB released its annual financial results, with profit topping $1 billion for the first time.
Smart ATMs 'an easy method to place the proceeds of crime into the banking system'
In April the Reserve Bank released an Anti-Money Laundering and Countering Financing of Terrorism Sector Risk Assessment for banks, non-bank deposit takers and life insurers, which it oversees for compliance with New Zealand's Anti-Money Laundering and Countering the Financing of Terrorism Act. This highlighted concerns around deposit quick drop facilities including smart ATMs.
"The ease of use and anonymity afforded by these services are considered to present a high level of ML/TF [money laundering/terrorist financing] risk for retail banks. This type of service has been highlighted both domestically and internationally as an area of concern. While the Reserve Bank recognises that this service provides greater customer convenience and quicker deposit of funds, the deposit of cash by unidentified persons remains a key vulnerability of this service," the Reserve Bank said.
"Drop boxes/Smart ATMs provide a high degree of anonymity and an easy method to place the proceeds of crime into the banking system."