FMA issues formal warning under anti-money laundering law to forex company and Hurricanes sponsor Fullerton Markets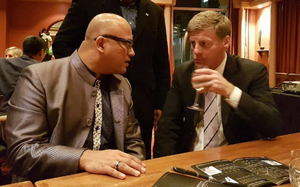 The Financial Markets Authority (FMA) says Fullerton Markets, an unlicensed Wellington-based forex company that it has issued a formal anti-money laundering warning to, has withdrawn its application for a derivatives issuer's licence.
On Friday morning the FMA issued the warning to Fullerton. In it the FMA says it has "reasonable grounds" to believe Fullerton has "engaged in conduct that constitutes a civil liability act" under the Anti-Money Laundering and Countering Financing of Terrorism (AML/CFT) Act. The regulator also notes that Fullerton has breached section 26 of the Act, which required Fullerton to take reasonable steps to determine whether a customer or any beneficial owner is a politically exposed person.
"Fullerton Markets failed to carry out checks on politically exposed persons and relied on self-declarations by clients which is in breach of section 26 of the Act," the FMA said.
FMA director of regulation Liam Mason said: "If Fullerton Markets fails to take the actions required in the warning, then the FMA will consider the need for further regulatory responses. This could include civil action, which can lead to penalties of up to $2 million per offence for a company."
In addition an FMA spokesman told interest.co.nz on Friday that; "The FMA received a derivatives issuer's license application from Fullerton Markets in August 2017. It has subsequently been withdrawn."
Interest.co.nz has published several articles about Fullerton Markets, raising questions about the company, over the past year. All the articles can be found here.  Fullerton has been supervised by the FMA for compliance with the AML/CFT Act since January.
Having set up last year, Fullerton has emerged in a few high profile sponsorship roles, including as home jersey sponsor of the Hurricanes rugby team, the Wellington Gold Awards, a sponsor of the Wellys being the Wellingtonian of the Year Awards, and the Wellington Phoenix Football Club. Fullerton has also run radio advertisements. The company managed to entice then Finance Minister Bill English along to its launch party in mid-2016. He's pictured in the photo above with Fullerton's CEO, the Singapore-based Mario Singh, in a picture Fullerton posted to its Facebook page.
Fullerton, a registered NZ company, is also registered on NZ's problematic Financial Service Providers Register. Asked whether the FMA may seek to have Fullerton removed from the FSPR, the FMA spokesman said; "For now we're focusing on the AML/CFT issues that are subject of the warning today."
In September this year, interest.co.nz also reported that Chanthrueen Sarigabani, a Malaysian national and key figure behind Fullerton, had been blocked by Immigration NZ from renewing his work visa and was being forced to leave New Zealand.
'Fullerton takes compliance most seriously'
In a statement issued in the name of Canterbury-based director Gerald Carter, Fullerton says it takes compliance "most seriously" and continues to work actively to fully comply with the requirements of the law.
"The FMA had approached Fullerton Markets on 7 September and a full and detailed written response was made on 28 September. No further communications were received until late yesterday, 23 November. We will continue to work actively and constructively with the FMA to address all the issues they have raised to ensure that Fullerton Markets is fully compliant," Carter, whose LinkedIn profile describes him as Fullerton's chairman, said.
Separately Fullerton Markets executive director Paul Turner told interest.co.nz that in terms of the politically exposed person issue, the FMA didn't refer to a specific person. Thus, to the best of his knowledge, Fullerton has no such person that it hasn't correctly identified.
"My understanding is that the FMA seeks all operators to meet a higher standard than the one we implemented and in their view we had not reached that standard," Turner says.
In terms of Sarigabani, Turner says he has acknowledged breaching his immigration application, which required him to leave NZ.
"Chanthru was a leading player in our DIL [derivatives licence] application. As such Fullerton Markets chose to voluntarily withdraw its application until such time as a replacement for regional manager could be found. It is the company's intention to review its application in line with comments offered by the FMA and to prepare a new application which addresses the issues that the FMA has raised," says Turner.
'What's interesting about the FMA statement is what it doesn't say'
Ron Pol, a political scientist specialising in policy effectiveness who recently completed a PhD in anti-money laundering, says politically exposed persons include all manner of senior politicians, judges, high commissioners, as well as senior members of the armed forces and senior officers in state enterprises. Essentially, Pol says, it means the people in power in any country and their immediate family members such as partners, parents, children and children's partners.
"For me, what's interesting about that [FMA] statement is what it doesn't say. If no criminal liability was identified - such as might arise from knowingly participating in money laundering activities, or in some cases recklessly disregarding the use of a company's services for laundering - this perhaps indicates that the company was not found to have been party to actual money laundering activity, ie in breach of the Crimes Act. It's not entirely clear, because FMA may have passed it on to the Police for investigation, although they might have said so if that was the case. Or might have waited for any police investigation to finish," says Pol.
"So, assuming no criminal liability was identified, and the FMA has elected to issue a warning in relation to potential civil liability, it's not clear to what extent it's an exercise in tick-box compliance, or something more serious," Pol adds. "It's hard to know just where on the spectrum the FMA found Fullerton Markets. Not ticking boxes, but no harm done? Or not doing the right things, and leaving the door open for criminal abuse, potential or actual?"
Meanwhile, a Hurricanes spokesman says the Hurricanes are "reserving comment" until they have more information and a better understanding of what the FMA release means. 
The FMA's statement is below, including a link to the letter sent to Fullerton Markets.
FMA issues formal AML/CFT warning to Fullerton Markets

The Financial Markets Authority (FMA) has issued a formal warning to Fullerton Markets Limited (Fullerton) under Section 80 of the Anti-Money Laundering and Countering Financing of Terrorism Act (AML/CFT Act).

An inspection of Fullerton's AML/CFT compliance by FMA staff showed that the company did not have in place adequate risk assessment or AML/CFT compliance programmes. These are essential components of complying with the AML/CFT Act. These programmes ensure that firms have robust systems and processes in place to detect and deter money laundering and the financing of terrorism.

Fullerton also failed to carry out customer due diligence in line with the Amended Identity Verification Code of Practice. Fullerton failed to take reasonable steps to fully identify clients who are a politically exposed person, as required under Section 26 of the AML/CFT Act. A politically exposed person is an individual who has been entrusted with a prominent public function, whether in New Zealand or abroad.

Under the warning, Fullerton is required to undertake a series of actions in order to ensure it complies with the law:

·Prepare and implement an AML/CFT risk assessment to the required standard

·Prepare and implement an AML/CFT compliance programme to the required standard

·Review its customer onboarding programme and review all customers onboarded since the start of business.

·Develop a more appropriate level of transaction monitoring rules. Review all customer transactions since the commencement of business. Any suspicious transactions to be reported to the Finance Intelligence Unit of the NZ Police.

·Undertake a review of all customers to check if they are a politically exposed person, using an internationally recognised search tool.

Liam Mason, FMA Director of Regulation said, "The AML/CFT Act came into force in June 2013 and the FMA and other supervisors have provided guidance and assistance to firms to help them to comply. We know that reporting entities have invested significantly in systems and resources to comply with the requirements of the law. 

It's not fair on those who have made this effort if others do not do so.  The FMA signalled in our last annual report that we would take formal action where we see firms failing to meet these requirements."

Mr Mason said, "If Fullerton Markets fails to take the actions required in the warning, then the FMA will consider the need for further regulatory responses. This could include civil action, which can lead to penalties of up to $2 million per offence for a company."

The warning can be viewed here.