The FMA issues warnings about NZ's troublesome Financial Service Providers Register in Chinese, Malay and Arabic & admits it's easier to get on it than be removed from it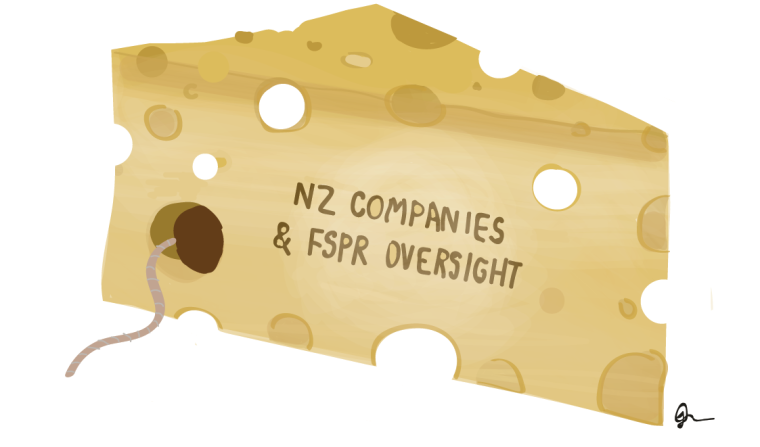 By Gareth Vaughan
The Financial Markets Authority (FMA) acknowledges getting on New Zealand's problematic Financial Service Providers Register (FSPR) is easier than being removed from it, as it begins publishing warnings about dodgy NZ registered entities in Chinese, Malay and Arabic.
FMA director of regulation Liam Mason told interest.co.nz it's "much easier" to get on the FSPR than be removed from it. He was speaking as the FMA issued a report on the FSPR in which the regulator says its focus is shifting to targeting New Zealand directors of FSPR registered businesses that encourage or facilitate misuse of the FSPR, rather than simply having the offending companies deregistered from the FSPR.
"Yes it's much easier to get on than it is to be removed," Mason said. "If I don't have a recent serious conviction, or I don't have a money laundering conviction or a terrorist financing conviction, I haven't been bankrupted in the last five years, then I'm entitled to be on the FSPR."
Additionally the FMA can have a company deregistered from the FSPR, by its Registrar Ross van der Schyff, if it believes registration of the company is likely to give a misleading impression of the extent it's regulated in NZ, or if it's likely to damage the integrity of the NZ financial markets. 
The FSPR is a bit like a Yellow Pages for the financial services sector. There are some 12,000 financial service providers, both companies and individuals, registered on the FSPR. Anyone providing a financial service such as insurers, banks, fund managers and financial advisers, must be registered on the FSPR, which is operated by the Ministry of Business, Innovation & Employment's Companies Office. The FSPR records the name, address and financial dispute resolution service membership of the provider, along with the services it's registered to provide and any licences it may have. 
Trouble is the FSPR is open to exploitation by overseas based rogues and crooks. That's because a company can register on the FSPR if it has a place of business in NZ, regardless of where in the world its financial services are targeted or provided. This means entities can, and do, set up superficial operations in NZ through virtual offices, or by leasing an office and perhaps employing a person to provide back-office services.
These firms register to provide financial services that don't require licensing in NZ, such as foreign exchange, or forex, services. There's no pre-vetting by a NZ regulator, and they don't offer financial services within NZ. These entities can, however, use their NZ registration overseas to give a false impression that they are regulated in NZ and trade off this country's good name. We've written numerous articles about these FSPR issues over the past few years, which can be found here. And there's detailed background on the FSPR in this story.
Complaints from 83 countries
I reported in March that the FMA had received enquiries about NZ financial service providers from 83 countries, with 340 misconduct reports received from overseas about companies registered on the FSPR. Alongside its new report on the FSPR, the FMA is publishing online resources about the FSPR for consumers in Chinese, Malay and Arabic (see picture below). These languages were chosen to reflect the regions of the world representing the biggest number of complaints received by the FMA.
The report, covering the three years to June 2017, notes;
115 registrations on the FSPR have been reviewed, resulting in 69 firms being deregistered from the FSPR and 21 choosing to deregister voluntarily.

Of 93 applications for registration on the FSPR referred to the FMA, just 19 were allowed to proceed

3 financial service providers (FSP) have brought legal action against the FMA following a decision to direct the Registrar to deregister the company from the FSPR. These cases have been resolved in the FMA's favour.

The Registrar of the FSPR reviewed 1956 FSP applications in the period covered, carrying out 142 onsite visits.

The FMA has received a total of 1080 complaints against 296 businesses or individuals on the FSPR.
The FMA also says in its report that complaints received about companies on the FSPR often feature similar themes. These are;
• Companies not acting on customer requests to withdraw funds, or delaying repayment of money held in a customer's trading account. This accounts for almost half of all complaints we receive each year.
• Traders changing customers' positions/removing profit balances without authority or notice.
• Companies offering a bonus amount to start trading, and then refusing to pay out profits.
• Disputes about whether trades were/should have been activated or not.
Unintended consequences
Mason says there's a limit to the amount of confidence people should take from FSPR registration.
"The FSPR was put in place to meet FATF [global anti-money laundering overseer the Financial Action Task Force] requirements, and also to ensure that financial service providers were members of dispute resolution schemes. That was all done in the era prior to the FMC [Financial Markets Conduct Act] legislation, [establishing] the licensing we now have for a large number of firms." 
"It [the FSPR] had good purpose when it came in [but] what we are dealing with is the unintended consequences that come with it," says Mason.
I've previously argued that the Government should lance the boil that is the FSPR. And Mason's boss, FMA CEO Rob Everett, last year told me he would like to see the FSPR scrapped. However the Government, led by the Ministry of Business, Innovation & Employment (MBIE) is instead proposing some reforms to the FSPR aimed at making it harder to abuse it.
"The changes that are being proposed to the [FSP] Register in the [the Financial Services Legislation Amendment] Bill that's in front of Parliament at the moment, we hope that they will require a much stronger linkage with New Zealand financial services than is the case at the moment. Because otherwise it [the FSPR] is going to be something that continues to occupy a great deal of our time," says Mason.
Directors in sights, even Aussie ones
Several of the companies interest.co.nz has written about that are misusing, or appear to be misusing, their FSPR registration have an Australian director as opposed to a NZ one. All registered NZ companies must have a NZ or Australian based director. Asked how easy it is practically for the FMA to take action against Australian based directors, Mason says this is a good question.
"We've got an agreement with ASIC [the Australian Securities and Investments Commission], as well as both being members of a multi-lateral agreement on enforcement and information sharing. And that allows us to provide information to assist ASIC and we've done so. We've referred cases to ASIC where they've arisen under the FSPR," says Mason.
"The regime for directors duties in Australia is rather stricter and has stronger enforcement tools than ours. So if I were looking to go somewhere soft, that wouldn't be my first choice."
Asked if ASIC would take action against someone in Australia who is a director of a NZ company he says; "Very often there are other connections in Australia that they can assist with and they've certainly been willing to help us on cooperation matters in the past."
"What we are signalling with this report is that we're going to start specifically taking action against directors from now on. So we haven't in the past been focusing on action against the directors, we've been focused on the deregistration of the companies themselves," Mason says.
"It's a more personal touch. We think we've made a difference definitely with the work on deregistration, but it would be fair to say that the cases that are left are becoming more complex and they [companies]  are investing more in getting onto the FSPR."
Asked if any action against directors is underway Mason says; "We are looking at some companies right now, yes. But there's no action being taken yet."
What about ex-FSPR entities that are able to remain registered as NZ companies?
Another issue interest.co.nz has written about is when a company is deregistered from the FSPR because it's deemed to be giving a false or misleading impression about the extent to which it is regulated in NZ, but is allowed to remain as a registered NZ company.
Asked if this is a problem from the FMA's perspective, Mason says it's a fair point. MBIE's Companies Office rather than the FMA has oversight of company registration.
"We have seen the case of simple New Zealand company registration being used as a means of building reputation, but we can't ourselves address that. And the difference really is that company registration isn't meant to imply anything," Mason says.
The FSPR gives a "much sharper impression of regulatory coverage", and "people are getting sucked into that. And I don't think people take that from simple company registration."
Interest.co.nz recently reported on eight NZ registered companies, that aren't and never have been registered on the FSPR, who were named in what's alleged to be a US$2.9 billion international money laundering operation known as the Azerbaijani Laundromat.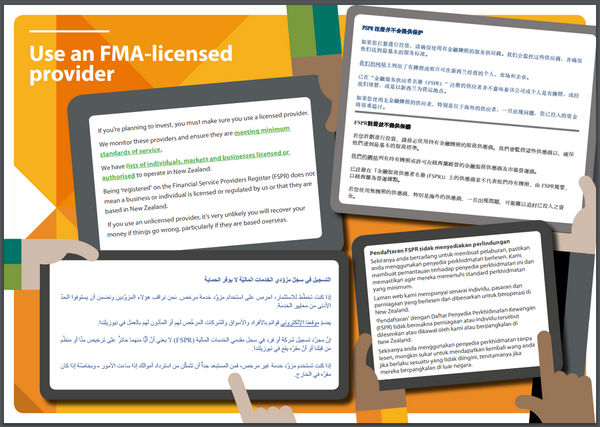 Here's a bigger version of the picture above, and here's a press release from the FMA.
And here's the full list of the 69 companies that have been deregistered from the FSPR at the behest of the FMA in the three years to June
3TG FX Financial Services Limited Partnership  
Ace Capital Markets Limited 
Allied Victory International Limited  
Allozy Financial Group Limited 
Apex Financial Services Limited
 Ares FCL Services Limited
 Belfor Capital Limited  
Bewin Global Ltd 
BFS Group Limited  
Big Boss Financial Limited  
Choice Trade (International) Limited  
CTFC Limited  
Deal Matrix Limited  
Derbivi Limited  
DFX Group Trade Limited - (previously Prosperity Capital Limited)  
Diamond Group Trade Limited  
DVMAX International Group Ltd  
Dynamic Capital Advisors Limited  
Eagle Way Capital Limited  
Eastern Union Corporation Limited  
Excelsior Markets Ltd  
Exo Group Limited 
FGX Limited  
FirstFX (NZ) Limited  
Forex Trend Ltd  
Gage Capital Limited  
Galaxy Forex Limited (previously Morton Matthews Associates Pty Ltd)  
Global Prime Partners Ltd  
Hangsiu Group Limited  
House of Borse Limited 
IG Kiwi Ltd  
IKO Limited 
IMS FX Group Ltd 
Innovative Securities Limited 
Invest Foreign Exchange Limited  
IronFX Global NZ Limited  
Land Prime Limited  
Leoset Global Investments Limited (formerly Apex Capital Investments Limited) 
Miso Market Ltd  
MyFX Markets Pty Limited 
NBF International Limited  
New Zealand Credit Capital Management Limited 
NZ Brokersclub Ltd 
Oasis Global FX Ltd  
Pegasus Markets Ltd  
Rexor Investments Limited  
Safe and Sound Building Society  
Saudiquote Limited  
Scent Investments Limited  
Simple Trading Corporation Limited  
Sino Faith Fortune Limited  
Solidary Markets Limited  
Starfish Markets Limited  
Sumo Forex Limited 
Tigerwit Prime Limited 
Trade24 Investments Limited  
Tradesto Limited 
Transact Now Limited  
Triumph Int Limited  
Turbo Trading Limited 
Union Markets Ltd 
United Global Holdings Ltd 
United Market Oracle Limited 
UWNZ Holding Ltd (now HLL NZ Limited) 
Vitalmarkets Solutions Limited  
Vivier and Company Limited 
With You Limited  
Worldnet Financial Services 
xCFD Limited