ANZ NZ interim profit climbs 11% to NZ$964 mln as net interest margin rises. Loan impairments rise, revenue growth narrowly ahead of increase in expenses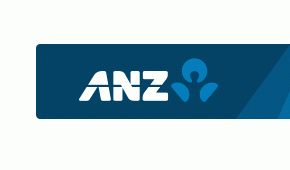 ANZ New Zealand has posted an 11% increase in half-year profit with net interest margins rising, thanks to "stabilising" funding costs and the "repricing" of home loans.
The bank's net profit after tax for the six months to March 31 rose $95 million, or 11%, to a fresh record half-year high of $964 million. In the equivalent period of the previous year the bank's net profit after tax was $869 million. 
The increase came as operating income climbed 3% to $2.107 billion with net interest income up 2.5% to $1.572 billion, and operating expenses increased 2.6% to $737 million. Credit impairment charges rose $30 million to $70 million.
The bank said its net interest margins increased "slightly" thanks to "stabilising" funding costs and its "repricing" of home loans. Australian parent, ANZ Banking Group, said its NZ division's half-year net interest margin rose seven basis points to 2.37% (see below). The NZ division's return on average assets increased 11 basis points to 1.31%.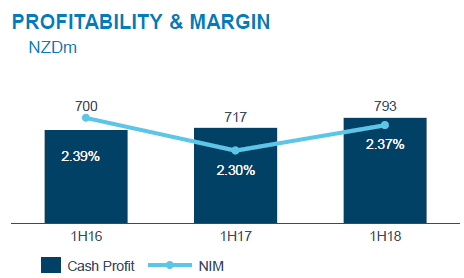 (The ANZ NZ division figures are reported by parent the ANZ Banking Group and can differ from ANZ NZ geography figures reported by ANZ NZ. ANZ NZ hasn't provided any specific net interest margin figure).
ANZ NZ's half-year cost-to-income ratio dropped 10 basis points to 35.0%.
The bank said customer deposits increased 5% and gross lending rose 3%. As of March 31, net loans stood at $126.239 billion, and customer deposits at $100.771 billion.
"ANZ has grown in home lending and deposits, which reflects the continuing strength of the New Zealand housing market and of the economy generally," ANZ NZ CEO David Hisco said.
"Our investment in digital also means we are achieving greater operational efficiencies, as well as savings in our back office processes."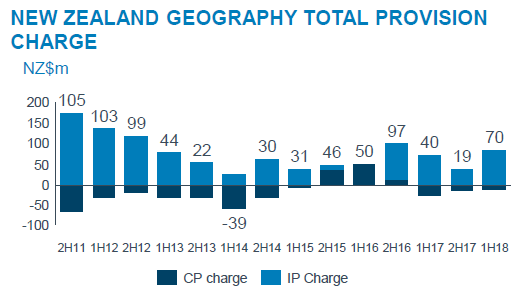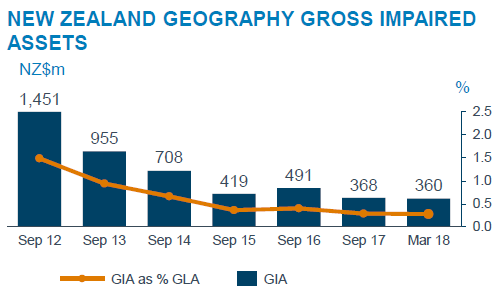 Meanwhile, parent the ANZ Group posted a 4.1% increase in interim cash profit to A$3.49 billion. It's paying a fully franked, unchanged interim dividend of A80 cents per share, equivalent to 66% of cash profit.
Group CEO Shayne Elliott said the banking sector faces headwinds noting; "I think our sector has had a golden period for 20 plus years and we don't think that's going to continue, it's going to be harder."
Here's ANZ NZ's full press release. 
Here's the Australian parent bank's press release.