ANZ NZ half-year profit rises 14% to NZ$869 mln as income rises as expenses and credit impairments fall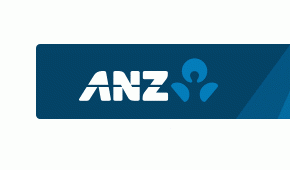 ANZ New Zealand has posted a 14% rise in half-year profit with operating income up and operating expenses down.
Net profit after tax rose $106 million, or 14%, to $869 million in the six months to March from $763 million in the six months to March 2016.
Operating income rose 8% to $2.048 billion with net interest income up 3% to $1.5 billion, and operating expenses fell 12% to $718 million. The bank's credit impairment charge dropped 20% to $40 million.
ANZ NZ said customer deposits rose 7% and gross lending increased 5%. With 725,000 investors, the bank's KiwiSaver business grew funds under management by $700 million to nearly $10 billion.
Across the bank's individual business units institutional was the standout performer, with half-year profit surging 108% to $198 million. Profit at ANZ NZ's retail banking unit rose 8% to $499 million, profit at the businesses unit grew 2% to $717 million, and profit at the commercial unit dropped 2% to $219 million.
"All our business units performed well in this half due to our continued simplification of the business," ANZ NZ CEO David Hisco said.
"We've boosted our focus on digital innovation which has positioned us well for a period of rapid change in banking."
The only NZ bank offering customers ApplePay, Hisco says this has been taken up by "thousands of Kiwis."
Reduced loan losses stemmed from improved credit quality in ANZ NZ's commercial and agricultural loan portfolios, Hisco said.
He said the bank's net interest margin fell because of higher funding costs and demand for lower margin fixed rate loans.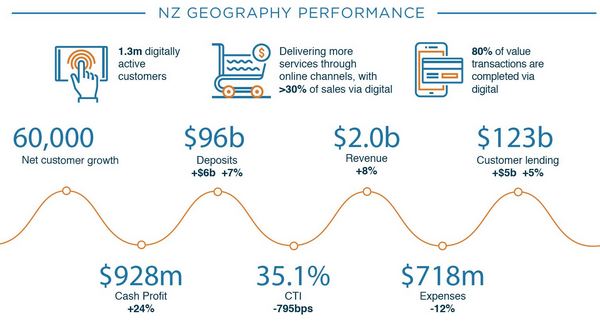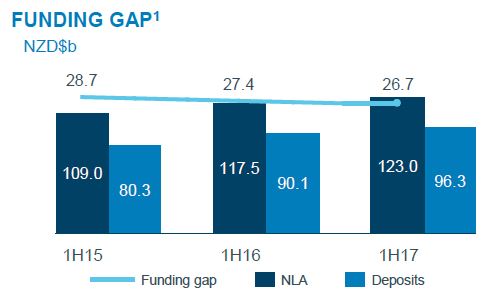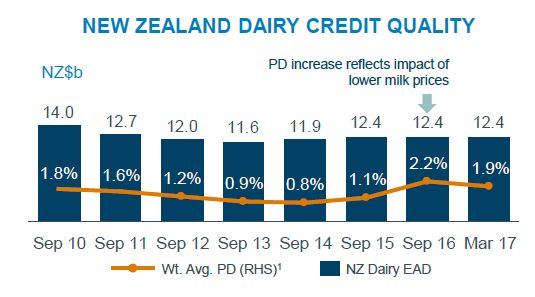 Meanwhile, Australian parent the ANZ Banking Group posted a 23% rise in half-year cash profit to A$3.4 billion. It also reported a 130 basis points increase in return on equity to 12.5%, and will pay an unchanged, fully franked interim dividend of A80 cents per share, equivalent to 69% of the group's cash profit.
Group CEO Shayne Elliott said ANZ is adopting the "scaled agile approach to organising and delivering work" in its Australian division. This Elliott says, will enable ANZ to respond more quickly to changing customer expectations, engage and empower staff, and improve efficiency including through some job cuts.
"Scaled agile is a proven approach for running businesses based on small, autonomous, multi-disciplinary teams. It is used by leading digital companies such as Spotify and Google and in large financial services companies such as ING and ABN AMRO," Elliott said.
In the digital age, customer expectations are being redefined by their experiences with businesses like Amazon and Apple. We need to break with some of the traditional 20th century approaches to organising and working to ensure we are more responsive to 21st century customer expectations."
The plan is to also take the scaled agile, less hierarchical approach to other parts of the ANZ group, including NZ, after launching it next year.
The ANZ group released the figures below for its NZ division.
| | | | |
| --- | --- | --- | --- |
|  Ratios |  March 2017  half |  Sep 2016  half |  March 2016  half |
|  Return on average assets |  1.20% |  1.14% |  1.24% |
|  Net interest margin |  2.30% |  2.35% |  2.40% |
|  Operating expenses to operating  income |  38.1% |  40.5% |  38.8% |
|  Operating expenses to average  assets |  1.07% |  1.17% |  1.14% |
|  Gross impaired assets |  $448m |  $363m |  $302m |
|  Gross impaired assets as % of gross  loans |  0.39% |  0.32% |  0.27% |
|  Total full time equivalent staff |  6,250 |  6,317 |  6,401 |
Here's the ANZ NZ press release, and here's the ANZ group press release.