MPs pledge to haul bank bosses in front of a select committee led to questions from a blindsided RBNZ Governor Adrian Orr to Finance Minister Grant Robertson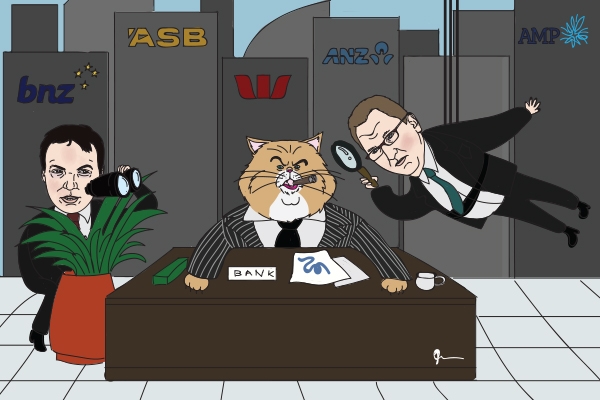 By Jason Walls
Text messages between Reserve Bank Governor Adrian Orr and Finance Minister Grant Robertson reveal banks and their regulator were blindsided by a Labour MP's comments to Interest.co.nz last month.
Against the backdrop of the Financial Markets Authority (FMA) and Reserve Bank probe into the conduct and culture of banks and life insurers, Finance and Expenditure Select Committee (FEC) Chairman Michael Wood told Interest.co.nz he was requesting banking and insurance bosses come to Parliament to front up to the committee, given the "significant public interest" in what's going on in the financial services sector.
But after being told this could result in the banks being fined up to $300,000, Wood contacted Interest to say this was in fact not accurate and it would be lobby group the New Zealand Bankers' Association that would front up instead.
"I have become aware of the fact that the banks themselves are effectively under a confidentiality order with the FMA with respect of everything they are discussing in the current process," Wood said at the time.
The FMA and Reserve Bank's ongoing probe follows damning revelations in Australia's Royal Commission into Misconduct in the Banking, Superannuation and Financial Services Industry.
Banks seek explanation from Orr
Phone records and text messages, released under the Official Information Act (OIA), reveal Orr had been contacted by the banks to provide an explanation as to why Wood had said banking bosses would have to appear before the committee.
"Hi Minister, I have just read a press report from Interest.co.nz about banks being summonsed to FEC. It's news to me and I have banks calling. Any ideas?" Orr said to Robertson in a text at 4pm, June 14.
Phone records show Robertson called Wood not long after receiving the text from Orr. They spoke for just shy of four minutes – what was said on the call was not released.
Robertson then called Minister of Commerce and Consumer Affairs Kris Faafoi. The pair spoke for roughly the same amount of time.
In a text message at 5pm, Robertson asked Faafoi to "let me know once you have got that document to Michael."
OIA documents show that at 9pm that night, Faafoi's office sent Wood a copy of Section 44 of the Financial Markets Authority Act.
"This order prohibits the publication, communication, disclosure or sharing by anyone (other than to the respective legal counsel of each financial institution, the Reserve Bank and the Commerce Commission) of any information, document, or evidence that is provided or obtained on or after 30 April 2018 in connection with the Review, except with the written consent of the FMA," the document says.
Anyone who "willfully" is in breach of Section 44 would face a fine "not exceeding $300,000."
Phone records show Robertson called Orr just before 5:00pm and spoke for almost four minutes.  
What was said on the call was not released as part of the response to the OIA request.
*This article was first published in our email for paying subscribers early on Tuesday morning. See here for more details and how to subscribe.