China side-lined in NZ/Japan talks on development in the Pacific and the CPTPP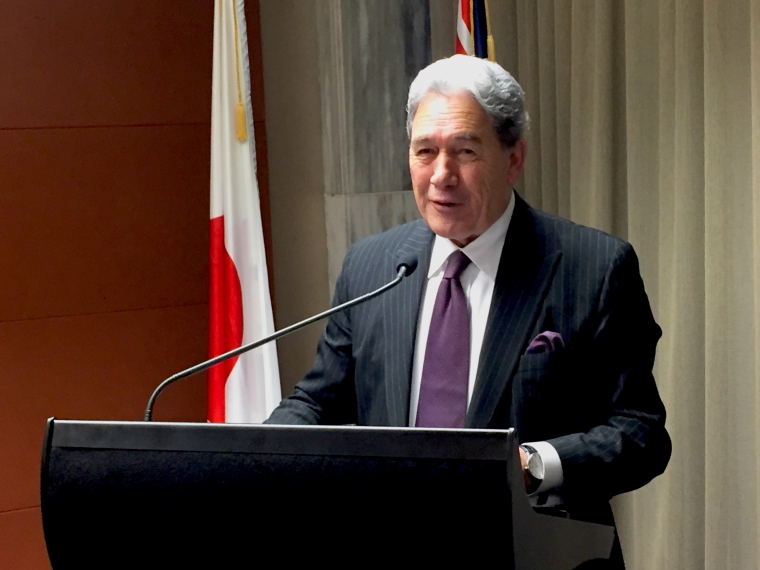 New Zealand and Japan are talking about setting up a group to support development in the Pacific.  
The Prime Minister, Foreign Affairs Minister, Defence Minister and Trade Minster all met with Japan's Foreign Minister, Taro Kono, in Wellington on Monday to talk about the two countries' "strategic partnership".
Speaking to media, Foreign Affairs Minister Winston Peters highlighted the need to set up some sort of a body that could take action in the Pacific, without being weighed down by bureaucracy.
While infrastructure development and security were a focus, both Peters and Kono singled out Pacific nations' high levels of indebtedness, particularly to China, as concerning.
Asked whether China would be invited to join the group, Peters avoided answering the question: "I've just talked to you about a discussion with the Japanese Foreign Minister, which we intend to have with other countries as well."
The other countries he mentioned through the press conference were Australia, the UK, the US, France and the European Union more generally.
Asked again whether China would be involved, he said: "As to which other countries will be involved; we'll let you know when that happens."
On the debt issue, he said it was important countries didn't take on debt they couldn't service. However he didn't go so far as to saying whether New Zealand or Japan would help Pacific nations repay their debt.
Asked in a post-Cabinet press conference later in the day whether New Zealand, perhaps along with Japan, would "discourage" Pacific nations from taking on more debt from China, Prime Minister Jacinda Ardern gave a blunt answer: "You're asking me if we're going to take away the sovereignty from the Pacific Island nations, and the answer is no."
She underlined New Zealand's aim to work in partnership with Pacific nations on issues they've identified, like climate adaptation.
China entering the CPTPP not easy
The new Comprehensive and Progressive Agreement for Trans-Pacific Partnership (CPTPP), which both New Zealand and Japan are a part of, was also a topic of discussion between the leaders.
Kono said he'd welcome China entering the trade deal provided it met its high standards.
Peters agreed.
Asked whether he believed this would be possible, he said: "It's not for me to answer… It's for them to demonstrate if they can.
"Bear in mind that China has monumental problems which sometimes we under-rate or aren't concerned to understand…
"Dragging people from poverty to wealth in a very short time, in lightening speed (which is what the Chinese economy has managed to do), is not easy and there's a whole lot of problems to that…
"To get inside a deal with all sorts of environmental requirements, as the CPTPP has, is not going to be easy for China."
Peters denied his discussions with Kono illustrated a "meeting of minds" between New Zealand and Japan on the role of China in the East Asian and Pacific regions.
Rather he said: "I think what we have managed to do is appreciate each country's perspective and agreed to work together into the future having that in mind."