New Zealand Transport Agency (NZTA) re-evaluating Auckland's much maligned East-West Link (EWL) motorway project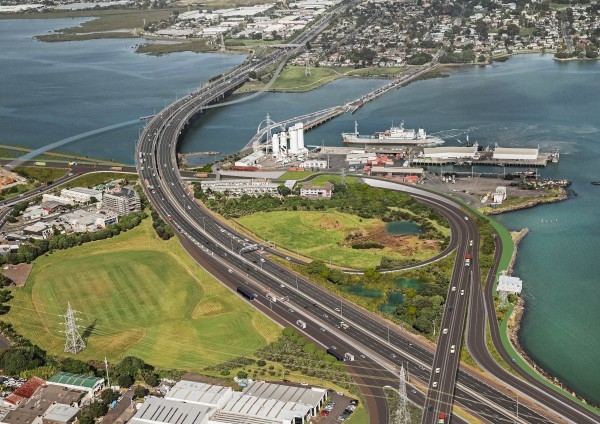 Auckland's much maligned East-West Link (EWL) motorway project is back on the table according to the New Zealand Transport Agency (NZTA) which is currently re-evaluating it.
The EWL project was first unveiled in 2014 by the then National-led government which said it was a way to link SH20 at Onehunga to SH1 at Sylvia Park Mount Wellington. The planned four lane highway, which was earmarked as a priority roading project, was expected to cost up to $1.85 billion.
But after a change of government the new Labour-led administration announced in November 2017 that it was scrapping it. It had fallen down the pecking order of Auckland infrastructure projects and Transport Minister Phil Twyford instead redirected a lot of the government's funding towards public transport.
However, in April last year Twyford did a u-turn on the controversial motorway project and announced that a new low cost version of the EWL would be looked at as part of the Auckland Transport Alignment Project (ATAP) and earmarked $800 million dollars for the new proposal.
So now almost a year later where are things at?
An NZTA spokesperson now says East-West Link is one of a number of projects currently under review by the agency as it looks to see whether it still aligns with its "new vison" for Auckland's transport network.
"Once this work has been completed, work on the project may proceed as currently planned, be staged differently or we may explore lower cost options. The NZ Transport Agency Board met in December to consider next steps, however there is still more work to be done. We expect to be able to make announcements about decisions on this project in the coming months."
The NZTA announced in January last year that it had been granted resource consent to proceed with the project. But it said that the consents were enabling and not obligatory. In other words the project can go ahead if and when government funding is secured.
A spokesperson for the Transport Minister Phil Twyford says the government is looking at a lower cost version of the EWL and is hoping to make an announcement on it in the next few months. But no further details are available at this stage. 
National Party transport spokesman Paul Goldsmith says the government's latest proposal isn't good enough.
"Our understanding is that the government is considering a half measure replacement, that will not solve the congestion challenges in the area," Goldsmith says. "The East-West Link has fallen victim to the government's blinkered pursuit of its expensive slow tram to the airport. The result will be more congestion in Auckland." 
But the grand proposal put forward by National before the last election wasn't cheap. According to Infrastructure New Zealand the proposed EWL would have cost $327 million per kilometre, something its critics were keen to highlight. With some even describing it as the most expensive roading project in the world.
"It's an enormous amount of money on a very short link of dubious value that does a great deal of destruction to the natural environment," Greater Auckland author Patrick Reynolds said.
But despite the massive cost of the National Party proposal, Infrastructure New Zealand chief executive Stephen Selwood said it was an important project.
"We have another million people coming to Auckland by 2050. We really need to be getting on with providing transport infrastructure needed to support the city's growth."
Infrastructure New Zealand is a lobby group which represents both public and private sector organisations with the goal of facilitating the growth of New Zealand's infrastructure and influencing central, regional and local government decision making.