PM's visit to China sees 7th round of negotiations on updated NZ-China FTA to happen 'soon', a double tax agreement between NZ and China refreshed and other MoUs signed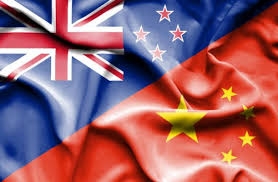 Prime Minister Jacinda Ardern says she's advanced New Zealand's trade interests with China, having met Chinese Premier Li Keqiang in Beijing on Monday.
While the pair discussed an upgrade to the 2008 NZ-China free trade agreement, Ardern didn't detail definitive progress.
She said her and Li agreed to hold the seventh round of negotiations "soon" and to "make joint efforts towards reaching an agreement as soon as possible".
"I reiterated to Premier Li that New Zealand welcomes all high-quality foreign investment that will bring productive economic growth to our country," Ardern said.
Furthermore, Ardern witnessed the signing of the following agreements between New Zealand and Chinese leaders:
Agreement between the Chinese and New Zealand Governments for the Elimination of Double Taxation with Respect to Taxes on Income and the Prevention of Tax Evasion and Avoidance
This Double Tax Agreement (DTA) updates a 1986 agreement.
Revenue Minister Stuart Nash explained: "DTAs provide greater certainty of tax treatment, especially for cross-border investment flows such as dividends, interest, and royalties. The new DTA will reduce the withholding rates on certain dividends and eliminate double taxation.
 "The new agreement also enhances the ability of both countries to detect and prevent tax evasion.  
"The new tax agreement is also significant in the ongoing fight against base erosion and profit shifting (BEPS) by multinationals. Significantly, this tax agreement with our largest trading partner will also include new anti-BEPS measures. These include measures to prevent companies structuring their activity to avoid taxation on profits.
 "Double tax agreements make it less costly for a business in one country to do business and invest in the other."
Memorandum of Arrangement on a Bilateral Financial Dialogue
Treasury Secretary Gabriel Makhlouf said the arrangement "formalised" Treasury's relationship with China's Ministry of Finance.
He said New Zealand is only one of a small number of bilateral partners to have a financial dialogue in place with China.
Details around exactly what this means for Treasury are at this stage scant, as is information about the other two agreements signed:
Memorandum of Arrangement Relating to Science and Research Cooperation
Strategic Plan on Promoting Agricultural Cooperation
Ardern and Li also released a joint statement that committed both countries to working together more to address the impacts of climate change.
She discussed China's Belt and Road Initiative with Li, noting Trade Minister David Parker would lead a business delegation to the Belt and Road Forum in Beijing in April.
"This will help identify opportunities for mutually beneficial and transparent cooperation so we can complete a work plan as soon as possible," Ardern said.
"Premier Li and I also discussed regional and global issues where New Zealand and China have common interests including our support for the World Trade Organisation."
China is New Zealand's largest trading partner. The value of two-way trade between the countries recently exceeded $30 billion.